NCTCOG Launches Campaign to Promote Safe Driving
11/8/2021
Drive Aware North Texas aims to reduce serious crashes and fatalities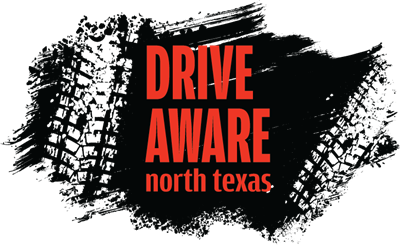 Arlington, Texas –Speeding was the top contributor to serious-injury and fatality crashes on North Texas roadways in 2020, figuring into one-third of such incidents across the Dallas-Fort Worth area. The next three leading factors -- Impaired driving, failure to drive in a single lane and distracted driving – accounted for a combined 31% of such crashes.
The North Central Texas Council of Governments is undertaking an effort to make the roads safer by reducing these and other leading causes of serious crashes, with the launch of the Drive Aware North Texas campaign. This is an educational campaign aimed at improving negative driver behaviors that are the leading contributing factors for serious-injury and fatality crashes in North Texas.
NCTCOG and its transportation partners work daily to ensure the transportation system provides residents with the capacity needed as the region grows. Roadway construction and maintenance are visible contributors to system reliability. But safety is also a significant part of the equation. Drive Aware North Texas encourages motorists to be part of the solution to safer roadways by avoiding certain risky behaviors while behind the wheel.
The campaign website,
www.driveawarentx.org
, focuses on four main causes of serious and fatal traffic incidents: speeding, impaired driving, distracted driving and wrong-way driving. It examines data over the past five years related to each category, including crashes by time of day and gender, presenting the data in easy-to-read graphs.
Speeding
Speeding crashes occur when drivers either exceed speed limits or drive at unsafe speeds for road conditions. Speeding was an identified factor in over 150,000 crashes, including 1,252 fatal injury crashes, and 4,619 suspected serious injury crashes from 2016-2020. While speeding can cause serious crashes any time of day, the most common time for them to occur was 5 p.m.
Impaired Driving
Driver impairment – by alcohol, illegal drugs, legal medication or drowsiness – has remained a leading contributing factor in serious roadway crashes in both Texas and the region. Although driver impairment continues to be a significant problem in North Texas, there is some good news. The number of crashes involving impaired driving decreased by 4% from 2016-2020. There was also a decline in the number of crashes where medication was a factor. Alcohol remains the leading cause in this category. But there are fewer alcohol-related serious-injury and fatal crashes than in 2016, according to the data.
Distracted Driving
Distracted driving can be any activity that takes a driver's attention away from the roadway. Distractions can include anything from texting, talking on a mobile device, using social media, eating, drinking, putting on makeup, shaving, reading, programming a navigation system, watching a video, adjusting the radio, and even talking to passengers. There were over 77,000 distracted driving crashes in the region from 2016-2020, with most occurring in the early evening, according to the data. Drivers are encouraged to focus on the roadway and avoid potentially dangerous distractions when behind the wheel. Following a few simple tips could help make the roads safer for everyone.
• Always give driving your full attention.
• Pull off the road entirely and come to a complete stop before talking or texting on your device.
• Put your phone away, turn it off, or use an app to block texts and calls while driving.
• Tell friends, family and co-workers you won't respond to texts or calls while driving.
• Remember that all distractions are dangerous, so pay full attention when behind the wheel.
Wrong-Way Driving
Wrong-way driving incidents occur less frequently, but when they happen, they are more likely to result in serious injuries or fatalities than the other factors. Between 2016 and 2020, over 3,500 wrong way driving crashes occurred in the North Central Texas region. NCTCOG continues to work with its transportation partners to implement the NCTCOG Wrong-Way Driving Mitigation Program, which focuses on preventing incidents where a driver enters a limited access facility in the wrong direction by installing low cost wrong-way driving countermeasures at known hotspots.
By avoiding risky behaviors while driving and paying attention to the road in front of them, North Texans can make the transportation system safer for themselves and their neighbors. To learn more about the Drive Aware North Texas campaign visit
www.driveawarentx.org
.
About the North Central Texas Council of Governments:
NCTCOG is a voluntary association of local governments established in 1966 to assist local governments in planning for common needs, cooperating for mutual benefit and coordinating for sound regional development. NCTCOG's purpose is to strengthen both the individual and collective power of local governments and to help them recognize regional opportunities, eliminate unnecessary duplication and make joint decisions.
NCTCOG serves a 16-county region of North Central Texas, which is centered on the two urban centers of Dallas and Fort Worth. Currently, NCTCOG has 238 member governments including 16 counties, 169 cities, 22 school districts and 31 special districts. For more information on the NCTCOG Transportation Department, visit
www.nctcog.org/trans
.

# # #