Mobility Matters - 2019 Spring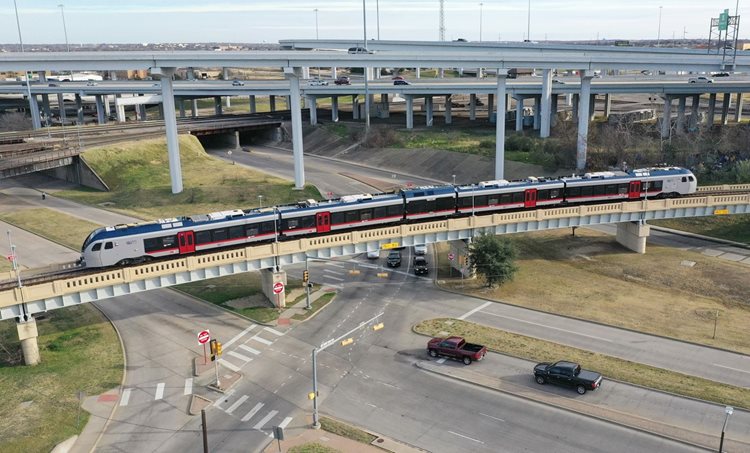 Trinity Metro photo
Trinity Metro's TEXRail commuter line began service from Fort Worth to Dallas Fort Worth International Airport, providing another transit option on the west side of the region. Ridership along this 27-mile line has started out strong and is expected to keep climbing as development continues.

Planes are buzzing overhead, coming in for a smooth landing just to the east of the railroad tracks. Soon the bright lights of a brand-new silver TEXRail train pulls toward the station.TEXRail is the region's latest passenger rail addition, transporting people between Dallas Fort Worth International Airport and downtown Fort Worth.

Passengers enter the train, level with the platform for easy boarding of strollers, bicycles, wheelchairs and luggage. The train pulls out of the station toward Fort Worth. First, it passes through Grapevine and North Richland Hills.

The track is a continuous 27 miles of steel, making it feel almost like the trip is not on a rail, but a cushion of air, said Bob Baulsir, Trinity Metro's new
President and CEO.

It's a nice enough ride to allow passengers to work, read, rest or, in the age of social media, share images of their trip with friends. If there's a need for a more
hushed environment, each TEXRail train features a quiet car.

"We sincerely believe this is the premier commuter rail line in Texas," said Baulsir, who was elevated to the top job at Trinity Metro in April with the retirement of Paul Ballard.

TEXRail is the western half of a 52-mile commuter line that will eventually run from Plano to Fort Worth, providing many of the region's growing suburbs direct rail access to the nation's fourth busiest airport by rail. Dallas Area Rapid Transit is
developing the eastern half of the line.

TEXRail has been popular since its debut in January. More than 200,000 passengers rode the train the first four months of operation. By the end of the first year, Trinity Metro projects 8,000 riders per day.

Things are off to a good start after residents got a taste of things to come during a free trial period in January.

Baulsir said it is an education process to persuade people to park their cars and instead leave the driving to someone else. TEXRail may soon have help enticing people to ride the train, thanks to more than $336 million in transit-oriented development at stations.

In North Richland Hills, which has three of the stations along the 27-mile line, there are 850 housing units on the ground or under construction. In Grapevine, the city's much-anticipated Grapevine Main development will feature a large train station with a 120-room boutique hotel connected to it, in addition to an outdoor plaza.

"The design is to have historical reference recalling grand train stations and looking to the history of Grapevine complementing the existing historical preservation and vision of the city's downtown,"according to the website for Architexas, the project's architect.

And farther west down the line, a 10-story, 236-unit property is to be developed by Fort Worth Housing Solutions. In addition to the housing options, the Fort Worth tower will include a day care facility, shops and restaurants on the ground floor.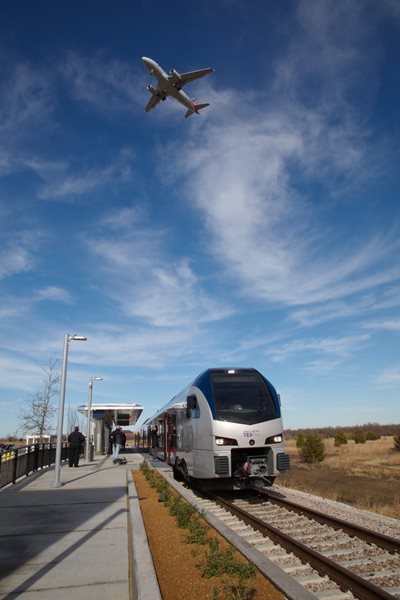 Trinity Metro photo
TEXRail provides another option for people who live, work
and go to school on the western side of the region to travel to
and from DFW Airport.

These are examples of what is coming.The train is here. Along with it are the sleek silver cars and the smooth, quiet track. TEXRail uses Diesel Multiple Units, which have a capacity of 488, to carry passengers among the line's nine stations.

Amenities include:

• A designated quiet car on each train
• Level boarding for easy access the disabled as well bicyclists
• Bike racks
• USB charging stations
• Seatback trays
• Overhead luggage storage

Currently, the train stops at the Fort Worth T&P Station, but the early success of the commuter service has Trinity Metro thinking about expansion. While it is too early to commit to a timeframe for new stations to the south, there could be a station in the Medical District and eventually the TCU area. Wherever the rail line expands, the ride is sure to be smooth – like a cushion of air.

For more information on TEXRail, visit www.ridetrinitymetro.org.
Director of Transportation
Expensive transportation projects often command much of our attention, for good reason. It is important to remain transparent when building large public assets paid for with significant sums of taxpayer money. Many large road and rail projects have been completed or are in the works.

For example, you can now board a commuter train in downtown Fort Worth and travel to Dallas Fort Worth International Airport, thanks to Trinity Metro's completion of the 27-mile TEXRail line. And last year, the Texas Transportation Commission and the Regional Transportation Council approved the reconstruction of the LBJ East corridor. When this project is complete, it will connect residents and employers in parts of Dallas, Garland and Mesquite with crucial assets. This has been 20 years in the making.

But in a region as large as Dallas-Fort Worth, we want to provide choices to our residents beyond just the traditional options of rails and roadways. Sometimes, that means dreaming big. And those big dreams don't have to be worth billions of dollars.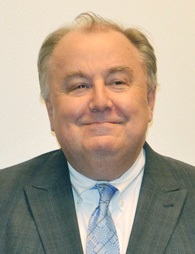 In 2013, we met with the mayors of Fort Worth, Arlington, Grand Prairie, Irving and Dallas to discuss how we could connect the region's two urban centers in an innovative way – by bike trails. We asked the mayors to work with us to find funding to close gaps in a trail network that would open new opportunities.

They did just that.

Together, the cities identified the financial commitments necessary to complete a continuous 53-mile network of trails. In October 2018, funding for the final piece was identified. This recently funded last section of the Fort Worth-to-Dallas trail will connect the existing Mike Lewis Trail in Grand Prairie to the Trinity Railway Express Centreport/DFW Airport Station in Fort Worth and the River Legacy Trail in Arlington near State Highway 360. This will make it easier for area cyclists and employees to access the rail station. Employees at the new American Airlines headquarters will be able to access to the rail station by using the new trail.

We hope to see many more employers along the trail system encouraging their workers to use it as a last-mile connection.

The cities of Fort Worth and Grand Prairie will manage the design and construction of the 3.1-mile trail section. All sections of the regional trail southern alignment are anticipated to be complete by 2023, resulting in a continuous trail alignment stretching from downtown Fort Worth to downtown Dallas. In addition to connecting with several rail stations, trail users will be able to access several
hundred miles of connecting trails in the five cities.

We recently brought the mayors back to celebrate the funding of this continuous trail and to talk about how we can leverage this trail system to create an asset for both residents of Dallas-Fort
Worth and our visitors. This will require continued coordination among cities, the tourism industry and NCTCOG. There is commitment among all parties to make this happen.

There is plenty of work to be done before construction is complete. Prior to the celebration with the mayors, we met with economic development and convention and visitors bureau officials from the five cities to talk about opportunities to market the trail. It starts with branding the trail system. As much as the Fort Worth to Dallas Regional Veloweb tells people roughly where the trail begins and ends, it does nothing to highlight the features or history of this great place.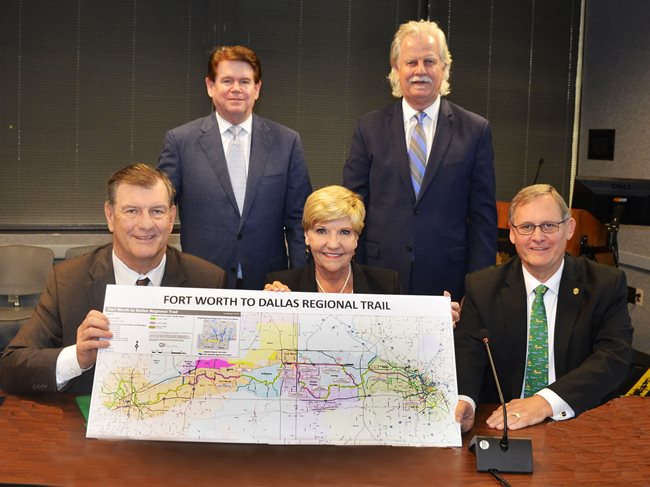 NCTCOG photo
The RTC recognized, from left, mayors Mike Rawlings, Dallas; Jeff Williams, Arlington; Betsy
Price, Fort Worth; Ron Jensen, Grand Prairie; and Rick Stopfer, Irving; for their efforts to fund the
Fort Worth to Dallas Regional Veloweb Trail.
We think it's essential to brand this trail and involve the cities it serves in the development of that brand. We look forward to working with the cities and their tourism officials to develop strategies to attract people to this trail system. There are numerous opportunities to promote the region, environmental stewardship and active transportation options. A trail winding through the heart of Dallas-Fort Worth, and its many parks and nature areas, provides a perfect opportunity to attract eco-tourism – both nature-centric and recreational sporting events.

With the leadership of the cities behind us, and several cultural projects ahead of us, we can create a system of trails unrivaled throughout Texas – one that provides opportunities to enjoy
nature while connecting people to jobs, shopping and entertainment.

After all … partnership and vision matter.

For more information on the Fort Worth to Dallas Regional Veloweb Trail, visit www.nctcog.org/fwtodaltrail.
Mo Bur wanted to be an architect in high school. But he remembers vividly when his career track changed. Bur was given an assignment he enjoyed greatly – to design a
house. He loved designing it for people to live in. He sat down at the drafting table to start the project. He had all the tools he needed in front of him, including the regulations he would have to
incorporate into the drawing.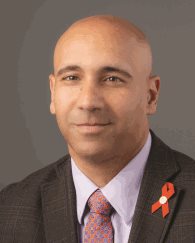 He relished the opportunity to provide a livable space for a family. At its core, the project involved helping people, a principle that still drives Bur.

There was only one problem.

Bur was looking at the project from a practical standpoint, making sure the house would have everything it needed to become a good home for a family. But he finished the drawing, and he didn't like it. In fact, he thought he had the ugliest house in the class.

"I realized quickly I was not a very good artist," he said.

He wanted a career that would give him the joy of drafting and serving others without having to make things look pretty. Bur, who went to the University of Maryland as a civil engineering
major, took a class in transportation and found his calling.

"I felt like it wasn't even studying," he said. "It just came to me."

After graduation, he planned to work for the Maryland State Highway Administration. But he graduated in December, and the department did its hiring in June. That's when one of his professors
suggested he look west, to Texas. The state was growing and would need transportation options to help people get where they needed to go.

There were three openings:
Lubbock, San Angelo and Houston. The recent college graduate eventually decided on San Angelo. It was a small town and was building projects as it
could afford them, in two- or three-mile segments. But it was great experience, and he was treated well.

"In San Angelo, working for TxDOT is a big deal," he said.

Bur planned to get experience at TxDOT and more on to the private sector. He didn't see TxDOT as a long-term home. But in March, he celebrated 22 years at TxDOT.

"It's done a lot more for me than I ever will for it," he said of TxDOT, "as hard as I try."

He likes to think the work he does at TxDOT makes the State a better place to live. And people are noticing.

In 2017, he was named the recipient of the DeWitt C. Greer Award, in recognition of his service to people as an employee of TxDOT. In 2002, he moved to the Dallas District to work in the
Roadway Design Section, where he managed several projects significant to the mobility and development of the Dallas area. Which one was his favorite? It's hard to pick one, he said.

One of the more unique was the Margaret Hunt Hill Bridge, the city's first signature bridge. Not only is it a soaring addition to the Dallas skyline, but it also has opened the door to development
in a ZIP code ripe for opportunity. The cable-stayed suspension bridge that was the first of its kind in North Texas.

In July 2017, Bur was named the Dallas deputy district engineer, a job he really enjoyed. But mentors such as Bill Hale and Kelly Selman established a good track record that Bur felt he needed to
continue. After considering it with his family, Bur decided it was time for him to apply for the top job.

Today he serves as district engineer and is on the Regional Transportation Council, the 44-member transportation policy board. This allows Bur to apply
the lessons he's learned to help residents of the entire region move more reliably.

"I firmly believe God has better plans for us than we have for ourselves," he said.

The people of North Texas are benefitting from Bur's interest in serving people – and an important realization years ago.
The recently updated 511DFW, a leading app and website for providing traffic and road condition information, is now
easier to use.

With 511DFW, users can quickly access free information on traffic and transit conditions in North Texas before beginning their daily commutes or other trips.
Real-time information is available on the app, at the website and by phone.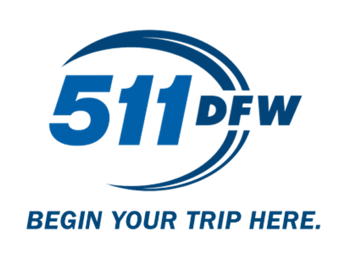 511DFW combines travel data from other apps, including Google Maps, Apple Maps and Waze, with traffic and events data provided by local cities and municipalities. Because the North Central Texas Council of Governments operates 511DFW, it is accountable and responsive to regional and local users, agencies and transportation partners. This way, North Texans get accurate traffic information that is both up-to-date and specific to Dallas-Fort Worth.

The upgrade to the app lets users access features that were previously only available at www.511DFW.org. App users can utilize features like a customizable map, live dynamic
message signs (the electronic information signs with traffic updates alongside highways),and highway cameras that refresh with photos of live traffic at least every five minutes. With
these features, users can now scope out their trip before they leave for any local destination.

My511 is also available on the app. Personalized 511DFW accounts created on the website will seamlessly integrate with the app, or new users can create their My511 account through the app and later access it through the website, if necessary. The personalized accounts let users save their frequent trips and regular commutes as well as request alerts. As a privacy feature, users can save trips to intersections rather than specific destinations.

The upgrade also makes all features of 511DFW, including both real-time traffic and transit information, available in both English and Spanish. Favorite 511DFW features are still available on the app and are easy to access with just a few taps: Information on traffic speeds for freeways and arterials, electric vehicle charging stations, weather alerts, bus stops, crashes, road
construction, and current and upcoming events impacting traffic. Motorist assistance information for freeways can be found in the app as well.

Additionally, 511DFW has a public transit trip-planning feature. Here, travelers can set the origin and destination, and the date and time they plan to leave. Alternatively, they can plot their start and end points on the 511DFW map.

Traffic information for North Texas is also available to anyone who calls 511 from the Dallas-Fort Worth region. Callers can choose to receive information in either English or Spanish
through the interactive voice response system (IVR). Recent upgrades to the IVR technology allow callers to listen to speech that more closely resembles a natural voice rather than the
robotic speech typical of previous IVR systems.

Since 2017, NCTCOG has managed 511DFW. Under NCTCOG's leadership, Kapsch TrafficCom, a mobility solutions firm specializing in Intelligent Transportation Systems (ITS), built the new 511DFW website and designed the mobile app. NCTCOG is planning additional enhancements for 511DFW in the next few years, including more comprehensive parking information (currently only available for some DART rail stations) and wrong-way driving alerts.

Users can also submit their suggestions through the 511DFW app or website. The 511DFW app is available in Apple's App Store or on Google Play. Although the app requires a smart phone, anyone can still call 511 or visit www.511dfw.org to get the latest traffic information.
North Texas, 10 counties fall under nonattainment for the pollutant ozone, according to the Environmental Protection Agency. North Texas must meet ozone emissions standards as set by the EPA or face federal sanctions.

The Air North Texas campaign was formed by the North Central Texas Council of Governments with support of partners made up of government agencies, nonprofit organizations, transportation authorities and others. Better air quality poses fewer health risks to residents and ensures the continued economic success of the region. North Texans can consider making a few simple changes in
their daily life to help create positive change in the quality of air in the region. A great first step would be to sign up for air pollution alerts at www.airnorthtexas.org/signup to stay informed about the Air Quality Index, a measurement used to forecast when the daily air is unsafe for most groups to go outside. When the index is green or yellow, the air is safe for most groups.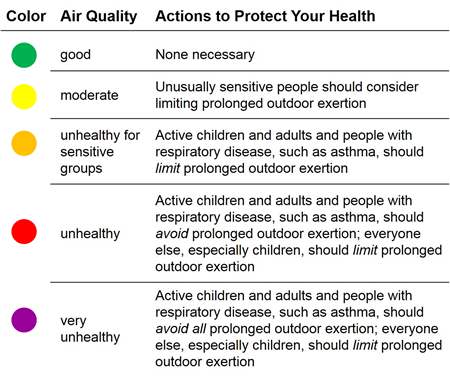 On Ozone Action Days, North Texans, businesses and local governments are encouraged to do one thing to help combat high ozone levels. Inhaling ground level
ozone can cause serious health issues and is especially dangerous for people who have asthma or respiratory problems.

Here is a list of commitments to consider:
Work from home

Carpool

Reschedule off-site meetings or utilize conference call technology

Bring lunch to work or carpool to lunch

Use mass transit

Bicycle or walk

Reduce idling, including during vehicle start up

Avoid unnecessary trips

Use the most fuel-efficient vehicle when driving is necessary

Maintain consistent driving speeds

Conserve water to conserve electricity

Postpone mowing to a day that is not an Ozone Action Day

Limit use of recreational vehicles

Avoid burning, including grilling and burning trash

Conserve electricity

Ensure tires are properly inflated
On Friday, June 21, 2019, we invite you to participate in Clean Air Action Day. Consider doing at least one thing on this day to improve air quality. Share your actions on social media by including #CAAD2019 on your post or tagging @NCTCOGtrans. Visit www.airnorthtexas.org/cleanairactionday for more information and to submit the choice you plan to make.

NCTCOG has begun updating the region's Congestion Management Process documentation to measure congestion and identify strategies to address it on the busiest roadway corridors.
Required for urbanized areas with populations over 200,000, the CMP typically focuses on lower-cost options to reduce
congestion.

Examples are:
Demand management strategies

Operational improvements to traffic

Public transportation enhancements

Intelligent Transportation Systems technologies

NCTCOG will coordinate with its agency partners to develop performance measures and to identify the most appropriate strategies to alleviate both recurring and non-recurring
congestion. The current CMP for North Texas was adopted by the RTC in 2013. The RTC is expected to consider approval of the CMP update by the end of the year. The current CMP and other
related resources are available at www.nctcog.org/cmp.