Mobility Matters - 2017 Summer
Safe Routes to School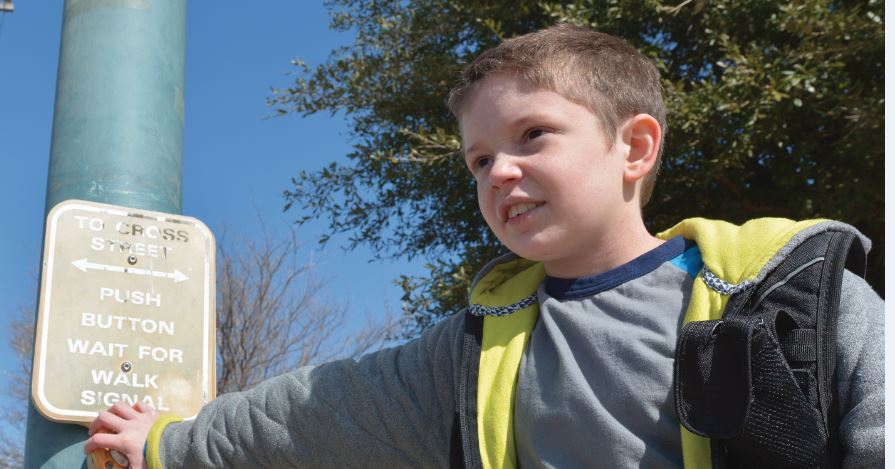 NCTCOG is working with area stakeholders to encourage more students to walk and bicycle to school. Staff members have


conducted audits at select campuses to document safety conditions and identify potential areas for improvement. More students


choosing active methods of transportation could ultimately mean a healthier population.

Making it Safer to Walk and Bicycle to School
Over the past generation, student travel to school by walking and bicycling has changed dramatically. Approximately 13 percent of students ages 5 to 14 walk or bicycle to school regularly, compared to 48 percent in 1969.

Simultaneously, childhood obesity has more than tripled, according to the Centers for Disease Control and Prevention; and recently only one-quarter of US youth met the recommended 60 minutes of daily physical activity. Safe Routes to School (SRTS) is a nationwide initiative dedicated to reversing these trends and encouraging more children to walk and bicycle to school. To meet these objectives, the movement employs solutions represented by the "five E's": Engineering, Education, Enforcement, Encouragement, and Evaluation.

These solutions work to increase the safety and comfort of pedestrians so children and parents are able and encouraged to walk to school. Within the regional planning context, Safe Routes to School is gaining prominence as an effective strategy to reduce traffic congestion, ozone pollution and greenhouse-gas formation. Additionally, it is an essential component of regional active transportation planning. NCTCOG's Sustainable Development program staff members are meeting with school stakeholders, conducting walking safety audits and preparing SRTS plans for four elementary and middle schools in the region.

Audits are used to identify and document conditions affecting safety found during a field audit of the school neighborhood and develop solutions to correct these deficiencies. Through this effort, NCTCOG hopes to demonstrate innovative tools and techniques for proactive Safe Routes planning that may serve as a regional model.

Through the recent Transportation Alternatives Set- Aside Program Call for Projects, the Regional Transportation Council awarded approximately $12 million to 22 SRTS projects throughout North Texas.

The projects range from sidewalks and crosswalks to bicycle-pedestrian trails providing better access to campuses. The call for projects was not limited to SRTS projects. Approximately $22 million was allocated to active transportation projects. For example, the Sycamore-Welch Active Transportation Connection will provide bike lanes and a shared-use path connecting the University of North Texas with the downtown Denton transit station.

Engineering and capacity improvements are important components of a successful program, but these alone do not ensure success. Recognizing this, NCTCOG is also hosting bicycle rodeos at select schools, led by instructors from BikeDFW, a nonprofit organization working to promote bicycling for transportation and recreation throughout North Texas. Participants received free bike helmets and other giveaways, bike tune-ups, information on helmet-fitting, safety skills and the opportunity to participate in a safety obstacle course. NCTCOG will coordinate with other schools in the region to hold additional bike rodeos this fall.

For more information on SRTS, check out NCTCOG's new brochure at www.nctcog.org/trans/sustdev/bikeped/safetyed/SRTS.pdf.


85th Legislature Wraps Up in Austin

The 85th Session of the Texas Legislature, where State lawmakers debated many transportation issues, concluded on May 29. In previous years, the Legislature took major steps to provide additional funding for transportation. Lawmakers this session instead focused on
issues such as high-speed rail, safety and emerging technologies.

Two high-speed rail bills approved will implement security requirements for private operators and rules prohibiting the use of State funds for high-speed rail run by a private entity. Numerous bills seeking to end the planned high-speed rail line from Dallas to Houston did not receive final approval; the project will continue as planned.

Related to safety, a measure outlawing texting while driving was approved by both chambers, after numerous attempts in past years. The bill was signed by Governor Greg Abbott and takes effect September 1. Finally, automated vehicle driving regulations were created in anticipation of vehicle testing on roadways. For more information, visit: www.nctcog.org/trans/legislative.
As the transportation organization responsible for the future of mobility and reliability in a region of 11 million people over the next 25 years, it is sometimes important for the North Central Texas Council of Governments to stop and take a pulse of where we currently find ourselves.

We are at a major crossroad, or "fork." The Dallas-Fort Worth region has led the mobility revolution in the US over the past 20 years with multimodal financially innovative transportation projects. Now, we have a federal government that wants to put this partnership in a 3-D printer and go nationwide and a state government that has adopted a more cautious pay-as-you-go approach. Yet, innovation continues, led primarily by regions such as North Texas. Local leaders recognize a need and work collaboratively with State and federal officials to develop multimodal innovative solutions.

The thoughts of a previous logistics executive may be instructive as we navigate the current realities of transportation planning. Yogi Berra, who lived 90 great years before passing away in 2015, won 10
World Series titles and was an 18-time all-star while a member of the New York Yankees. Those fortunate enough to watch Berra play during his big league career remember him as one of the best catchers of all time. Since he retired in 1965, most of us recall only his witty sayings. What we can learn from him today?


A Message from Michael Morris, P.E., Director of Transportation
When you come to a "fork" in the road, take it.

When dealing with transportation issues, officials at the different levels of government do their best to represent the interests of the people they serve while maintaining an eye on the future. It's a tough job, full of competing interests and just as many different priorities. In the end, we are stronger when we all work toward a common goal.

In our case, the goal is moving people safely and efficiently through a region whose residents and businesses want solutions to transportation challenges, yesterday. We have a tremendous opportunity to take advantage of the different perspectives of officials at each level of government to carve out a new path toward even greater prosperity.

This is not the only famous musing of Yogi's that can be applied to transportation in the 21st century.

It ain't over till it's over.

The transportation projects we are building today are intended to serve the region for generations. But you don't spend millions of dollars on a roadway, rail or bike-pedestrian project and just move on. Each investment will require continued maintenance and monitoring to ensure it remains efficient. It is not sufficient to simply build an interchange to help people drive from State Highway 360 to Interstate Highway 30 (and vice versa) and move on to the next project. It will become part of the system and must continue to operate efficiently.

It's like déjà vu all over again.

The cynic might tie this one to development of transportation projects, reasoning that the construction equipment, orange barrels and concrete barriers will disappear from one location, only to appear elsewhere in the region. As an optimist, I see these things as temporary hurdles we must clear in order to build the transportation system that will help our children and grandchildren excel in the economy of tomorrow. At NCTCOG, we approach our efforts to improve air quality in the same way. Federal standards continue to become stronger as the connection between ozone and health becomes clearer. We have a slew of programs helping us achieve cleaner air for all.

No one goes there nowadays, it's too crowded.

Population is soaring across the region, aided by the health of our existing industries and the relocation of corporate giants. A true multimodal approach will help the region serve existing residents while making new businesses feel welcome. We should continue to expand all modes, providing transit to more jobs while improving "last-mile" connections with bike-pedestrian facilities and even autonomous shuttles, similar to the vehicles being tested in the Arlington Entertainment District.

Our focus as a transportation planning agency needs to be on ensuring these people and employers can rely on our "systems" to accomplish their goals. We do this by working with our federal, State and local partners to build projects that maximize our time and provide options for active, healthy lifestyles. The use of traffic management centers and traffic data will improve efficiency in the busy corridors and ensure our multibillion-dollar projects continue to serve the region.

The future ain't what it used to be.

It's better. The technology in your phone is being harnessed by transportation agencies and automakers to prepare for a future with more predictable travel patterns. Our HOV lanes are being transformed into fully managed TEXpress Lanes, offering drivers the option of paying in exchange for better reliability. Additionally, our automated vehicle program is exploring how we can use data to help vehicles move people and goods more efficiently.

Together we will all develop a path forward. We will see where Congress, the legislature and our local elected officials take us and when we come to the "fork" in the road, we will "take it."

After all, Mobility Matters.


Return to top | Mobility Matters main page | Mobility Matters archives
Regional Transportation Council
TxDOT Dallas' Selman Aims to Keep Roads Running Efficiently During Construction Projects

Member Profile- Kelly Selman, P.E., District Engineer, Dallas District of the Texas Department of Transportation
For almost as long as he can remember, Kelly Selman has had a strong desire to make highways work better. As district engineer for the Dallas District of the Texas Department of Transportation, Selman has many opportunities to influence the efficiency of the roadway system.

"I've always been interested in highways, transportation construction," he said. "That's what led me to TxDOT. I always planned on working for the highway department when I was in college."

A 1986 graduate of Texas A&M University, Selman often finds himself examining the roads to identify where improvements could be made to provide motorists better experiences.

"Just looking at the system as a whole and ensuring that we have maximum efficiency is one of my main focuses," he said. "Quality construction … I really like seeing things built, seeing the system grow."

The region's exponential expansion has provided Selman plenty of opportunities to see the system mature. Since the 2010 Census, the 12-county metropolitan planning area has gained approximately 700,000 new residents, pushing Dallas- Fort Worth over 7 million people for the first time. Twenty-six percent of the growth, came in Collin County, a place with which Selman is quite familiar.

After earning a degree in civil engineering, Selman joined TxDOT in 1986. In 1990, he transferred to the Collin County Area Office, where he served for 16 years, in a variety of capacities allowing him to experience highway design, construction and maintenance.

Kelly Selman, District Engineer, TxDOT Dallas, has served on the Regional Transportation Council as a voting member since 2015.
"Every project we're building I was part of at least planning when I was in that area office," he said. "It's good to see a lot of the things you worked on come to fruition, be funded and built."

To the south, the Horseshoe, the reconstruction of connections between Interstate Highway 35E and IH 30 in downtown Dallas, is one of the more significant projects and was recently completed. He pointed to the Horseshoe as an example of a project where construction and operations were blended, resulting in fewer disruptions to drivers.

"We can't be siloed," he said. "Doing our traffic control, we've got to think about operations."

This is true of improvements to surface streets, also. For example, when rebuilding an intersection with dedicated left turn lanes, those lanes should not be closed during construction, he said.

"We've got an intersection with left turn lanes, [and] when you go to rebuild it, you take out the left turn lanes," he said. "That's when you need them the most."

A few miles to the north of the Horseshoe, the first phase of the 35 Express project is expected to conclude this year. The TEXpress Lanes are already open and have made an immediate impact.

"Offering drivers an alternative, the ability to pay to guarantee the speed, I think that's a great thing for the region, similar to the LBJ Express Project," he said. "We're not finished with the 35 Express by any means. This is only Phase I, but I think we can already see it's going to be a huge improvement to mobility.

"Not only the [TEXpress Lanes], but the additional general-purpose lanes that we're adding in Denton County are going to be huge relief to the traffic up there."

"I've always been interested in highways, transportation construction. That's what led me to TxDOT." - Kelly Selman, TxDOT Dallas District Engineer

Phase II of the project will involve upgrading the TEXpress Lane capacity, allowing them to operate in both directions all day long. Selman wants his engineers to figure out how to configure construction zones so that they cause as few disruptions as possible.

Advances in technology will help create better construction-zone experiences. For example, it is important to maintain traffic flow by continuing to use traffic-light timing devices.

"When you have to go to fixed time, that just kills an intersection's operations," he said. "We've learned over time that you keep those technologies in place during construction. And I think we've made a difference in a lot of places by being able to do that."

It is important to instill these lessons into the designers being trained now so the improvements that have come in highway construction can continue, Selman said.

This is done by giving today's young engineers exposure to different disciplines on a rotation basis, allowing them to see what it's like to design, construct and operate highways. While Selman is responsible for highway projects in the Dallas area, he must also think regionally. Since 2015, he has served as a member of the Regional Transportation Council, the 44-member transportation policymaking body for the 12-county area.

The most challenging aspect of serving on the RTC is trying to find the funding to keep the system running smoothly, he said.

In addition to what's being built now, there are several future projects that could provide substantial benefits to the eastern portion of the region. The potential conversion of US Highway 380 into a freeway, a new north-south highway in Collin County and the LBJ East project are just a few of them. But resources remain limited, and Selman and his colleagues on the RTC must find a way to complete them.

"Everybody wants more money," he said. "You have to take the allocation you have and build the right project and the right solution. We don't have the money to build projects that don't solve congestion."

With his training and professional experience, Selman is uniquely qualified to help drive this process both today and in the future.
The North Central Texas Council of Governments is one of 16 organizations nationwide that will share $14.7 million to improve public transit access as part of the Federal Transit Administration's Transit- Oriented Development Planning Pilot Project grant awards.

The FTA awarded NCTCOG the $1.4 million planning grant to help improve the region's accessibility to 28 Dallas Area Rapid Transit stations along the system's Blue and Red lines. NCTCOG is leading the effort, partnering with Dallas, Garland, Plano and Richardson, in addition to DART.

The goal of this analysis is to improve connections to transit for bicyclists and pedestrians. The grant will focus on "last mile" accessibility to transit and parking needs around the stations. For example, project staff will evaluate where to close sidewalk gaps and make pedestrian crossings safer to improve pedestrians' access to rail stations. The result should be a better understanding of the bicycle and pedestrian infrastructure needs around each station and a plan to address them.

The second element of the plan is a study at select TODs
to understand how parking is used. This can inform local policies on parking provision and improve parking management in support of transit-oriented land uses.

Dallas Area Rapid Transit photo

NCTCOG is partnering with Dallas Area Rapid Transit and the cities of Dallas, Garland, Plano and Richardson on a study intended to improve transit access. NCTCOG was awarded $1.4 million by the Federal Transit Administration to examine issues such as where to close sidewalk gaps and how to make pedestrian crossings safer.

Additionally, stations may have opened with abundant parking, some of which could be redeveloped to offer TOD.

A third component of the study is a survey of residents and employers. The survey will seek information on transit use in the study area, as well as residents' transportation preferences. The study's transit station areas are economically diverse and include some of the original DART stations. This provides opportunities to learn from TOD success stories and replicate them in other transit station areas in the regional rail system.

This grant will help the region understand access to transit, jobs and educational institutions for residents who depend on public transportation to get to work, medical appointments and for other needs within certain parts of the system. It also aims to benefit people who prefer transit and active transportation options as alternatives to driving alone. The 28 Red and Blue Line stations included were eligible for this grant because the planning area is required to be associated with FTA Capital Investment Grant-funded projects.

The study tasks began this summer and will be completed in two years. The results will inform future policy and investments in infrastructure and mixed-use development. For more information, visit www.nctcog.org/tod.

Return to top | Mobility Matters main page | Mobility Matters archives

When Grand Prairie middle school students were asked to illustrate their vision of the future of transportation, Bryce Charles knew what to draw. Bryce envisioned a system that would streamline commuting, reducing the stress his parents and many other drivers regularly experience.

The Grand Prairie Fine Arts Academy seventh-grader was named the winner of the North Central Texas Council of Governments' annual art contest for his tunnel road over the Trinity River. He drew ergonomically shaped cars that will save gas and operate more efficiently. Bryce's accomplishment was recognized during a ceremony in May at the Grand Prairie Independent School District's monthly board meeting.

His drawing is on the cover of the 2017 version of Progress North Texas, NCTCOG's annual transportation report. He received a framed copy of the cover. His school was also presented with one to display. The study of architectural and automobile magazines inspired Bryce's creation, which included cars traveling over a sun-splashed Trinity River into downtown Dallas.

Sean Martin, also a Grand Prairie Fine Arts Academy student, finished second and Valere Martinez, who attends the Young Women's Leadership Academy, was third.


Grand Prairie ISD photo

Bryce Charles, a student at Grand Prairie Fine Arts Academy, won the 2017 student art competition. His piece appeared on the cover of this year's Progress North Texas. This was the sixth year of the contest, which is rotated to school districts around the region in an effort to inspire students to think about transportation planning.

The art contest allows NCTCOG to reach younger North Texans and introduce them to transportation, taking advantage of their fresh ideas and vivid imaginations. The theme was carried through the entire 2017 report, which examined the role of technology in improving the region's transportation system and air quality.

NCTCOG has established a new program area to study automated vehicles and related topics and is working with researchers and area governments to help pave the way for smarter vehicles. While there is tremendous momentum behind vehicle automation, there are many more examples of how the region is using technology to reshape the future.

Innovation is apparent from smartphone applications that help people navigate the roadway and rail systems to TEXpress Lanes that give people the choice to pay for a smoother ride along select corridors. See the art entries and read the report at www.nctcog.org/ourregion, where copies can be requested.