North Texas Freight Terminal Electrification 2020
UPDATE: July 18, 2022
​The Call for Projects is accepting applications at this time. The next application deadline is 5:00 p.m., Friday, October 14, 2022.

The North Central Texas Council of Governments (NCTCOG), under the Environmental Protection Agency's (EPA) Clean Diesel Funding Assistance Program, is offering approximately $1 million in grant funding through this Call for Projects (CFP) for projects that reduce idling from transport refrigerated units (TRUs) of heavy-duty diesel trucks and trailers. Specifically, funding will be used to assist in construction and installation of EPA SmartWay verified electrified parking spaces (EPS) at truck terminals and distribution centers in the Dallas-Fort Worth (DFW) 10-county ozone nonattainment area that will be used to power TRUs while heavy-duty trucks and trailers are on stand-by or currently loading or unloading. NCTCOG will provide rebates to cover up to 30 percent of eligible project unit costs.
Workshop
Date: November 18, 2020
Time: 1:30 PM - 3:00 PM CST
Agenda
Presentation
Call for Project Details
Eligible Applicants:
Any entity which owns and/or operates private freight terminal or distribution center that primarily receives heavy-duty truck TRUs and trailer TRUs and located in the 10 counties currently classified as nonattainment for the pollutant ozone
Eligible Activities:
| | | |
| --- | --- | --- |
| Activities | Maximum Funding Levels | Estimated Unit Cost |
| Electrified Parking Spaces | 30% up to $3,600/space | $12,000 |
| Power Monitoring Equipment | 30% up to $1,800/ equipment | $6,000 |
| Electric Power Kits | 30% up to $900/kit | $3,000 |
Eligible Costs:
Equipment, construction, and installation costs of EPS systems required for completion of the project. Rebates will pay for up to 30 percent of the estimated unit cost.
Eligible Location:
The DFW 10-county ozone nonattainment area includes Collin, Dallas, Denton, Ellis, Johnson, Kaufman, Parker, Rockwall, Tarrant, and Wise counties. Environmental justice areas and freight-oriented development areas within the ozone nonattainment counties will receive scoring considerations for this grant.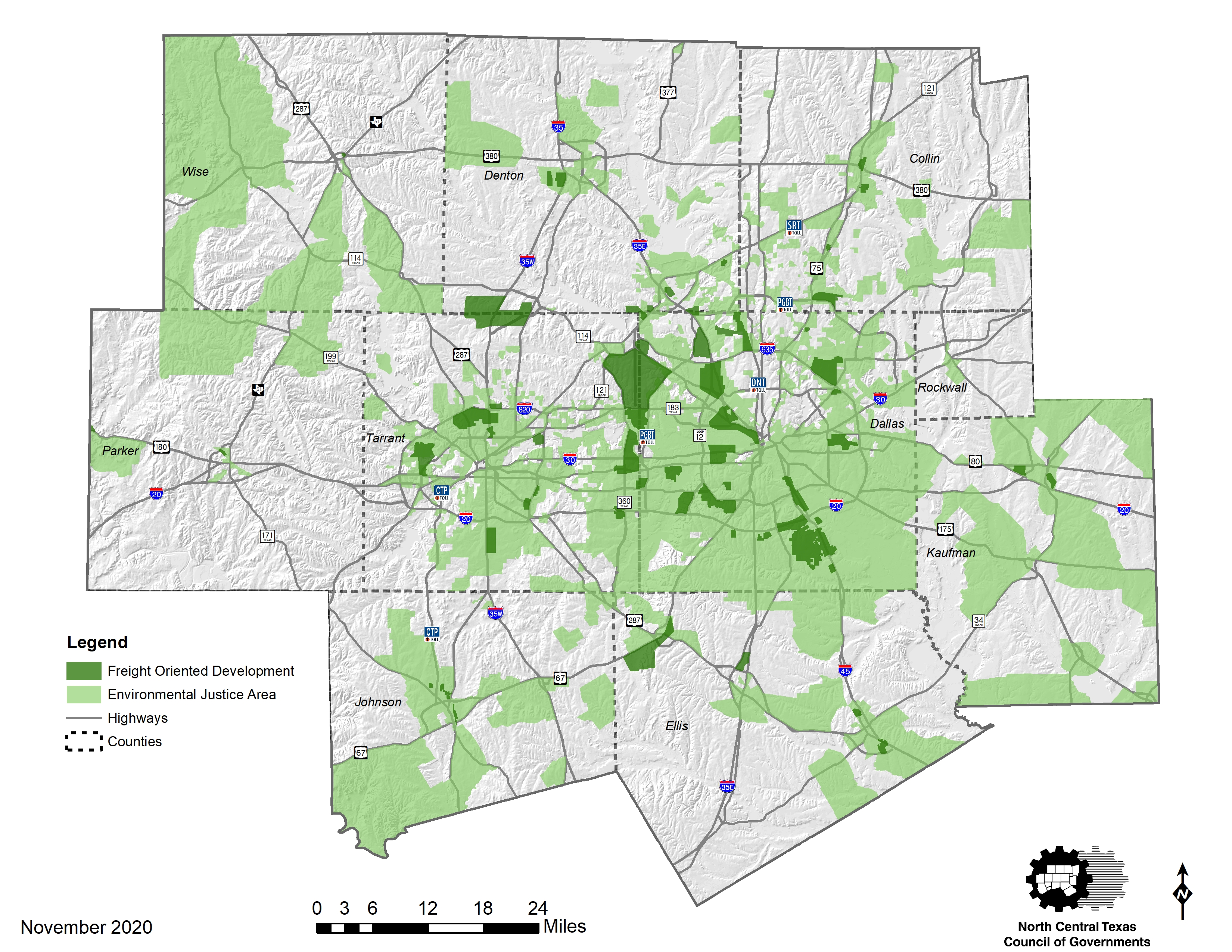 See Call for Project Guidelines for more specific eligibility information in the 'How to Apply' section below.
How to Apply:
Review Guidelines [PDF]
Review Frequently Asked Questions [PDF]
Fill out the Intent to Submit Form: Submitting this form entitles the applicant to a reminder notice two weeks in advance of the application deadline.
Submit an Online Risk Questionnaire. Review and fill out the PDF version to familiarize yourself with the questions. You will need complete and submit the Online Risk Questionnaire. Once you start the questionnaire online, we will need to finish in one session from the beginning and submit.
Submit an Application by Mail or in Person

Application [PDF]
An email with your responses will be sent to the applicant's email (if provided) within 1-2 days if completed online. Please email if you have not received the responses (AQGrants@nctcog.org; include in the subject line "NTFTE 2020 Application").
You may submit emailed application responses, but you must still include original signatures for Part 3-Certifications and Assurances section and any required documentation with application packet to be considered complete.
The application and all needed attachments must be received by 5 p.m. on the deadline date. Applications received after that time will be considered with applications submitted for the next application deadline. Applications received after 5 p.m. on the final deadline will not be considered and will be returned unopened. The hard copy submittal will count as the official submittal. Electronic-only submissions will not be evaluated.
Applications will be reviewed and evaluated on a competitive basis every three months until all funds have been awarded. The next deadline for NCTCOG to have submitted applications "in hand" is 5:00 p.m. Friday, October 14, 2022.

For more information, contact AQGrants@nctcog.org; include in the subject line "NTFTE 2020".
According to www.fortworthgasprices.com, the average diesel fuel price for Dallas-Fort Worth is $2.61. At that price for diesel, idling for 1,800 hours over a five year period can cost approximately $21,000 versus $12,000 for the use of an EPS, https://afdc.energy.gov/files/u/publication/hdv_idling_2015.pdf.

Additionally, according to Market and Technology Assessment of Electric Transport Refrigeration Units: 2015 Technical Report, Electric Power Research Institute, December 2015:
High-speed, continuous engine operation consumes more fuel, so pull down is a significant cost in diesel operation. Pre-cooling with electricity is less costly.

Operating Transport Refrigeration Units (TRUs) on shore power electricity while parked reduces overall operating cost -- including fuel use, fuel cost, maintenance cost, and engine wear.

Diesel fuel is a large operating cost element for TRUs.

Idle reduction regulations are driving the need for EPS – More than half the states in the U.S. and Washington, D.C. now enforce idling restrictions at either the state, county, or municipal level.

Upon effect of the Food Safety Modernization Act in 2016, refrigerated fleets have more stringent requirements on cold chain integrity. One impact is stationary TRU run time for pre-cooling to bring the trailer temperature to specification.
Staff Contacts
Huong Duong
Trey Pope
Jason Brown