Legislative Affairs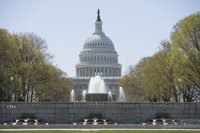 Both the Texas Legislature and the United States Congress address many important transportation issues that affect the Dallas-Fort Worth area.
Transportation and air quality in the North Central Texas region are impacted by legislative decisions at the State and federal levels.

NCTCOG staff regularly update policy and technical committee members, transportation partners and others interested in monitoring legislative initiatives related to the Regional Transportation Council (RTC) legislative priorities.
In order to understand current legislative initiatives, the RTC directed the development of a Transportation Funding 101 primer so legislators and the general public can better understand funding sources for transportation as well as trends that impact the amount of funding available. A shortfall of funding has been identified and the primer also addresses potential solutions to increase funding options.
January 20, 2023 Legislative Update
FROM WASHINGTON, D.C.
House Transportation and Infrastructure Committee Assignments
Rep. Sam Graves (R-MO) has been selected as the House Transportation and Infrastructure Committee chairman. Rep Graves was the committee's ranking member for the past four years. Rep. Graves has stated that his policy focus is a bipartisan reauthorization of the Federal Aviation Administration and strong support for aviation programs.
Rep. Lance Gooden (R-TX) has been added to the Transportation and Infrastructure Committee. His district spans from Plano to New Boston and includes Sherman, Denison, Paris, Frisco, and Sulphur Springs.
RAISE Grants
On December 15, 2022, the Biden Administration announced $1.5 billion available through the 2023 RAISE Grant Program. As a reminder, check the USDOT website for the latest implementation information, from fact sheets and funding notices to guidance, regulations, and presentations.
RAISE Grant guidance can be found here:
https://www.transportation.gov/RAISEgrants
The NOFO is available
here
. The deadline for applications is 11:59 PM EST on February 28, 2023, and selections will be announced no later than June 28, 2023.
P
lease send any letter of support requests to
nallen@nctcog.org
by February 10.
FROM AUSTIN
The Texas House of Representatives and Senate filed their respective budgets on January 18, 2023. Related to funding totals for TxDOT and TCEQ, SB 1 and HB 1 are identical at this early stage. Currently, both bills include about $57 million in Clean Air Account 151 for FY 2024 and about $53 million for FY 2025. Overall, TCEQ funds increase by 1.6%. For Transportation, SB 1 and HB 1 include $3.8 billion for Prop 1 in FY 2024 and $1.6 billion in FY 2025. Both bills include $3.04 billion for Prop 7 in FY 2024 and $3.13 billion for Prop 7 in FY 2025. Limitations on high-speed rail funding and comprehensive development agreements are still included in both versions of the TxDOT budget. TxDOT's overall budget tops $35.6 billion for FY 2024-2025, totaling a 12.3% increase. Texas' total spending amounts to a whopping $288.1 billion for FY 2024-2025.
HIGHLIGHTED BILLS
HB 1351 (Hernandez)- Relating to the distribution of funds designated for the low-income vehicle repair assistance, retrofit, and accelerated vehicle retirement program.
If passed, counties participating in LIRAP or remitting LIRAP fees to the state will have those funds returned. The returned funds may be used for projects that remediate emission sources or improve air quality.
HB 1420 (Shaheen)- Relating to the installation and operation of electric vehicle charging stations installed or funded by the Texas Department of Transportation.
If passed, TxDOT must ensure that electric vehicle charging stations; (1)- are capable of receiving data (via the internet); (2)-receives data from the electric grid prompting the charger to start, stop, or alter the rate of charging; and (3)- the charger must have one interface that allows the customer to control the charger.
SB 505 (Nichols)-
Relating to imposing an additional fee for the registration of an electric vehicle.
Most new electric vehicles would be subject to a $400 registration fee if passed. Existing electric vehicles would be subject to a $200 registration renewal fee.
MONITORED BILLS LIST
A table of bills related to the RTC Legislative Program can be found
here
. For information on bills in US Congress or the Texas Legislature, please contact Nick Allen.
Upcoming COMMITTEE HEARINGS
US CONGRESS
No recent relevant hearings.
TEXAS LEGISLATURE
Committees will begin in late January 2023.
---
To view Committee Hearings for the Texas Senate click here:
http://www.senate.texas.gov/av-live.php
To view Committee Hearings for the Texas House click here:
http://www.house.state.tx.us/video-audio/
Texas Legislature - 88th Session January 10, 2023 - May 29, 2023
Other Resources
In 2005 Congress passed the Safe, Accountable, Flexible, Efficient Transportation Equity Act: A Legacy for Users (SAFETEA-LU) . This legislation guided surface transportation policy and funding through 2009. Nine short-term extensions passed since SAFETEA-LU expired in 2009. The final short-term extension of SAFETEA-LU extended surface transportation authorization through June 30, 2012.
On July 6, 2012, President Obama signed into law a two-year $105 billion surface transportation authorization, titled Moving Ahead for Progress in the 21st Century (MAP-21). MAP-21 reauthorized the federal-aid highway, highway safety and transit programs that were last authorized by SAFETEA-LU. New programs and funding levels began on October 1, 2012, and continued through September 30, 2014. The final short-term extension of MAP-21 expired on December 4, 2015.
On December 4, 2015, President Obama signed the Fixing America's Surface Transportation (FAST) Act into law, which authorizes Federal highway, transit, safety and rail programs for five years at $305 billion. The FAST Act is effective October 1, 2015 through September 30, 2020.
2019 RTC Principles for Federal Surface Transportation Authorization
Resources
Infrastructure Investment and Jobs (IIJA) Act
FAST Act
MAP-21
SAFETEA-LU