Legislative Affairs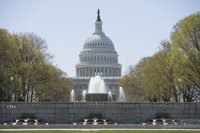 Both the Texas Legislature and the United States Congress address many important transportation issues that affect the Dallas-Fort Worth area.
Transportation and air quality in the North Central Texas region are impacted by legislative decisions at the State and federal levels.

NCTCOG staff regularly update policy and technical committee members, transportation partners and others interested in monitoring legislative initiatives related to the Regional Transportation Council (RTC) legislative priorities.
In order to understand current legislative initiatives, the RTC directed the development of a Transportation Funding 101 primer so legislators and the general public can better understand funding sources for transportation as well as trends that impact the amount of funding available. A shortfall of funding has been identified and the primer also addresses potential solutions to increase funding options.
Legislative Update - Aug. 18, 2023
FROM WASHINGTON, D.C.
Fiscal Year (FY) 2024 Appropriations Timeline
With FY 2024 beginning October 1, Congress is faced with a deadline to pass key funding measures. Despite the looming deadline, Congress is not in session as both chambers have adjourned for the traditional August recess. On Monday, August 15, Speaker McCarthy announced that the House of Representatives would likely pass a continuing resolution to extend current funding until December. If so, the continuing resolution would give Washington lawmakers a few months to agree on federal funding while avoiding a government shutdown.
FROM AUSTIN
June Texas Transportation Commission
During the June Texas Transportation Commission (TTC) meeting, Commissioner Bugg announced the following subcommittee and task force assignments:
Audit Subcommittee Co-Chairs- Commissioner Vaughn and Commissioner Meade

Congestion Relief Task Force Chair- Commissioner Bugg

Safety Task Force Co-Chairs- Commissioner New and Commissioner Meade

Economic Development and Stakeholder Engagement Co-Chairs- Commissioner Bugg and Commissioner Alvis

Statewide and Rural Connectivity Task Force Co-Chairs- Commissioner New and Commissioner Alvis
Commissioner Bugg also announced that since the TxDOT-MPO Safety Task Force's work has been completed, the task force will end on August 31. Commissioner Bugg thanked the TxDOT-MPO Safety Task Force. The new Safety Task Force will integrate the MPO-TxDOT work into the new task force.
During a separate presentation, TxDOT staff presented an initial proposal for the 2024 UTP.
The TTC also considered the National Electric Vehicle Infrastructure (NEVI) Program. Due to questions surrounding the type of mandated charger necessary for NEVI funding, the TTC elected to wait until the August meeting to vote on the NEVI program grant applications.
July Texas Transportation Commission
During the opening comments period, Commissioner Bugg mentioned that TxDOT's July 2023 letting reached $1.2 billion, a record amount.
August Texas Transportation Commission
During the UTP Discussion item, Chairman Bugg mentioned that the RTC is set to receive $16.7 billion from the 2024 UTP. This amount represents the highest awarded to a single MPO.
The 2024 UTP, as approved by the TTC at the August meeting, represents a $142.3 billion investment into the state's transportation infrastructure, including $100 billion earmarked for the Texas Department of Transportation's 10-year state roadways plan.
The TTC awarded the first NEVI grants after a short presentation by TxDOT staff during the August meeting.
Texas Legislature: Special Sessions
The 88th Regular Texas Legislature adjourned on May 29, 2023. However, since that time, there have been two additional special sessions. In Texas, special sessions can last 30 days, and the governor decides which topics the members have to consider. During the first special session, Governor Abbott required the Legislature to consider one issue: property tax reform. However, nothing passed during the first special session. Governor Abbott called a second special session so members could make more progress on the property tax issue. The House and Senate delivered an $18 billion property tax package during the second special session. Governor Abbott has also strongly hinted at a third special session to consider reforms to Texas's school voucher programs, and Speaker Phelan has stated that he expects discussions to begin in October. Further, the Texas Senate must return to Austin in early September to conduct embattled Texas Attorney General Ken Paxton's impeachment trial, making a special session focused on education unlikely until the Paxton matter is resolved.
MONITORED BILLS LIST
A list of tracked Federal bills of interest filed between June 1-August 3 can be found
here
.
For information on bills in the US Congress or the Texas Legislature, please contact Nick Allen at
nallen@nctcog.org
.
A summary of transportation and air quality related bills approved during the 88th Texas Legislature has been posted online at
www.nctcog.org/legislative
under the Texas Legislature section.
---
To view Committee Hearings for the Texas Senate click here:
http://www.senate.texas.gov/av-live.php
To view Committee Hearings for the Texas House click here:
h
ttp://www.house.state.tx.us/video-audio/
Texas Legislature - 88th Session January 10, 2023 - May 29, 2023
Other Resources
In 2005 Congress passed the Safe, Accountable, Flexible, Efficient Transportation Equity Act: A Legacy for Users (SAFETEA-LU) . This legislation guided surface transportation policy and funding through 2009. Nine short-term extensions passed since SAFETEA-LU expired in 2009. The final short-term extension of SAFETEA-LU extended surface transportation authorization through June 30, 2012.
On July 6, 2012, President Obama signed into law a two-year $105 billion surface transportation authorization, titled Moving Ahead for Progress in the 21st Century (MAP-21). MAP-21 reauthorized the federal-aid highway, highway safety and transit programs that were last authorized by SAFETEA-LU. New programs and funding levels began on October 1, 2012, and continued through September 30, 2014. The final short-term extension of MAP-21 expired on December 4, 2015.
On December 4, 2015, President Obama signed the Fixing America's Surface Transportation (FAST) Act into law, which authorizes Federal highway, transit, safety and rail programs for five years at $305 billion. The FAST Act is effective October 1, 2015 through September 30, 2020.
2019 RTC Principles for Federal Surface Transportation Authorization
Resources
Infrastructure Investment and Jobs (IIJA) Act
FAST Act
MAP-21
SAFETEA-LU