Legislative Affairs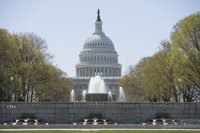 Both the Texas Legislature and the United States Congress address many important transportation issues that affect the Dallas-Fort Worth area.
Transportation and air quality in the North Central Texas region are impacted by legislative decisions at the State and federal levels.

NCTCOG staff regularly update policy and technical committee members, transportation partners and others interested in monitoring legislative initiatives related to the Regional Transportation Council (RTC) legislative priorities.
In order to understand current legislative initiatives, the RTC directed the development of a Transportation Funding 101 primer so legislators and the general public can better understand funding sources for transportation as well as trends that impact the amount of funding available. A shortfall of funding has been identified and the primer also addresses potential solutions to increase funding options.
March 18, 2022 Legislative Update
FROM WASHINGTON, D.C.
FY 2022 Appropriations
After nearly half a year into FY22, Congress finally cleared a $1.5 trillion omnibus spending bill. President Biden signed the bill on Mar. 15, allowing the US Department of Transportation (USDOT) to fully implement the Infrastructure Investment and Jobs Act (IIJA). The obligation limitations in the omnibus bill correspond to IIJA target levels to fully provide the FY22 contract authority. In addition, many program's FY22 budgets are further increased by advance appropriations provided by the IIJA.

The Transportation-HUD bill provides $81 billion in discretionary budget authority, of which USDOT will receive $27.1 billion - $1.6 billion above FY21 levels. With a further $76 billion in obligation limitations, $840 million in mandatory spending outside annual appropriations, and factoring in $37 billion in IIJA advanced appropriations, USDOT's budget for FY22 is set at $141 billion.

The bill provides $58.2 billion in contract authority for the Federal Highway Administration in 2022 in addition to $2.4 billion in discretionary appropriations. (This is in addition to $9.5 billion in IIJA advance appropriations.) The Federal Transit Administration receives $13.4 billion in contract authority and $2.9 billion in discretionary appropriations. With $4.3 billion in IIJA advance appropriations, FTA is receiving $20.5 billion in total, a massive 58% increase from 2021. The bill gives the Federal Railroad Administration $3 billion in discretionary appropriations, most of which are for Amtrak. However, when IIJA advance appropriations are counted, the $100 million discretionary appropriation for the Federal-State Partnership for Intercity Passenger Rail Program balloons that program's FY22 budget to $7.3 billion. Also, the bill provides $775 million for National Infrastructure Investments (RAISE) and $1.5 billion for "member directed spending" (or earmarks).

Finally, despite President Biden and Senate Majority Leader Chuck Schumer's efforts, the $1.7 trillion social and spending plan, the Build Back Better Act, has died in the Senate, due to Senator Joe Manchin's (D-WV) opposition. The Majority Leader and other Democrats are optimistic they can bring it back later in the spring.
FROM AUSTIN
The Texas House of Representatives released Interim Committee Charges for the 87th Texas Legislature on March 10. These are the topics the House will be studying in committee hearings throughout the year in advance of the 88th legislative session that begins in January 2023. Interim charges for the House Committee on Transportation and House Committee on Environmental Regulations are listed below. The full list of interim charges can be found here: interim-charges-87th.pdf (texas.gov).

House Transportation
1. Monitor the agencies and programs under the Committee's jurisdiction and oversee the implementation of relevant legislation passed by the 87th Legislature. Conduct active oversight of all associated rulemaking and other governmental actions taken to ensure the intended legislative outcome of all legislation, including the following:
HB 2219, relating to the issuance of Texas Mobility Fund obligations;
HB 3514, relating to the functions of the Texas Department of Motor Vehicles; and
HB 3927, relating to temporary motor vehicle tags.

2. Complete study of assigned charges related to the Texas-Mexico border issued in June 2021.

3. Study current and future transportation needs and consider improvements to ensure that Texas is adequately planning for the state's population growth forecasts. Evaluate the impacts of the COVID-19 pandemic on transportation projects and investment decisions.

4. Study the impacts that increased federal funding, formula changes, and new programs authorized in the Infrastructure Investment and Jobs Act will have on state transportation projects. Evaluate strategies to ensure Texas communities can maximize receipt of federal grant funds.

5. Study the impact of the increasing sale and use of electric and alternatively fueled vehicles on revenue predictions for the state highway fund. Recommend a road use revenue equalization methodology to create fairness and parity between gasoline, electric and alternatively fueled vehicles.

6. Study policies impacting truck transportation, a key link in the supply-chain, including utilizing state property and right-of-way for natural gas fueling stations and truck parking, the potential shortage of drivers and sellers of commercial trucks, the shortage of truck parking options to accommodate hours of service regulations, and ways to reduce border crossing wait times. Examine regulatory and statutory impediments to connected vehicle and autonomous technologies aimed at improving the safety and efficiency of trucking in Texas.

7. Examine the ability of the state's seaports to promote the public purposes of state economic growth, diversification, and commerce through development of port-owned properties within their boundaries. Review the investments needed for Texas ports to remain competitive in handling increased cargo volumes and ensuring a resilient supply chain.
House Committee on Environmental Regulations
1. Monitor the agencies and programs under the Committee's jurisdiction and oversee the implementation of relevant legislation passed by the 87th Legislature. Conduct active oversight of all associated rulemaking and other governmental actions taken to ensure the intended legislative outcome of all legislation, including the following:
HB 1680, relating to the regulation of on-site sewage disposal systems on certain leased land that is owned by the federal government;
HB 4472, relating to the Texas Emissions Reduction Plan (TERP); and
SB 900, which updates performance and safety standards for chemical storage vessels.

2. Evaluate the allocation of TERP funds for effective air pollution reduction programs. Review which existing programs are over or under-subscribed and identify unrealized opportunities that would further program goals.

3. Review recent passage of the Bipartisan Infrastructure Law (Infrastructure Investment and Jobs Act, Public Law No. 117-58), specifically funds that may bolster efforts to clean up polluted sites and plug wells and how federal funds can be used to complement state efforts on well plugging and pollution clean-up.

4. Monitor newly adopted and proposed federal regulations that could directly impact economic development, manufacturing, and industrial activities that fall within the jurisdiction of the committee, including regulations adopted or proposed by the Environmental Protection Agency.
RECENT COMMITTEE HEARINGS
US CONGRESS
On Feb. 2, the House Committee on Transportation and Infrastructure's Subcommittee on Highways and Transit held a hearing on "The Road Ahead for Automated Vehicles (AVs)". Witnesses included Martha Castex-Tatum (National League of Cities), Scott Marler (American Association of State Highway and Transportation Officials), John Samuelson (Transport Workers Union of America), Catherine Chase (Advocates for Highway and Auto Safety), Nat Beuse (Aurora), Doug Bloch (Teamsters Joint Council 7), Nico Larco (University of Oregon), and Ariel Wolf (Autonomous Vehicle Industry Association). The witnesses emphasized, on behalf of AV manufacturers, unions, safety and pilot advocates, the need for federal regulation and standardization in national AV deployment. During the hearing, Representative Eddie Johnson (TX-30) highlighted NCTCOG's investments, leadership, and coordination in relation to the development of AV trucking technology in the Dallas-Fort Worth area.
On Mar. 2, the Senate Committee on Environment and Public Works met on "Implementation of the Infrastructure Investment and Jobs Act by the U.S. Department of Transportation." The committee received testimony from the Secretary Pete Buttigieg. A large portion of the hearing was focused on FHWA's policy memo issued on Dec. 16, 2021. The memo included information as to how the FHWA would implement the IIJA. While senators continuously brought up the memo, Secretary Buttigieg repeatedly reassured them that the goals expressed in the document would not tie states' hands for formula money and said that the goals set out in the memo might work for some states but not others. Secretary Buttigieg was asked about biofuels, electric vehicles, and the supply chain. The Secretary emphasized the need to pass the Omnibus Appropriations Act for 2022. Once the appropriations have been passed, USDOT can get to work and begin implementing the IIJA.
---
To view Committee Hearings for the Texas Senate click here:
http://www.senate.texas.gov/av-live.php
To view Committee Hearings for the Texas House click here:
http://www.house.state.tx.us/video-audio/
Texas Legislature - 87th Session January 12, 2021 - May 31, 2021
Other Resources
In 2005 Congress passed the Safe, Accountable, Flexible, Efficient Transportation Equity Act: A Legacy for Users (SAFETEA-LU) . This legislation guided surface transportation policy and funding through 2009. Nine short-term extensions passed since SAFETEA-LU expired in 2009. The final short-term extension of SAFETEA-LU extended surface transportation authorization through June 30, 2012.
On July 6, 2012, President Obama signed into law a two-year $105 billion surface transportation authorization, titled Moving Ahead for Progress in the 21st Century (MAP-21). MAP-21 reauthorized the federal-aid highway, highway safety and transit programs that were last authorized by SAFETEA-LU. New programs and funding levels began on October 1, 2012, and continued through September 30, 2014. The final short-term extension of MAP-21 expired on December 4, 2015.
On December 4, 2015, President Obama signed the Fixing America's Surface Transportation (FAST) Act into law, which authorizes Federal highway, transit, safety and rail programs for five years at $305 billion. The FAST Act is effective October 1, 2015 through September 30, 2020.
2019 RTC Principles for Federal Surface Transportation Authorization
Resources
Infrastructure Investment and Jobs (IIJA) Act
FAST Act
MAP-21
SAFETEA-LU