Transportation
Phone System Outage
The Transportation Department is in the process of upgrading our communication system.
With these upgrades our phone system will be unavailable Friday, December 9 from around 10:00 through the close of business.





Communication with our department will still be available during this time through email, Teams, Zoom, or other meeting platforms.




Please feel free to contact us before this transition if you need any assistance.

The Transportation Department at NCTCOG serves as the Metropolitan Planning Organization (MPO) for the 12-county Dallas-Fort Worth region. The MPO works closely with regional, state and federal partners to plan and recommend transportation projects that will improve mobility and encourage more efficient land use, all while minimizing the impact on the region's air quality. The MPO has several core functions it must perform: the Metropolitan Transportation Plan, Transportation Conformity, Transportation Improvement Program, Unified Planning Work Program, Congestion Management Process, Public Participation Plan, the 10-year Plan, and Federal Performance Measures.

The Regional Transportation Council, made up of local elected officials, serves as the policymaking body for the region. The policymaking body consists primarily of local elected officials and representatives of North Texas transportation providers.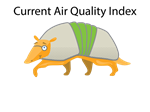 Connect With Us
Meetings & Events
Information Center