Freight
Freight transportation is a key component in the DFW regional economy.
The North Texas region is located at the crossroads of four major interstate highways: IH 20, IH 30, IH 35, and IH 45.
Why Regional Freight Planning Affects Everything You Do
The DFW region represents one of the largest inland ports in the nation, where freight is moved, transferred, and distributed to destinations across the State and around the world. Our region is one of the most critical locations in American freight movement benefiting from the United States-Mexico-Canada Agreement (USMCA).

In 2022, the North Texas region accounted for 30 percent of Texas' Gross Domestic Product.

North Central Texas has one of the most extensive surface and air transportation networks in the world, providing extensive trade opportunities for the hundreds of motor/trucking carriers and freight forwarders operating in the DFW area.
Success in planning will mean that we effectively...
Seek freight community participation in the planning process.
Monitor freight traffic through the region to identify potential bottlenecks.
Improve freight movement efficiency to, from, and within the region.
Promote safety, mobility, and accessibility.
Reduce the air quality impacts of freight movements.
Seamlessly incorporate freight considerations in transportation projects.
Develop and use a sustainable and reliable funding source for freight programs and projects.
Develop a regional freight database.
Improve railroad safety and reliability.
Current Truck Freight Travel Times
Our DFW region is a national railroad crossroads, as well as a national and international air cargo hub, making the region a natural logistics hub.
Trucks leaving the region can reach almost the entire country within 72 hours.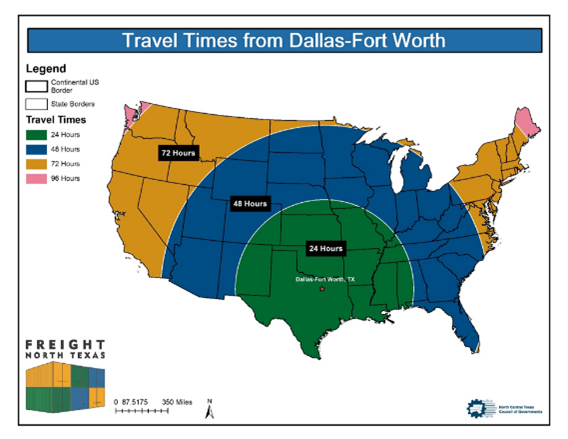 The Regional Freight Advisory Committee (RFAC) serves to maximize the Dallas-Fort Worth region's freight capabilities through information, knowledge, and technology sharing between public and private freight interests; promoting the region's intermodal capabilities and capacity; and supporting and improving the regional freight system.

If you work in freight and want to get involved with RFAC, reach out to our Goods Movement Staff.

Staff Contacts: Morgan Tavallaee, Jeff Hathcock, Mike Johnson, Dan Lamers