Housing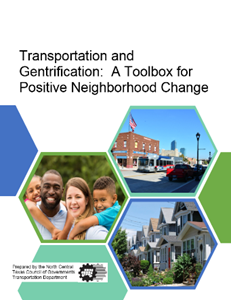 NCTCOG has prepared a report on strategies for addressing gentrification and supporting affordable housing in the region: Gentrification Study





A sustainable, affordable, and equitable approach to housing is an integral component of livability. This includes:
Compact and higher density planning;

Green design and construction practices;

Access to alternative modes of transportation; and

Availability, affordability, and accessibility of diverse housing choices to a wide range of income, race and ethnic groups, family types, and age groups.
Historically, suburban and large lot types of housing developments contributed to increased land consumption, vehicle miles traveled, vehicular emissions, and infrastructure costs.Lower density housing is not ideal to provide viable population densities to support public transit, biking, or pedestrian options, often making auto ownership a necessity.

To increase mobility and lower the combined cost of housing and transportation, expansion of location-efficient and energy-efficient housing choices is the goal of sustainable housing practices.
| | |
| --- | --- |
| | |
Location-efficient housing: The Center for Neighborhood Technology (CNT) defines location efficiency as "Compact neighborhoods with walkable streets, access to transit, and a wide variety of stores and services have high location efficiency. They require less time, money, and greenhouse gas emissions for residents to meet their everyday travel requirements." For more information about location efficiency and its connection to housing affordability, visit the Housing and Transportation Affordability Index.

Affordability and cost burden: The U.S. Department of Housing and Urban Development (HUD) defined "cost burden" as households spending over 30 percent of household incomes on a monthly mortgage or rent. According to the Housing and Transportation Affordability Index created by the Center for Neighborhood Technology, the table and map below show cost burdens in the Dallas Region and the Fort Worth-Arlington Region. Policies and land-use practices that support compact, mixed, connected, and multi-modal land-use development improves land-use efficiency, accessibility, and livability.

Energy-efficient housing: According to the Environmental Protection Agency (EPA), energy consumption reductions are gained by the use of energy efficient design elements such as alternative energy sources such as solar and wind, energy-efficient heating and cooling systems, appliances, insulation, and light fixtures. Such techniques are certified by proprietary rating and/or certification programs, such as Leadership in Energy and Environmental Design (LEED), EarthCraft, or NAHB's National Green Building program.

According to the Center of Housing Policy, green building materials, techniques, and appliances reduce energy consumption by 33 percent and water use by 20 percent or more. In addition, green building practices contribute to healthier and sustainable communities. Sustainable housing development also includes reinvestment and redevelopment in existing communities, providing an opportunity to utilize existing infrastructure, and create location-efficient housing.

Suggested links for more information related to sustainable location-efficient and energy-efficient housing practices: