BH RFP Page 1
High-speed transportation sessions to be in person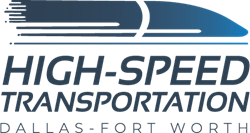 The study of high-speed transportation options to move people across Dallas-Fort Worth is hitting the road, with a series of in-person open houses scheduled for October throughout the corridor.

The open houses begin with a session October 12 from 5-8 pm at Lone Star Park in Grand Prairie. Open houses are also scheduled for October 19 from 4-7 pm at Southside Preservation Hall in Fort Worth, October 26 from 4-7 pm at Mercy Street in west Dallas and October 30 from 10 am to 2 pm at Globe Life Field in Arlington. Large venues have been chosen to allow for adequate social distancing.

There will be a short video on a loop discussing the project and presentation boards throughout each venue that will explain the different high-speed technologies and recommended route.

The sessions are intended to promote interaction between residents and the project team while providing an overview of the Phase 1 recommendations. Planners have recommended a route along the Interstate Highway 30 corridor and two potential technologies for
further study – high-speed rail and hyperloop technologies.

The technology selected will connect residents to the region's existing transportation system, as well as the planned high-speed rail line under development between Dallas and Houston and a future line between Fort Worth and South Texas.

Each open house location will offer free parking nearby. Comments will be accepted in person and online at www.nctcog.org/dfw-hstcs. The location of each of the venues is also available on the webpage.

NCTCOG evaluating options for US 75 corridor
An interim plan to improve reliability along a stretch of US 75 was recently presented to the Regional Transportation Council. NCTCOG has been working on a plan for the underutilized high-occupancy vehicle lane in the corridor, and the pilot project aims to create a technology lane that would evaluate the effectiveness of allowing single-occupant vehicles to utilize the HOV lanes (no toll, no HOV requirement) while providing an incentive to HOVs. Planners propose to incentivize carpooling using the GoCarma app currently used to obtain HOV discounts on the region's TEXpress Lanes. The technology lane could have several benefits, including improved safety and response time, reduced congestion, better air quality and enhanced traffic flow on frontage roads (with improved signal timing). The remaining pylons separating the HOV lane from general-purpose lanes would also be removed, leading to a safer roadway. The pilot project aims to increase the corridor's capacity to make the fast-growing corridor more efficient for commuters, residents and businesses. The project would cost a total of $53.8 million, with $10 million to fund a demonstration project utilizing the existing GoCarma app to incentivize HOV users, through a grant with TxDOT. The technology lane could be open to traffic in the summer of 2024.
Trinity Metro introduces 'A Better Connection' for customers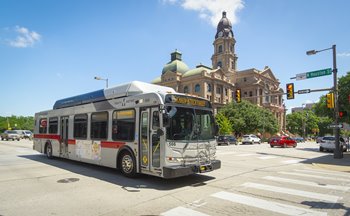 Trinity Metro has rolled out a redesigned bus service offering greater frequency and expanded service to customers.
Trinity Metro rolled out its newly redesigned bus system with more frequency, extended hours and better customer options in September. Known as A Better Connection (ABC), the redesign will offer customers more direct routes that reach their destination without having to go through downtown.

Last month, Dallas Area Rapid Transit announced a similar redesign of its bus network, which will debut in January.

The Trinity Metro plan has been in development for approximately a year, as Trinity Metro has analyzed its routes and gathered public input from residents regarding their transportation needs, said Wayne Gensler, vice president and chief operating officer for bus and paratransit.

"These changes will provide more service options and easier access for our customers – and all without any increase to our operating budget," Gensler said.

Throughout the planning process, Trinity Metro invited the public to provide feedback on transit options. The scenario that generated the most interest was a "walk more, wait less" option that would provide more frequent service to more customers. ABC will offer seven routes with service to neighborhoods that did not have service. These routes mean new access for 27,400 people in 8,500 households. They will be within a quarter-mile of a bus route as will 3,600 jobs. Additionally, 17 schools will have access within a quarter-mile.
Planners working on update to Mobility 2045
NCTCOG is developing an update to Mobility 2045, the Metropolitan Transportation Plan for the fast-growing Dallas-Fort Worth area.

While maintaining the same horizon year of 2045, the plan update will incorporate the latest demographic and revenue forecasts for 2045 and refined project recommendations. Planners continue to seek input from the public through a variety of methods, including public input opportunities and meetings (see page 4) and the online Map Your Experience tool. This webpage, allows users of the transportation system to provide input directly to NCTCOG on where they are experiencing transportation trouble, regardless of how they choose to get around.

Users can record their issues by placing pins on a map. These pins will be compared with currently planned recommendations to see where NCTCOG is already working on solutions, and where new ones are needed. The Mobility 2045 Update is expected to be approved by the Regional Transportation Council in 2022. The public can keep up with the progress of the Mobility 2045 update at www.nctcog.org/PlaninProgress. For information on the current plan, visit www.nctcog.org/mobility2045.
October is Fall Car Care Month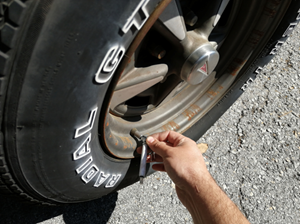 Ensuring your car maintains proper tire pressure is an important part of maintaining your car and improving its performance.
Are you car care aware? October is Fall Car Care Month and that means taking a few extra steps to make sure your vehicle is
operating well.

This may not only prolong the life of your car but save you time and keep you and your passengers safe. Make sure your coolant levels are topped off with antifreeze to prevent your car from overheating and leaving you stranded.

NCTCOG will be present at in-person events in Denton and Burleson this month to discuss with residents the importance of proper car maintenance. Additional outreach is planned for the spring.

In the meantime, there are ways to ensure you get the most out of your vehicle while being mindful of air quality. For example, keeping your check engine light off ensures your car is not polluting more than necessary, which means better air quality for all of us in the region.

Winter months bring potential driving hazards, such as icy roads, so it is important to prepare by checking your brakes and tires in the fall as the weather cools down.

Worn treads on a tire can seriously impact a car's ability to stop in the rain. If your tread depth is less than 4/32 inches, you should consider replacing the tires.

Also, if you hear squeaking brakes, that is your vehicle's way of telling you that there may be an issue that needs attention.

Stay safe and remember to be Car Care Aware! For more information, visit www.ntxcarcare.org.
NCTCOG to host in-person public meeting Oct. 11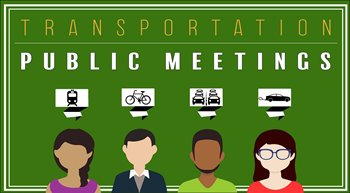 NCTCOG will host a public meeting in October to provide an overview of the Metropolitan Transportation Plan and present details on the freight safety campaign and local government energy reporting.

The meeting will take place at NCTCOG's Arlington offices, 616 Six Flags Drive, at noon on Monday, October 11 and marks the first in-person public meeting since March 2020, due to the on-going COVID-19 pandemic. Residents may attend the meeting or watch the live stream. All attendees are encouraged to wear masks and practice social distancing.

One of the primary responsibilities of a metropolitan planning organization is the development and maintenance of a Metropolitan Transportation Plan. The MTP identifies transportation needs, investments and priorities for the regional transportation system. NCTCOG is developing an update to the current MTP, Mobility 2045, and will provide an overview of the project timeline.

Additionally, staff will give details on the freight safety campaign, which is educating heavy-duty vehicle operators about following regional truck lane restrictions, and informing the public about safe driving practices near large commercial vehicles.

Staff will also present an overview of the local government energy reporting requirements, NCTCOG resources and training, and reminders regarding the upcoming 2021 Local Government Energy Reports. Political subdivisions in ozone nonattainment or "affected" counties in Texas are required to reduce their electric consumption by five percent each year and report their annual electricity consumption to the State Energy Conservation Office.

The department's interactive map tool, Map Your Experience, the Regional Smoking Vehicle Program, vehicle incentive opportunities and administrative revisions for Mobility 2045 will also be highlighted.

To watch the meeting online, click the "live" tab at www.nctcog.org/video. A recording of the presentations will also be posted at www.nctcog.org/input, where residents can comment through November 9. For special accommodations, or to request printed copies of information discussed or a free roundtrip ride between NCTCOG and the Trinity Railway Express CentrePort/DFW Airport Station, contact Carli Baylor at 817-608-2365.

--Images provided by Trinity Metro and NCTCOG staff
Annual Reports
Annual Comprehensive Financial Reports
Annual Fiscal Program Reports
Annual Local Debt Reports