Frisco - Historic Downtown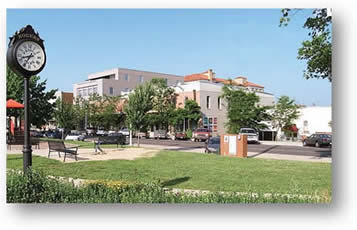 2000-2001 Call for Projects
Status: Complete


Frisco Historic Downtown is located along Main Street between the old train tracks and Dallas Parkway running adjacent to the downtown. The area has buildings that date back to 1869 and includes a number of retail spaces, restaurants, and office locations, to create an interesting blend of past and present with historic and modern buildings in Frisco Square.

The Frisco Square development project helped the City plan for future growth in downtown with the addition of a City square, new City Hall, the Frisco Public Library, and Simpson Plaza, which all blend into the same architectural aesthetic as the historical buildings. The pedestrian-friendly design allows locals to walk within a quarter-mile to the nearby shops, restaurants, entertainment venues, and open public spaces. Just to the north of the downtown is the Toyota Stadium and to the south are two local museums, the Museum of American Railroads and the National Videogame Museum. The downtown is also within a mile of Grand Park, a 275-acre regional park with future development projects planned.

The funded elements from NCTCOG and the City of Frisco included construction of street infrastructure, sidewalks, pedestrian amenities, and landscaping.

The project cost of $2,859,624 was funded through public-private partnerships.
Mixed-Use Information

38 Townhomes
56,000 sq. ft. of healthcare service space
660,000 sq. ft. of retail space
420,000 sq. ft. of office
74,000 sq. ft. of open space

Click on the image for an expanded view of project map.