Dallas - Lake Highlands Town Center
2005-2006 Call for Projects
Status: Complete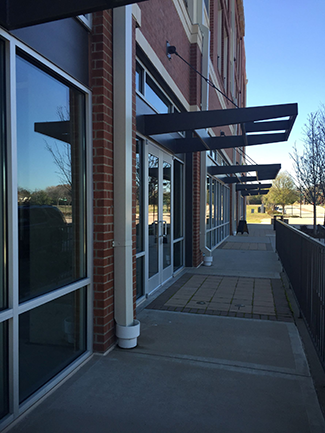 Source: Courtesy of NCTCOG
Lake Highlands Town Center is a developing mixed-use, walkable neighborhood built near the Lake Highlands Station served by the DART Rail Blue Line. The 70-acre development at full build-out will include over 300,000+ square feet in office/retail mix spaces and 1,200 residential units. Other attractions in the area include the 20-acre Watercrest Park with a jogging trail, a lake and an outdoor amphitheater. Pedestrian activity is encouraged along Wildcat Way, a promenade lined with trees, where shopping, dining and entertainment options are available for employees and residents in the area. Pedestrian-friendly streets and sidewalks are being incorporated into the overall design to improve connectivity to and from the Lake Highlands DART station which also features room for bus transfers and passenger drop-off.
The project funded through the 2005-2006 Call for Projects includes approximately 235,744 sq. ft. of retail and 215 residential units. NCTCOG funded street construction, intersection improvements, traffic signals and pedestrian amenities to support this transit-oriented development.

The project cost of $6,437,500 was funded through public-private partnerships.

Mixed-use Information

274,644 sq. ft. of office/retail
215 residential units
1,774,175 sq. ft. of residential space

Click on the image for an expanded view of the project map.