Grapevine - Hudgins Street Corridor Roadway and Pedestrian Improvements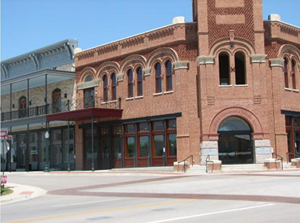 2009-2010 Call for Projects
Status: Complete

This project is located just east of the Grapevine Trinity Metro TEXRail commuter rail station, and provides connections to the Cotton Belt Trail system. The Hudgins Street extension connects the Convention and Visitor's Bureau with Historic Nash Farm.

This project provided increased pedestrian amenities with 0.4 miles of sidewalk improvements that connect surrounding residential neighborhoods to Main Street. The Grapevine Historic Main Street offers various entertainment options, local shops, restaurants, a local museum and gallery and the Grapevine Vintage Railroad.

The project cost of $708,750 was funded through public-private partnerships.
Mixed-Use Information

19,100 sq. ft. of office/retail
9 townhomes
21,000 sq. ft. of amenity uses

Click on the image for a larger view of project map.