Fort Worth - South Main Urban Village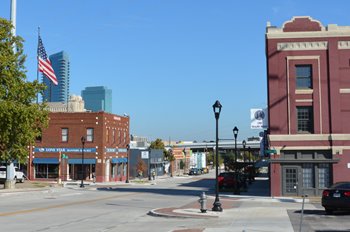 2009-2010 Call for Projects
Status: Complete


The South Main Urban Village was a joint venture between the City of Fort Worth, Tarrant County, and NCTCOG to revitalize historic Main Street in Fort Worth. The completed project is located south of IH 30 on Main Street between Vickery Boulevard and Magnolia Street and included the redevelopment of several historic structures such as the Amphibian Theater, Supreme Golf Mixed-Use Development, Miller Lofts, and Victory Medical Center. The total redevelopment project included the construction of 300 residential units, as well as the creation of large office and retail spaces. Infrastructure improvements included landscaping, pedestrian amenities, traffic signals, and a roadway retrofit to accommodate multimodal transportation options.
The pedestrian amenities provide increased access to various local breweries, coffee shops, local stores and businesses.
The project cost of $3,750,000 was funded through public-private partnerships.

Mixed-Use Information

38 loft-style townhomes
122,499 sq. ft. of office space
4,088 sq. ft. of retail space


Click on the image for an expanded view of the project map.