Tarrant County Transit Study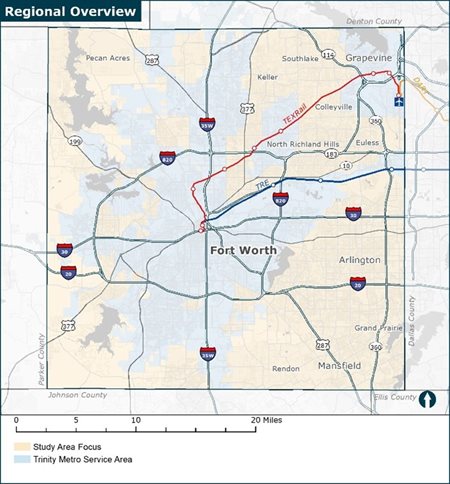 Tarrant County Study Area Map

Study Outcomes
The Final Report explores the transit and shared mobility needs of Tarrant County residents that reside in municipalities without general-access transit service. Based on existing conditions and market assessments, three service scenarios were developed that identify levels of transit service needs as well as propose service improvements (local and regional) that address identified needs. Although presented as three scenarios, the set can be regarded as a single scenario that offers variations in services for added flexibility to communities. Once defined, the scenarios were then evaluated using key performance metrics to understand potential trade-offs resulting from each scenario's mix of local and regional service expansion.

Accompanying the three scenarios are annual cost estimates associated with service implementation; cost estimates are presented countywide as well as by affected city. Since the service scenarios present infrastructure-light options such as extensions of existing bus routes or demand-response service, the estimates focus on operations and maintenance costs, not on capital costs. With funding needs identified, available funding options were evaluated, and a gap analysis was performed that shows the remaining financial need for each scenario.

Finally, an Implementation Plan was developed that provides a framework for Tarrant County municipalities to establish or expand transit service based on the three scenarios established. The Plan is designed as a flexible, menu-based toolkit to meet each municipality's needs, priorities, and goals.
Service Recommendations & Cost Estimates
The service recommendations across the three scenarios are illustrated in the StoryMap below. The countywide scenarios use a relatively constant annual baseline budget to understand trade-offs between local and regional service expansion when constrained to scenarios with similar costs. Countywide, between $18.1M and $18.4M in annual operating costs would need to be covered to implement services as described in the scenarios.


The scenarios are not intended to reflect a single, countywide plan, but rather a range of what services might look like throughout the county. Individual municipalities or groups of municipalities can choose to move forward with transit service reflecting any of these scenarios independently, and scale service levels up or down to meet local needs.
A variety of funding measures are needed to meet the needs of Tarrant County's municipalities. To this end, municipal funding typologies were developed to identify common approaches to funding the transit services outlined in the scenarios. Each municipal typology includes appropriate funding mechanisms based on the type of transit (on-demand or fixed route) being proposed in a community. The typologies represent general guidelines.

Based on the scenarios' estimated annual operating costs (countywide), various funding options (Federal, State, Local) were evaluated for transit funding opportunities. The financial analysis focused on local funding options, as most transit funding for operations and maintenance comes from local and regional sources. Revenue sources evaluated include sales tax, general funding options, and value capture options.

For detailed information on the financial analysis, please review Chapter 5 (Funding & Finance) of the Final Report. Appendix D provides a breakdown by municipality of modeled revenue mix.
The Implementation Plan presents an array of service choices with guiding questions and a critical pathway to analyzing transit options, selecting from among them, and implementing the chosen service. Four transit service delivery options (Service Models) are outlined; the table below presents an overview of the benefits and risks associated with each service model: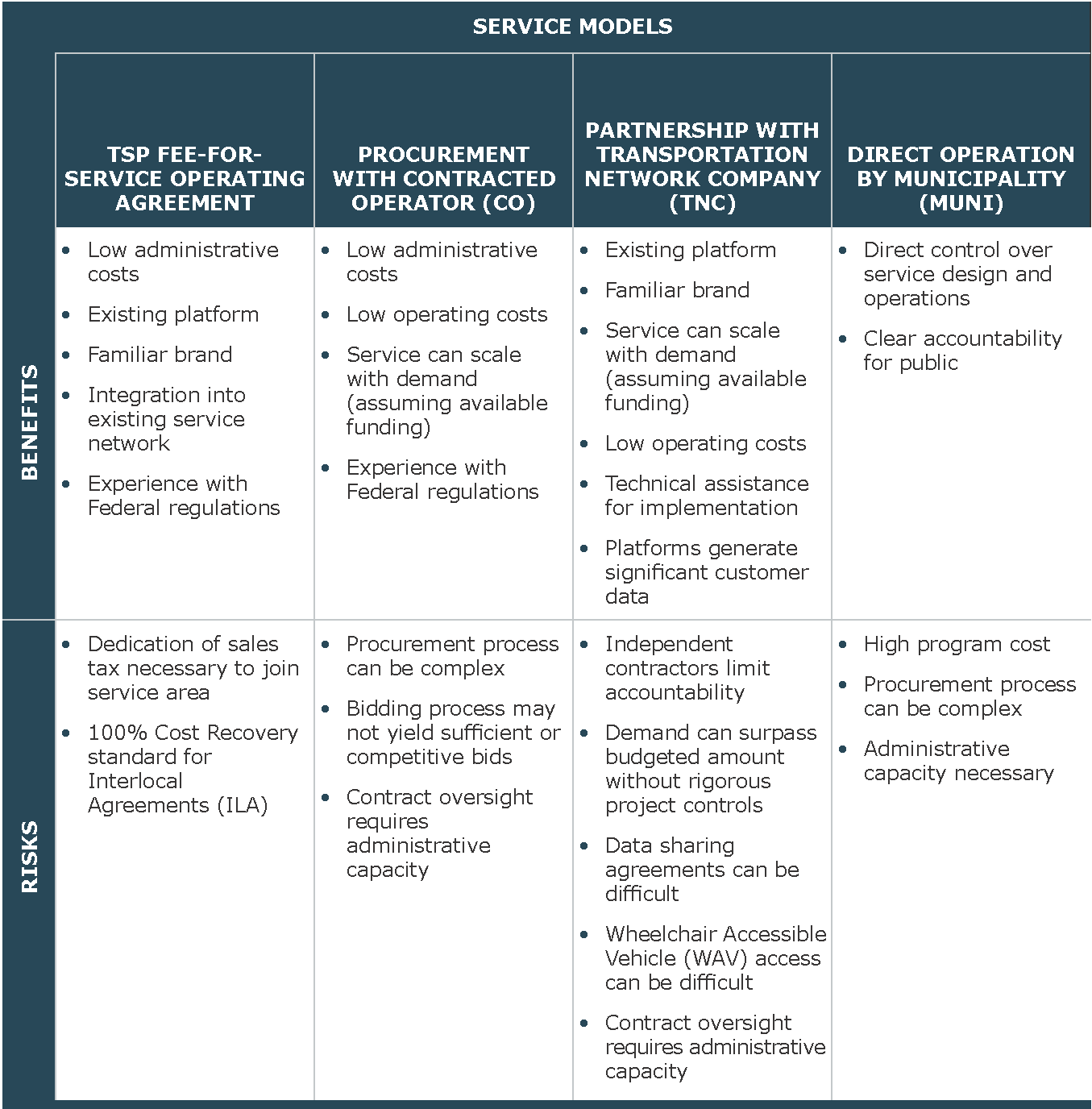 Final Report & Appendices
For more information about the Tarrant County Transit Study, contact Ezra Pratt at epratt@nctcog.org.