North Central Texas Clean School Bus Program
The Environmental Protection Agency will double Clean School Bus rebate awards to nearly $1 billion! Read more here!

Staff of the North Central Texas Council of Governments (NCTCOG), which hosts the Dallas-Fort Worth Clean Cities (DFWCC) Coalition, work with school districts to reduce emissions, reduce energy impact, and increase fleet efficiency to improve air quality in our region. Research shows that children are sensitive to air pollution, with documented impacts on respiratory health, academic performance, and attendance rates. NCTCOG and DFWCC provide educational materials on various clean fleet strategies which can improve school bus fleet operations, benefit the environment, save the district money, and help protect the health of children. Also, NCTCOG provides and promotes funding programs to assist school districts in replacing older diesel vehicles.
---
The following strategies will assist school districts in reducing emissions and increasing fleet efficiency. Strategies range from more capital-intensive initiatives such as transitioning to alternative fuels, to low-or no-cost efforts such as idle reduction, route optimization, and driver training. DFWCC staff maintain information on which districts in the region are using different strategies. If interested in learning from a school district how something is working for them, contact us at cleancities@nctcog.org.
Click the blue headers below to see more information on strategies for school districts.
Transition to Alternative Fuel Vehicles
Alternative fuel vehicles are a great opportunity for school districts to significantly reduce their emissions. Certain fuel types such as propane, natural gas, and biodiesel have fewer tailpipe emissions, while electric vehicles have zero tailpipe emissions. See the Environmental Protection Agency's (EPA) Clean School Bus webpage for additional information on the benefits of alternative fuel school buses. Ten counties in the Dallas-Fort Worth region are not in attainment for ground-level ozone, according to the National Ambient Air Quality Standards. Due to this, DFWCC focuses on reducing nitrogen oxides (NOX) and volatile organic compounds (VOC) emissions, as they contribute to ground-level ozone. See below for the NOX and VOC emissions produced from different types of school buses.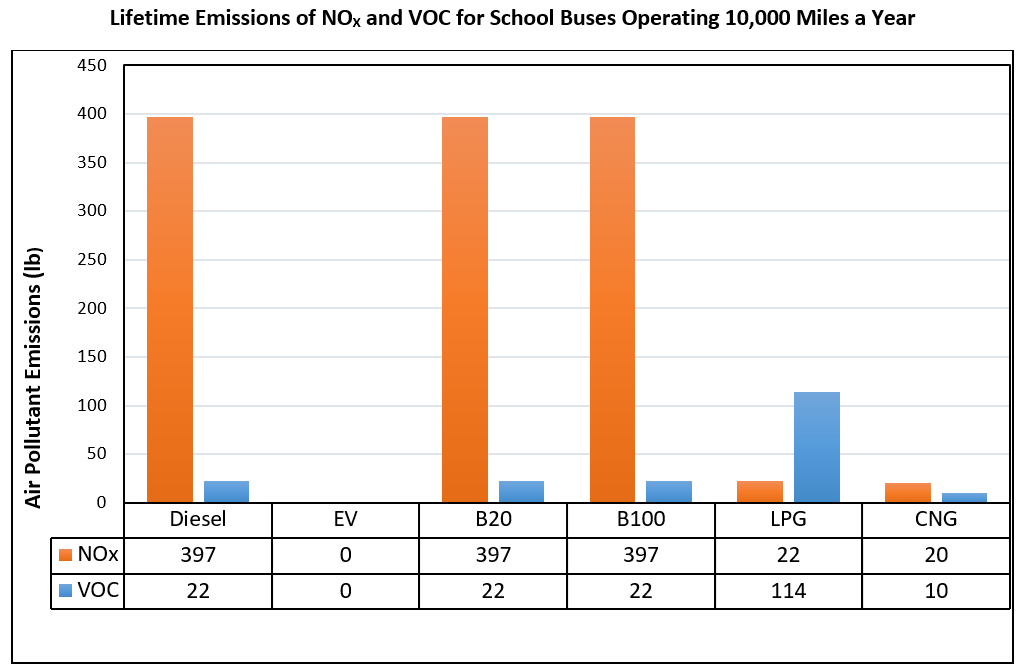 Source: AFLEET
In Texas, many school districts have seen success operating propane school buses. Electric is also becoming an viable option for school districts! In 2020, Everman Independent School District near Fort Worth deployed the first three electric school buses in Texas. There are several funding programs to assist fleets in transitioning to alternative fuels. A dashboard of available original equipment manufacturer alternative fuel buses is available at Alternative Fuels Data Center: Fleet Application for School Transportation Vehicles (energy.gov).

Click the blue headers below to see more information on implementing alternative fuel vehicles.
Strategies to Optimize Conventional Fuel Vehicles
Click the blue headers below to see more information on strategies for school districts to optimize conventional fuel vehicles (gasoline and diesel).
Other Resources
Click the blue headers below to see more information on resources for school districts and to get involved!
General Clean School Bus Resources