Events
Upcoming Events
SMARTE Webinar Series: Fuel Considerations and Alternatives
Date: Wednesday, February 8, 2023
Time: 11 AM - 12 PM Central Standard Time
Hosted by the North Central Texas Council of Governments (NCTCOG)
Register at https://nctcog.zoom.us/j/87430543824
Webinar will be presented through ZOOM
Contact: Huong Duong, hduong@nctcog.org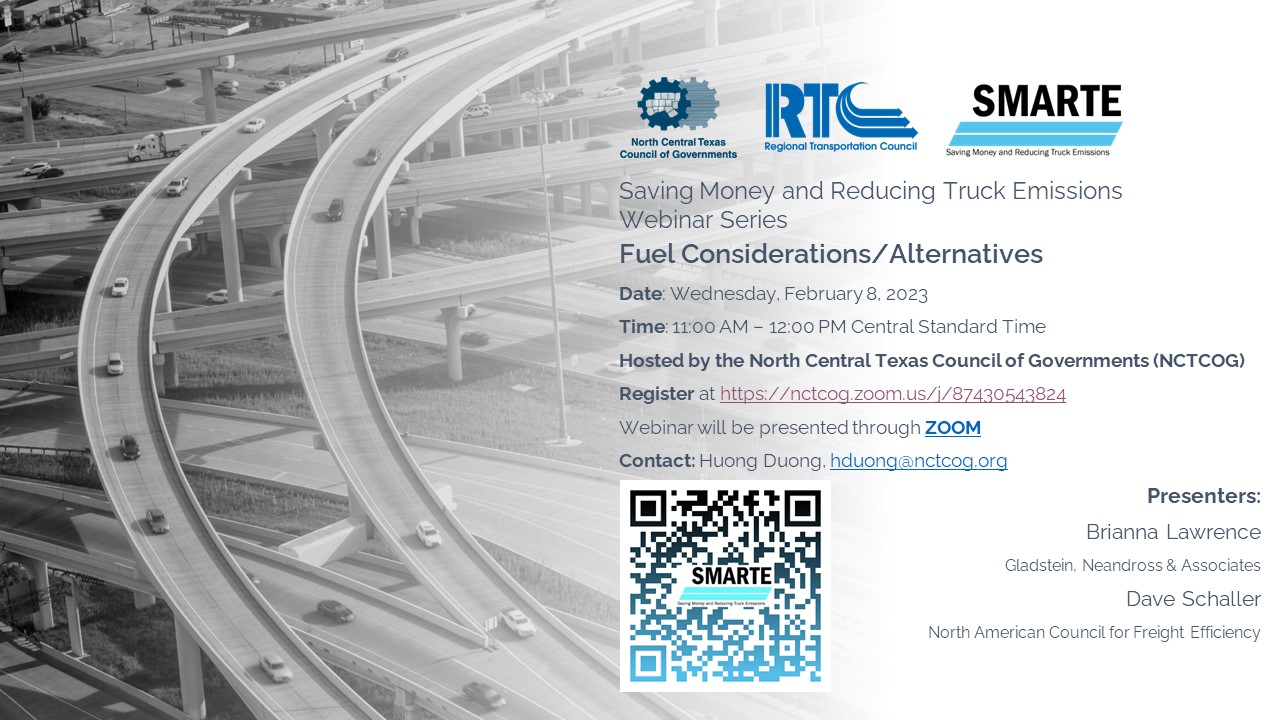 Previous Events
SMARTE Webinar Series: Driver Training
December 15, 2022

Dave Schaller with the North American Council on Freight Efficiency presented on Driver Behaviors and Vehicle Controls. Dave provided details on how to maintain a bearable temperature within a truck's sleeper cab, the benefits of driver training and incentives, as well as the rapidly increasing adoption of battery electric trucks. Andrew Coulombe with Orange EV presented on Heavy-Duty Electric Vehicle Training, noting that the electrification of heavy-duty trucks is a present-day operation in the trucking industry. Andrew also discussed the benefits of regenerative braking in electric heavy-duty vehicles, with the wheels turning the motor and recharging the batteries.
Agenda
Presentation
Recording

SMARTE Webinar Series: Truck Routes
September 1, 2022
NCTCOG presenters talked about the importance of efficient truck routes and shared the results of a truck route analysis performed for the City of Lancaster. NCTCOG also shared details about an ongoing project that focuses on improving truck routing through optimized technology for freight trucks. And Korem provided information about how traffic analytics are used to develop efficient routing.
Agenda
Presentation
Recording

SMARTE Webinar Series: Local SmartWay Verified Technology
October 5, 2022

Patrice Thornton with EPA provided information on the EPA SmartWay Verified Technology program, which includes various tractors, trailers and accessories designed and implemented to facilitate both fuel efficiency and emissions reduction. Patrice gave details on various emissions tracking tools and how to become a SmartWay Partner. Jason Brown with NCTCOG presented on the SMARTE Vendor Directory, with an overview of the Directory, information on benefits from directory enlistment, as well as how to become a SMARTE Vendor.
Agenda
Presentation
Recording

SMARTE Webinar Series: Environmental Justice and Trucking
November 10, 2022

Dr. Kate Hyun with the University of Texas at Arlington presented on a study comparing last-mile delivery activity trends from pre-COVID and after timeframes, as well as last-mile traffic among different communities -- utilizing traffic impact measures. Collin Moffett with NCTCOG followed with information on a methodology used to evaluate the impact of freight land uses on Environmental Justice communities -- and provided potential actions for public and private sector stakeholders to consider for resolving land use conflicts.
Agenda
Presentation
Recording