Intersection Safety
Reducing Crashes at Signalized Intersections in North Central Texas
In 2012, NCTCOG partnered with the Regional Safety Advisory Committee and the Federal Highway Administration (FHWA) to develop the Intersection Safety Implementation Plan (ISIP) for North Central Texas. The ISIP identified intersections with high crash rates and recommended low-cost, systemic countermeasures that could help reduce intersection fatalities. Analyzing the top 10 percent of intersections with severe crashes revealed that urban signalized intersections were the site of the greatest number of severe crashes. Of the 15,008 intersections analyzed, 1,522 intersections had five or more severe crashes during the five-year period of analyzed data.
Cities with 10 or More Intersections
Identified in the NCTCOG Intersection Safety Implementation Plans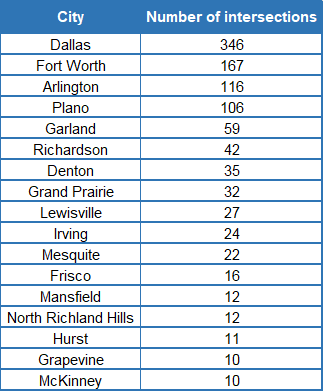 The ISIP recommended five systemic countermeasures that could assist in reducing severe crashes at these urban signalized intersections:
Retime traffic signals for better coordination and for proper red and amber.
Install one signal head per approach.
Change permitted and protected/permitted left-turn phasing to protected.
Improve basic pavement marking and signs.
Install advanced signs that warn of a signal ahead.

In 2015, TxDOT in partnership with FHWA and the five largest Metropolitan Planning Organizations (MPO) across the state initiated the development of the Texas ISIP. Once completed, the Texas ISIP will be instrumental in reducing intersection-related traffic injuries and fatalities and will establish more detailed implementation activities, countermeasures, and strategies. The goal of the Texas ISIP is to implement effective, low-cost countermeasures at a large number of intersections to increase visibility and driver awareness, and improve intersection design and operation. Proposed countermeasures include but are not limited to sign and marking improvements, advanced warning signs, and signal retiming. The Texas ISIP focuses on:
Alamo Area MPO (AAMPO) in the San Antonio region;
Capital Area MPO (CAMPO) in the Austin region;
El Paso MPO in the El Paso region;
Houston-Galveston Area Council (HGAC) in the Houston region; and
North Central Texas Council of Governments in the Dallas-Fort Worth region

The NCTCOG ISIP, finalized in 2013, was the catalyst for the development of the Texas ISIP. Download the NCTCOG Intersection Safety Implementation Plan.