TIM Training Program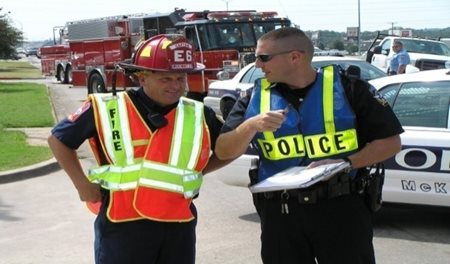 The goal of the Traffic Incident Management (TIM) training course is to initiate a common, coordinated response to traffic incidents that will build partnerships, enhance safety for emergency personnel, reduce upstream traffic accidents, improve the efficiency of the transportation system, and improve air quality in the Dallas-Fort Worth region. Specific courses have been designed for both first responders and managers and executive level policy makers. Both the TIM First Responder and Manager's Course and the TIM Executive Level Course explain the goals, objectives, and benefits of multi-agency incident management coordination and training. A description of the TIM courses offered can be found in the course description.

The TIM First Responder and Manager's Course, geared towards those with daily involvement in responding to traffic incidents, is a two-day course and is offered six times per year. More details on training dates and course registration can be found on the NCTCOG Training and Development Institute web site. The TIM Executive Level Course, geared towards agency decision and policy makers, is a two-hour course and is offered two times per year – typically in May and November of each year.