Municipal Fee Survey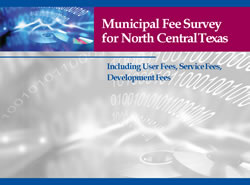 The 2023 Municipal Fee Survey for North Central Texas is available through NCTCOG's Regional Information Center. The survey data include user fees, service fees, and development fees of participating cities in North Central Texas for the year ending 2022. The survey was sent to all NCTCOG member cities and 81 cities responded.
For questions about the survey, contact Jonathan Blackman at 817-695-9117. To purchase a copy of the survey, visit the NCTCOG webstore. Cost of the survey is $250 for members and $400 for non-members.

NCTCOG members who participated in the 2023 Municipal Fee Survey may log in below to download a copy of the survey. Please click the link and enter the username and password supplied by NCTCOG. To obtain a username and password, please call 817-695-9140.