TOD Data Products
NCTCOG's transit-oriented development (TOD) data products capture various data for the 85 existing rail station areas in the Dallas-Fort Worth region, including the Dallas Area Rapid Transit (DART), Denton County Transportation Authority (DCTA), and Trinity Metro networks. The goal of these products is to assist cities, transit agencies, and other stakeholders in assessing TOD potential. Learn more about products like the regional TOD inventory and the fact sheet data on this page or explore them in the Interactive TOD Map (below).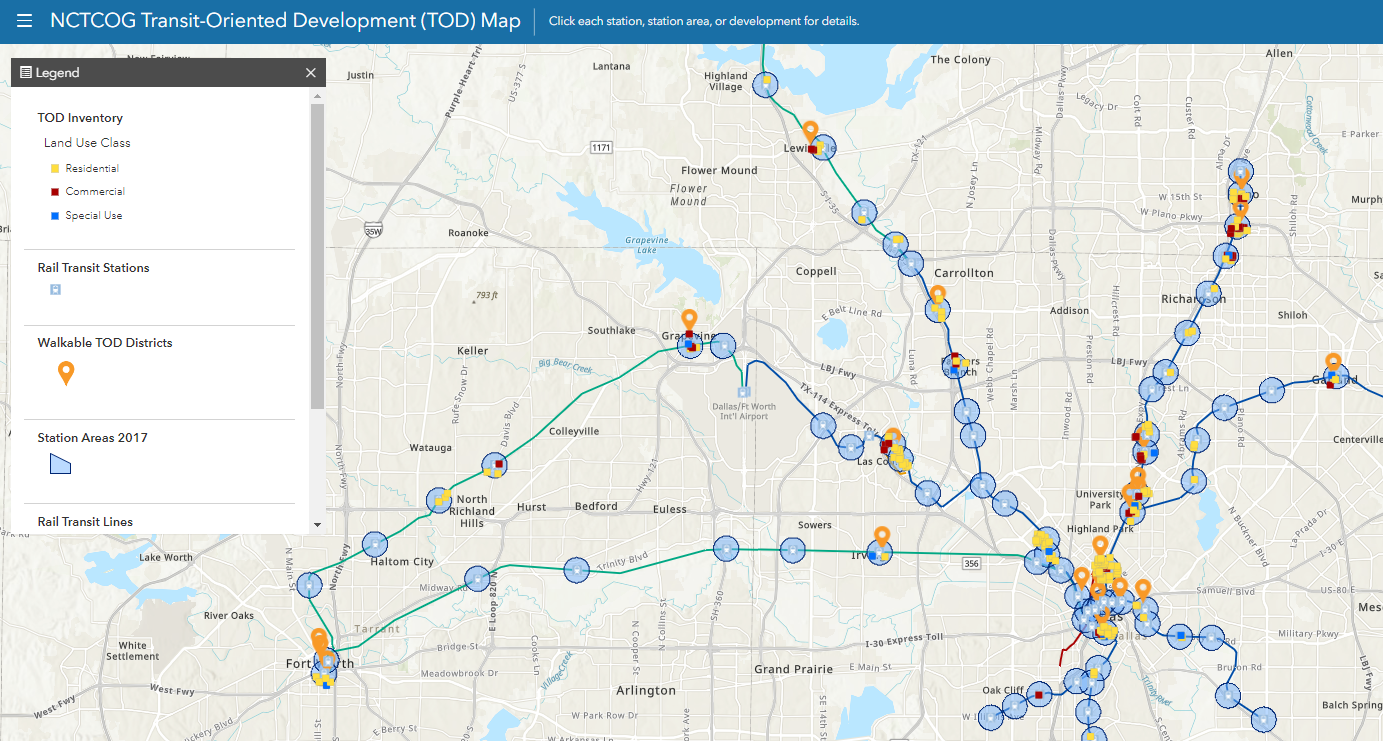 TOD Inventory
The TOD Inventory is a property-based identification of TODs in the DFW region available in the interactive map (above) and as a table. Learn more about the method to identify and evaluate TODs in the summary document.
TOD Fact Sheets
Rail Station Area Fact Sheets provide a brief overview of the demographic, transit service, planning, development data, and existing and planned pedestrian and bicycle facilities within a half-mile distance of each light rail and commuter rail station in the Dallas-Fort Worth Region. Data provided in the fact sheets are products of NCTCOG's TOD Data Collection efforts and the Active Transportation Routes to Rail study. Rail stations are organized by city.
Full Fact Sheets: Fact Sheets on Land Use, TOD, and Pedestrian and Bicycle Routes to Rail (6 pages).
Bicycle & Pedestrian Routes to Rail: Fact Sheets on pedestrian and bicycle facilities around rail stations (2 pages).
Transit Agency: Transit schedule information (external website).
Fact Sheet and Interactive Map Guide [PDF]: A guide to the data and analysis methodology for the TOD Fact Sheets and data in the interactive map station areas layer.
Disclaimer
The information published on the NCTCOG Rail Station Area Fact Sheets is subject to change and may not reflect the most current information. Please coordinate with the appropriate local governments and transit agencies to verify the most up-to-date planning and policy information.
TOD Introduction Brochure
What is TOD? Why does North Texas need it? What are local examples of TOD? The TOD Brochure provides introductory information for various stakeholders looking to understand the value of TOD to their communities.
A quick snapshot of transit commuters in the Dallas-Fort Worth region based on the 2014 North Central Texas Regional On-Board Transit Survey.

Infographic Data Sources
Transit commuter data comes from the 2014 Regional On-Board Transit Survey. This transit survey was led by NCTCOG in partnership with DART, DCTA and Trinity Metro. The data used in this study includes only those trips identified with workplace as a destination or origin.

The data for "All Commuters" comes from the 2010-2014 American Community Survey (ACS) five-year estimates for the 12 counties in NCTCOG's Metropolitan Planning Area. The ACS data includes demographic and Journey to Work data for workers 16 years and older.

Staff: Travis Liska