Access North Texas

Access North Texas is the regional public transportation coordination plan for the 16-county North Central Texas area and documents the transportation needs of older adults, individuals with disabilities, and individuals with lower incomes across the region. The final document was approved by the Regional Transportation Council and endorsed by the Executive Board in October 2022. For more information on the 2022 Access North Texas Plan, please contact us at accessnorthtexas@nctcog.org.
Click here to view the full 2022 Access North Texas Plan Document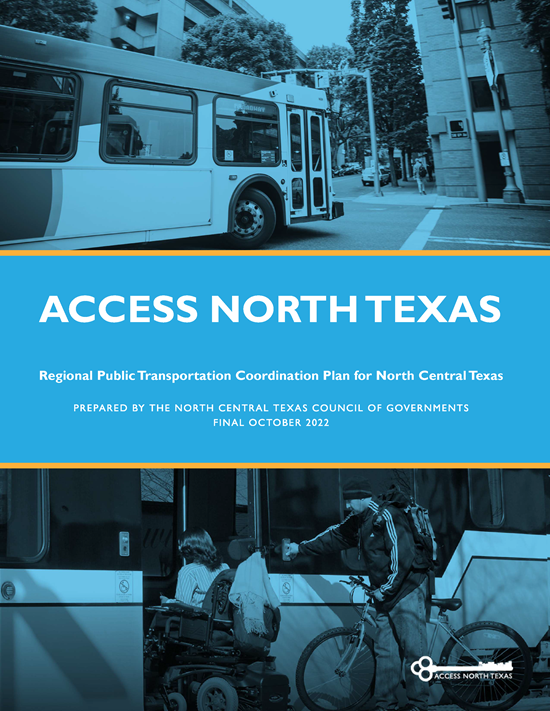 *Dates referenced in the video reflect 2021 events

Staff coordinated with a wide range of stakeholders, transit customers, and the public to document the transportation needs of older adults, individuals with disabilities, individuals with lower incomes, and others with transportation challenges to update Access North Texas. This plan outlines strategies to address these needs and serves as a guide for agencies that will implement these strategies to improve access to work, medical appointments, education, and the community during the next four years.
A coordinated public transit-human services plan is required by federal transit law. The FTA requires a coordinated plan to be developed through a local process that includes participation by seniors, individuals with disabilities, representatives of public, private, and non-profit transportation and human services providers, and other members of the public. In North Central Texas, NCTCOG is the designated lead entity responsible for preparing and maintaining the region's public transportation coordination plan.
Outreach efforts for the 2022 Update took place over the course of the Summer of 2021.

Efforts included:

Public Surveys available in both English and Spanish, designed to provide a forum for the public to comment on public transportation needs or gaps in their communities. These surveys are now closed as our team moved into the data analysis phase of the project.








The Map Your Experience Tool which provides users with a way to leave location-based comments on public transportation and other mobility issues in the region. This tool is still actively collecting data for other initiatives and is linked below.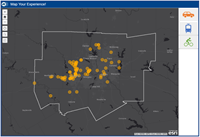 Virtual Outreach Meetings hosted for each of the 16 counties, designed to create opportunity for the public to voice their concerns about public transportation in their communities. Presentations were held in Spring/Summer 2021. Materials for these meetings were recorded and are linked in the table below.
2022 Access North Texas Update
2018 Access North Texas Update
2013 Access North Texas Update
Contact Us
For more information about previous updates, the current update, or to meet with a Transportation Planner to discuss your public transportation needs in your community, contact us at accessnorthtexas@nctcog.org.