Nearmap Subscription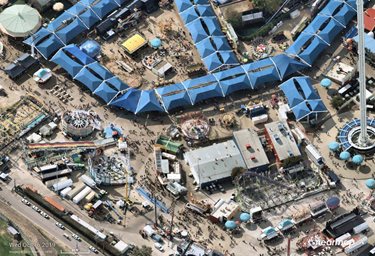 NCTCOG is partnering with Nearmap to provide recurring orthophotography and/or oblique imagery as a service to public agencies in North Texas through the Spatial Data Cooperative Program (SDCP).

Nearmap is unique in its approach to aerial imagery collection, as data are collected for their service area 2-3 times per year and then provided via subscription-based pricing. The traditional NCTCOG-coordinated orthophotography is collected annually based upon the needs of the participants. The Nearmap approach provides more frequently updated imagery, faster delivery times and can reduce the cost of acquisition for comparable products.
NCTCOG is offering two Nearmap subscription options through the SDCP: Orthophotography and Orthophotography + Oblique Imagery. These options are only available to public entities in NCTCOG's 16-county region. For information on not-to-exceed costs and deliverables click here. All listed costs are annual.
NCTCOG is not replacing its traditional orthophotography with the Nearmap imagery. Both products will be offered through the SDCP. Nearmap's ortho is 3-band and due to the faster turnaround time there can be some loss in vertical accuracy. How an entity uses the imagery will determine which type of orthophotography fits their needs. For many, there may be a need for both. The table below shows an internal comparison of NCTCOG's traditional orthophotography and Nearmap's recurring orthophotography.

Traditional
Orthophotography

Nearmap
Orthophotography

Aerial Frequency
On demand (usually leaf-off)
2-3 times per year (one leaf-off flight)
Turnaround Time
6 months
1 month
Web Mapping Service
Yes
Yes
Hardcopy Delivery
Yes
Yes (for 1 flight)
Data Ownership
NCTCOG owned
Licensed from Nearmap
Cost
$185-350/sq mi (non-cooperative years)
$50-315/sq mi (cooperative years)

20 sq mi in 2021 cooperative:
6" = $1900
3" = $6200
Annual subscription cost based on entity size

20 sq mi: <3" = $2500 per year
Level of Control over Final Product
High
None
Positional Accuracy (RMSE)
< 0.122 m (0.4 ft)
1-1.5 m (3-5 ft)
Resolution
6-inch, 3-inch
< 3-inch
4th Band (NIR)
Yes
No
If you are a public agency in North Texas and are interested in purchasing a Nearmap subscription send us an email.
---
Orthophotography, LiDAR and derivative products from past projects may be viewed and printed from DFWMaps and purchased in digital format after a project completes through the DFWMaps Marketplace. For more information on orthophotography, visit the SDCP FAQ page or send us an email.