Vision North Texas
Relevant Committees

Sign up to receive emails
Vision North Texas was an award winning partnership of private, public, and academic organizations making an important contribution to the future quality of life, economic desirability and long-term sustainability of the 16-county North Central Texas region. It increased public awareness about important regional land use issues that affect mobility, air quality, water supply and other economic and environmental resources.
Visit www.VisionNorthTexas.org
North Texas 2050
Through Vision North Texas, leaders and experts around the region have worked together to imagine a future that is better than 'business as usual'. North Texas 2050 is a major new 'gamebook' for our region that was released at the Regional Summit 2010. In addition, North Texas 2050 has been shaped by research and the experience of experts in transportation, land use and development, housing, the environment, health and all the other issues that will determine how livable and successful North Texas will be in the coming decades.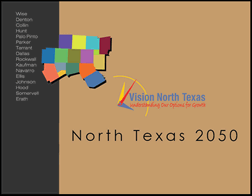 View the North Texas 2050 Document
Awards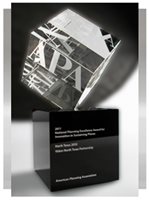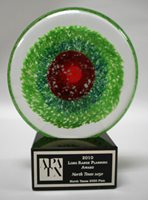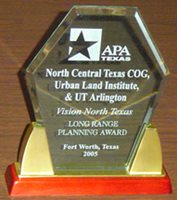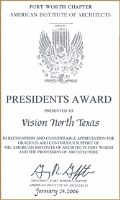 Vision North Texas and North Texas 2050 received the 2011 National Planning Excellence Award for Innovation in Sustaining Places from the American Planning Association (APA), the "Long Range Planning Award" from the Texas Chapter of the APA in 2005 and 2010, and numerous other recognitions from other agencies including the Greater Dallas Planning Council and the American Institute of Architects.
Civic leaders, elected and appointed officials, property owners, other stakeholders and interested citizens spent countless hours volunteering their time and hard work in order to develop a sustainable preferred future for the region. This award signifies recognition for our region's efforts to bring a future to North Texas that is "better than business as usual". The North Texas 2050 is an example of the collaboration and level of dedication necessary to achieve what APA considers "best planning practices". Congratulations to everyone who has contributed to this innovative effort through service on the Vision North Texas Management Committee, Advisory Committee, research teams, volunteer corps and as participants.