Local Motion - July 2019
7/5/2019
In this issue A monthly update on activities of the Regional Transportation Council and the North Central Texas Council of Governments Transportation Department
Contractor conditionally selected for LBJ East
The Texas Transportation Commission has conditionally selected Pegasus Link Constructors as the developer for the LBJ East project, the reconstruction of 11 miles of Interstate Highway 635 through parts of Dallas, Garland and Mesquite. TxDOT will now move forward in negotiating contract terms with the selected developer with final award and execution expected later this year.
The Transportation Commission has designated the LBJ East project as part of the statewide Texas Clear Lanes initiative, a program to address the most congested areas in Texas. Segments of LBJ East currently rank 28th and 30th on the State's list of 100 most-congested roadways.
When complete, LBJ East will be expanded from the current four main lanes in each direction to five main lanes in each direction. The current single tolled managed lane in each direction is grandfathered and will be rebuilt.
The IH 30 interchange also will be rebuilt and improved. Another important feature of the LBJ East project is the construction of continuous frontage roads throughout the project, which will enhance safety and mobility by improving the flow of traffic during major incidents.
TxDOT also is partnering with the City of Dallas to reconfigure the Skillman/Audelia interchange as part of the project. That interchange will feature aesthetic elements to the bridge over LBJ Freeway.
The Regional Transportation Council and the Texas Transportation Commission worked cooperatively last spring to move LBJ East, including this interchange, toward completion. Construction is expected to begin in early 2020 with a projected completion date of late 2024.
— By TxDOT
Pardon our dust!
Due to ongoing renovations to NCTCOG's Arlington offices, 616 Six Flags Drive, the July meeting of the Surface Transportation Technical Committee and the August meeting of the Regional Transportation Council have been canceled. The September 12 RTC meeting will be relocated to the Irving Transportation Investment Summit, while the August 23 STTC meeting will be held at AT&T Stadium.
Additionally, the September STTC meeting will be moved to October 4 in the Transportation Council Room. Construction is expected to be complete by the end of September.
Progress North Texas 2019 focuses on neighborhoods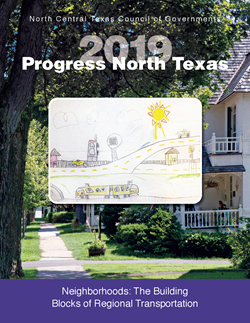 Progress North Texas 2019, NCTCOG's annual transportation state of the region, is now available online and in print. This year's edition
focuses on neighborhoods as the building blocks of the regional transportation system.
It is important to look at transportation as a system, especially with the growth experienced by the region over the past several decades. Last year, Dallas-Fort Worth welcomed 150,000 new residents to push its population to 7.5 million.
There are increasing options, no matter how people want to get from place to place. Whether it is by car, bus, train, bicycle or walking, or a combination of any of these, the North Central Texas Council of Governments and its partners are working together to improve the efficiency and effectiveness regional transportation.
Transportation planners have embraced a combination of traditional and innovative ideas to ensure the region continues to meet residents' needs. To read Progress North Texas 2019 online, visit www.nctcog.org/ourregion. To request copies, contact
Brian Wilson
.
TTI seeks input to help with study of oversize/overweight vehicles
NCTCOG is partnering with the Texas A&M Transportation Institute (TTI) to conduct the Oversize/Overweight Heavy-Duty Vehicle Emissions Impact Study. The objective of the study is to determine if oversize/overweight (OS/OW) vehicles are emitting more pollution and, if so, what operations are causing the increased emissions. TTI is requesting the participation of permitted OS/OW companies operating in the 16-county NCTCOG region. Oversize and overweight vehicles must be properly permitted to operate.
Oversize vehicles typically haul things that will not fit on a standard tractor-trailer, such as mobile homes or wind turbines. Trucks that exceed 80,000 pounds in gross vehicle weight are considered overweight vehicles.
Participants will be asked to allow TTI to install data loggers on vehicles transporting OS/OW loads and retrieve the data. The data will be used in NCTCOG's emissions models.
It is hoped that the survey results will lead to other agencies providing funding for emissions reduction projects. Other potential benefit may include more infrastructure investments to allow OS/OW vehicles to operate more reliably and efficiently, and programs to reduce violations.
To participate in the study, please contact Jeremy Johnson j-johnson@tti.tamu.edu or (979) 317-2670. For questions about the study, please contact
Jason Brown
.
New DART service to be called Silver Line
The Cotton Belt commuter rail line has a new name.
The Dallas Area Rapid Transit Board of Directors approved a resolution in June to name future service running from Dallas Fort Worth International Airport to Plano the Silver Line.
The 26-mile Silver Line will traverse seven cities: Grapevine, Coppell, Dallas, Carrollton, Addison, Richardson and Plano. At DFW Airport, the project will connect to Trinity Metro's TEXRail commuter rail line to Fort Worth and provide access to the DFW Airport Skylink.
The Silver Line will interface with three DART light rail lines: The Red Line/Orange Line in Richardson/Plano, the Green Line in Carrollton and the Orange Line at DFW Airport.
Customers will see the Silver Line in operation after completion in 2022 with 30-minute peak and 60-minute off-peak service. TEXRail debuted service from downtown Fort Worth to DFW Airport in January.
— By Dallas Area Rapid Transit
$2M available for clean fleet projects
NCTCOG has approximately $2 million in grant funding available through the Clean Fleets North Texas 2019 Call for Projects.
Eligible applicants include local governments and private companies that contract with local governments. Eligible activities include the replacement of on-road diesel vehicles and of non-road diesel equipment. Funding levels are as follows:
45% if new vehicle/equipment is electric
35% if new vehicle/equipment is powered by an engine-certified to California Air Resource Board Optional low-NOx standards
25% of cost for all others
A webinar will be held at 2 pm. July 9 to provide further information. NCTCOG must receive project applications by 5 pm Friday, September 6. Visit
www.nctcog.org/aqfunding
for more information and to apply.
Denton County's Eads elected chair of RTC
Denton County Judge Andy Eads will lead the Regional Transportation Council for the next year after his election as chair of 44-member transportation policymaking body in June.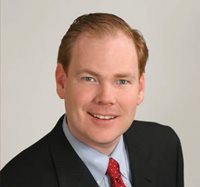 Eads, who moves up from vice chair, replaces Tarrant County Commissioner Gary Fickes. Fickes chaired the RTC through the 86th Session of the Texas Legislature, which concluded in May.
Johnson County Judge Roger Harmon was elected vice chair after serving as secretary for the past year. Dallas County
Commissioner Theresa Daniel was named the new secretary. The new officers will serve in their positions through June 2020.
A fifth-generation resident of Denton County, Eads has served on the RTC since 2009 and has helped address transportation issues in the growing county and the entire region.
Harmon was appointed to the RTC in 2001. Daniel has been a member since 2018.
NCTCOG to open online input opportunity July 15
NCTCOG will conduct an online public input opportunity starting July 15 to allow residents to comment on transportation projects and programs affecting the region.
Anyone with questions or comments is encouraged to provide input at
www.nctcog.org/input
from July 15 through August 28.
As a recipient of federal transportation funds, NCTCOG is
required to establish and periodically update Disadvantaged Business Enterprise (DBE) participation goals to encourage contracting opportunities for minority and historically underutilized businesses. The draft update of the DBE participation goals for Fiscal Years 2020 through 2022 will be posted for review and comment.
The Texas Department of Transportation, working through the Texas Transportation Commission, develops a 10-year listing of major transportation projects within the State of Texas. Staff will provide a status report on projects in the Dallas-Fort Worth region.
Additionally, efforts are underway to develop a new program aimed at preventing the impacts of storm water in flood-prone
areas within the region. Federal, State and regional organizations are working together on how the Dallas-Fort Worth area could become a national leader in reducing loss of life and financial impacts of major flooding events. Details of this proposed project will be posted.
Finally, information on the Regional Smoking Vehicle Program (RSVP) and funding from the Volkswagen settlement will be
available. To request printed copies of the information, contact
Carli Baylor
.
Freight industry forum discussion set for July 9
NCTCOG is requesting feedback from freight industry representatives to better understand the needs of our region. Distribution center and private truck terminal managers/owners are invited to a freight industry forum discussion to provide input for an upcoming funding opportunity.
NCTCOG was awarded grant funding from the Environmental Protection Agency (EPA) to reduce emissions from the trucking industry. A competitive call for projects to offer grant funds to freight
terminal and distribution center companies and reefer fleets is being developed.
Topic: Electrified Parking Spaces and Associated Reefer Connections
When: Tuesday, July 9, 2019; 10-11 a.m.
Where: North Central Texas Council of Governments (Transportation Council Room)
616 Six Flags Drive
Centerpoint Two
Arlington, TX 76011
There is no charge to attend. Interested entities are encouraged to register and complete a survey before attending the Freight Industry Forum Discussion. Those unable to attend the discussion can still fill out the survey. Please click
here
for registration and survey.
Please contact
Huong Duong
with any questions.