Local Motion - May 2021
5/7/2021
A monthly update on the activities of the Regional Transportation Council and the North Central Texas Council of Governments Transportation Department
New program allows fleets to try before buying
If you have been thinking about purchasing an alternative fuel vehicle or advanced technology, but you still have questions, a new program allows you to try the technology first.

Try and Drive Alternative is a regional initiative managed by the Dallas-Fort Worth Clean Cities Coalition (DFWCC) that provides fleet managers and consumers the chance to borrow clean vehicle technologies, such as alternative fuel vehicles, for a trial period before making an investment.

Fleets and consumers are connected to participating technology providers via a directory maintained by DFWCC. Technologies listed in the directory include telematics, alternative fuel vehicles, alternative fueling infrastructure and more. The directory, more information about the program and how to be listed as a provider are available at www.nctcog.org/dfwtrydrive.

Vehicles and equipment can be borrowed for a single day, a week, or longer, depending on the arrangement with the vendor. This trial period can provide the opportunity for side-by-side comparisons with traditional equipment and ensure that operational needs can be met without a commitment to purchase. In addition, alternative fuel vehicles and other clean vehicle technologies can provide several benefits including reduced emissions, as well as maintenance and fuel cost savings.

By providing first-hand experiences of clean vehicle technologies, Try and Drive Alternative can play an important part in helping fleets see the benefits of these technologies with the hope of increasing their adoption and improving regional air quality. This effort is important because Dallas-Fort Worth is in nonattainment for ozone and is working to meet the federal government's standards for the pollutant. For more information, visit www.dfwcleancities.org.
North Texans encouraged to ride their bikes to work, elsewhere in May
Since spring of 2020, when the COVID-19 pandemic struck, North Texans have sought opportunities to enjoy the outdoors, including using the region's bicycle and pedestrian trails. Trail usage was up substantially in 2020 and last year's gains have been sustained in 2021. May is National Bike Month, and with many people still at home and driving fewer miles, there are still opportunities to turn to active transportation, whether to exercise or take a leisurely ride with friends or family.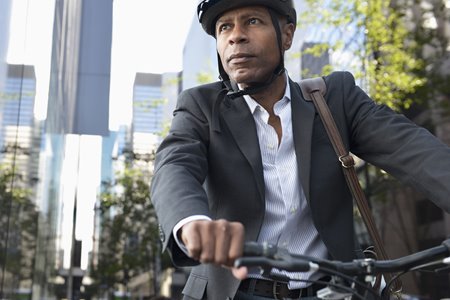 Some people who have returned to their offices may want to try a different kind of commute. National Bike to Work Week will be celebrated May 17-23, while Bike to Work Day is Friday, May 21. Bicycling to the office is not an option for everyone. But many of those working from home find themselves with more flexible schedules.

Maybe they have been wanting to explore a trail near home but have not found the time. With the weather warming up and more daylight, exploring it before or after the workday is an option. Or they may want to pedal to the neighborhood coffee shop to meet a friend.

For those who live close enough to work to allow them to travel by bike, a two-wheel commute is less expensive and better for the region's air quality. While not everyone can bicycle all the way to work, due to distance or other obstacles, they have options. They may choose to commute by multiple modes, bicycling to a transit station and riding public transportation the rest of the way.

The region's transit agencies make this easier by allowing bicycles on their buses and trains. Residents who use their bicycles to get to work, whether they pedal all the way or use a combination of modes, can record their trips at www.tryparkingit.com, the region's alternative-commute and ride-matching website, and earn rewards.

Even for those who haven't ridden in a while, May is a good month to give biking a try. Hop on that bike for a quick spin around the neighborhood or for a short trip to the store or a restaurant.

Bike Month was established in 1956 and is celebrated by cities across the nation, according to the League of American Bicyclists.
NCTCOG updating Access North Texas plan

NCTCOG staff has begun updating Access North Texas, the regional public transportation coordination plan, to document transportation needs and challenges for older adults, individuals with disabilities, low-income individuals, and transportation-disadvantaged individuals.

The effort kicked off in April and is expected to be finalized next spring, with implementation set for summer 2022.

Access North Texas is also an effort to coordinate public, human service and community transportation in the 16-county region, as well as outline strategies to improve access to work, medical appointments, education, and the community over the next four years.

Public outreach is being conducted virtually through 1) county-specific virtual meetings, 2) a public transportation survey, and 3) NCTCOG's Map Your Experience tool. These three public outreach efforts will continue through July 2021 and will provide opportunities for residents to identify transportation needs in their communities.

To learn more about Access North Texas or provide feedback on regional public transportation, visit the Access North Texas website at www.accessnorthtexas.org or contact NCTCOG staff directly at accessnorthtexas@nctcog.org.
Silver Line will connect to TEXRail at DFW Airport
The Dallas Area Rapid Transit Board of Directors has taken the next step in the development of the Silver Line commuter rail project from Plano to Dallas Fort Worth International Airport.

In April, the board authorized a payment of $21.5 million to Trinity Metro for the construction of rail and platform facilities that will link the Silver Line to Terminal B at DFW Airport, where it will meet Trinity Metro's TEXRail. With the connection at DFW Airport, the $1.3 billion Silver Line will complete a commuter rail link from downtown Fort Worth to Plano when the rail line opens in 2023, TEXRail has offered passenger service from downtown Fort Worth to DFW airport since January 2019.

The 26-mile Silver Line will run through Grapevine, Coppell, Dallas, Carrollton, Addison, Richardson, and Plano, and include 10 new stations.
Check out the spring Mobility Matters
The Spring 2021 issue of Mobility Matters, NCTCOG's semi-annual newsletter, is available.

The latest issue highlights the North Texas Center for Mobility Technologies, a partnership involving the Texas Research Alliance, local universities and NCTCOG. This center aims to help develop mobility innovations and solutions, while providing the region's employers with the necessary talent and research capacity.

This issue also profiles Ann Zadeh, Fort Worth Councilmember and secretary of the RTC. She discusses her passion for public engagement and outreach and how it changed due to COVID-19.

Changing Mobility, a project that identifies the impacts of COVID-19 on transportation and air quality, is also featured. Changing Mobility also examines ways infrastructure projects can aid the region's economic recovery.

This issue of Mobility Matters also features a message by Director of Transportation Michael Morris on how the transit agencies are preparing to welcome riders back and an update on the DFW High-Speed Transportation Connections Study.

Read Mobility Matters online at www.nctcog.org/mobilitymatters.
High-speed transportation meetings set May 19-20
NCTCOG is continuing its study of potential high-speed connections between Dallas and Fort Worth.

The third round of virtual public meetings for the DFW High-Speed Transportation Connections Study will be held at noon Wednesday, May 19, and 6 pm Thursday, May 20, allowing North Texans to hear about the study and share their opinions.

The study is evaluating high-speed transportation alternatives to modernize and enhance travel between Dallas, Arlington and Fort Worth. The alternatives analysis process (or portion) of this study is in its final stages before the federal environmental documentation process begins. This public meeting will help planners develop an assessment of the remaining 10 alignments (seven near the Interstate Highway 30 corridor and three near SH 180) and three travel technologies (high-speed rail, maglev and hyperloop).

North Texans may view the presentations at nctcog.org/dfw-hstcs. Residents can also participate by calling 855-756-7520. They should use extension 72698# for the May 19 meeting and extension 72699# on May 20. Comments received between May 14 and June 18 will be considered and included as part of the official public meeting record. Comments and questions can be submitted at HST_DFW@nctcog.org or on the project webpage. Presentation materials will be posted for review before the meetings at nctcog.org/dfw-hstcs.

Capable of traveling up to 250 mph, high-speed transportation provides an alternative to driving across town, including during peak traffic hours, and could also change how North Texans access other regions. In time, the technology selected will offer a connection to other planned high-speed transportation systems.

To request printed copies of the information, call 817-695-9240 or email HST_DFW@nctcog.org.


--Imagery provided by NCTCOG and Getty Images.