Local Motion - September 2020
9/2/2020
A monthly update on the activities of the Regional Transportation Council and the North Central Texas Council of Governments Transportation Department
Virtual meetings set for high-speed study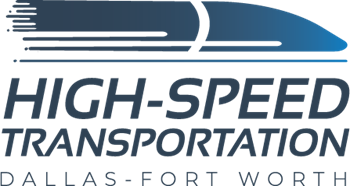 North Texans who want to learn more about efforts to link the center of the region through a new transportation technology will be able to review and comment on the Dallas-Fort Worth High-Speed Transportation Connections Study in September. The North Central Texas Council of Governments has scheduled virtual public meetings for noon September 23 and 6 pm September 24 to give residents a chance to learn more about the study and provide input to planners examining potential technologies and alignments.
The study is evaluating high-speed alternatives to modernize and enhance mobility between Dallas, Arlington and Fort Worth. Planners will consider and analyze conventional rail, high-speed rail, magnetic levitation and hyperloop technologies. The resulting high-speed service between Dallas and Fort Worth could connect to high-speed rail between Dallas and Houston and a future high-speed option from Fort Worth to South Texas.
Details
What: High-speed transportation public meetings
When: Noon September 23; 6 pm September 24
How to participate: (updated) this meeting has already passed

Residents can watch the presentation and participate live at www.nctcog.org/dfw-hstcs or participate by calling 855-756-7520. They should use extension 65720# for the September 23 meeting and extension 65721# September 24. They can register for one of the meetings by emailing hst_dfw@nctcog.org or calling 817-608-2365. Participants will have the opportunity to give input during the meetings through both platforms. Comments and questions can also be submitted before or after the public meetings at hst_dfw@nctcog.org or on the project webpage. Presentations will be the same for both meetings and be posted September 18 on the project webpage. For printed copies, call 817-608-2365 or email Carli Baylor.
Trinity Metro introduces Near Southside ZIPZONE service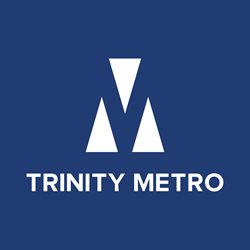 Trinity Metro has introduced a new on-demand transportation option to the Near Southside.

The Near Southside ZIPZONE is now serving the growing area, providing shared rides in Toyota Sienna vans to its numerous hospitals, restaurants and other businesses. Service is provided from 6 am to 8 pm daily.

ZIPZONE will connect with Trinity Metro TEXRail and Trinity Railway Express service at the Fort Worth T&P Station and to many area bus routes. The new ZIPZone is a partnership with the City of Fort Worth that will provide another option for the 40,000 people who work in the area.

The Near Southside ZIPZONE is the fourth on-demand service provided by Trinity Metro. The Crowley ZIPZONE was launched in June to help residents get to destinations within the city and also to connect with Trinity Metro's other services throughout Tarrant County.

Last year, the Mercantile ZIPZONE was started to connect bus and TEXRail riders in the area near Mercantile Center Station. The Alliance ZIPZONE began in early 2019 to help connect bus passengers with jobs in the area. The on-demand service is an innovative solution that complements Trinity Metro's other public transportation options.
TxDOT's new AR game urges drivers to always stay alert
In spite stay at home orders and less traffic the past few months, Texas has continued to see about the same amount of fatalities on our state's roadways.

To reach drivers more creatively about the dangers of distracted driving, TxDOT has launched a new web-based augmented reality game that reinforces the importance of paying attention behind the wheel and reminds drivers to keep their heads up. Around 1 in 5 crashes on Texas roads are caused by distracted driving, and all of them are preventable.

This new AR game, "Dart Those Distractions," is designed to increase awareness about the dangers of distracted driving in an interactive, engaging way that resonates with all ages. Inspired by a classic carnival game, Dart Those Distractions involves players throwing darts over a car windshield to hit balloons symbolizing driving distractions like eating, programming music or navigation and self-grooming. To play the game, visit www.dartthosedistractions.com.

TxDOT's annual "Heads up, Texas" campaign officially launched August 4 and is a key component of #EndTheStreakTX, a broader social media and word-of-mouth effort that encourages drivers to make safer choices while behind the wheel, like wearing a seat belt, driving the speed limit, never texting and driving and never driving under the influence of alcohol or other drugs.

November 7, 2000, was the last deathless day on Texas roadways, and #EndTheStreakTX asks all Texans to commit to driving safely to help end the streak of daily deaths. — By TxDOT
Grants for Level 2 EV chargers coming soon
The Texas Volkswagen Environmental Mitigation Program is preparing to make grants available for the purchase and installation of Level 2 charging equipment for light-duty zero-emissions vehicles in Texas.

Funds, made available from the Volkswagen settlement, may be used for the purchase and installation of new light-duty electric vehicle Level 2 charging equipment. A total of $10.4 million in grant funding will be available for reimbursements of up to $2,500 per installation.

The grants can fund up to 70% of chargers available to the public and as much as 60% of those installed at workplaces and multi-family housing developments. Funding is available statewide for equipment installed:
In a public place, workplace or multi-unit dwelling

At a site without existing light-duty electric charging services or to expand the number of vehicles that may be serviced at that site
For more on the Texas Volkswagen Environmental Mitigation Program, visit www.tceq.texas.gov/agency/trust.
NCTCOG tapped to join AV council
NCTCOG has joined a group of public-sector organizations from across the country to provide more education about automated vehicles and their impacts on society. Partners for Automated Vehicle Education, or PAVE, launched its Public Sector Advisory Council in August.

The advisory council includes 20 organizations from across the country – from cities and states to law enforcement organizations and regional governments – to help PAVE broaden its education initiatives by sharing their perspectives of the potential impact of AVs on public sector entities. The Texas Department of Transportation is also part of the advisory council.

The group's goal is to advise PAVE on issues of concern to public-sector groups, including AV impacts on infrastructure, traffic, law enforcement and public transit. North Texas has become a hotbed for AV testing, including recent announcements of freight pilots by by the private sector.
Publication highlights importance of good AQ
Ten Dallas-Fort Worth area counties do not meet the Environmental Protection Agency's regulations for ozone pollution, meaning the region has additional environmental responsibilities when completing transportation improvements.
The region must implement measures to improve its air quality or face future sanctions from the EPA and potentially lose transportation funding. NCTCOG recently published a fact sheet to explain the importance of air quality and what is being done to reduce ozone pollution. It is available at www.nctcog.org/factsheets.

Studies indicate elevated levels of ground-level ozone have negative impacts on health. Additionally, ground-level ozone poses a risk to the environment, wildlife, agriculture and manufactured structures in the region.

NCTCOG works closely with regional partners to develop and implement strategies, policies and programs to enhance air quality.

It periodically allows public and private entities to compete for funding intended to reduce the emissions of their fleets and purchase cleaner equipment.

NCTCOG also relies on programs that allow the public to participate in the process by making clean air choices such as telecommuting and combining necessary trips.
N. Texans invited to provide transportation input
Dallas-Fort Worth residents can comment on and review several transportation funding initiatives beginning September 8.

NCTCOG staff will provide information related to the fiscal year 2020 proposed transit projects funded by the Federal Transit Administration. Funding programs include Urbanized Area Formula, Enhanced Mobility of Seniors and Individuals with Disabilities, State of Good Repair, and Bus and Bus Facilities.

Programs of projects will be presented by the cities of Arlington, Grand Prairie, McKinney and Mesquite, as well as Dallas Area Rapid Transit, Denton County Transportation Authority, NCTCOG, Trinity Metro, Northeast Transportation Service, Public Transit Services, Span Inc. and STAR Transit.

NCTCOG staff will present findings from the Heavy-Duty Vehicle Emissions Impact Study. The study was conducted by Texas A&M Transportation Institute in coordination with NCTCOG. The study characterized and estimated emission impacts of oversize/overweight vehicles on air quality in the Dallas-Fort Worth nonattainment area.

Additionally, staff will present details and opportunities related to electric vehicle infrastructure funding and other clean vehicle incentives. Opportunities are available for residents or fleets to acquire cleaner vehicles, and rebate funding will soon be available for the installation of electric vehicle charging stations across Texas through the Texas Volkswagen Environmental Mitigation Program.

Staff will also present details of the $5 million Optimizing Freight Movement Project proposal designed to improve the flow of truck traffic between freight hubs and expressways.

Proposed modifications to the list of funded projects will be posted for review and comment. Information on the Regional Smoking Vehicle Program and vehicle incentive opportunities will also be provided.

An audio recording of the presentations will be posted online at www.nctcog.org/input, where comments will be accepted through October 7.
-Imagery Provided By NCTCOG Staff and Trinity Metro