Farmers Branch - Station Area Sidewalks

2009-2010 Call for ProjectsStatus: In Progress

The Station Area Sidewalk project is a pedestrian improvement supporting a mixed-use development adjacent to the Farmers Branch DART rail station. The Farmers Branch Station Mixed-Use Development is located east of the rail station. Funded improvements include construction of sidewalks, landscaping and pedestrian amenities that will enhance the pedestrian experience.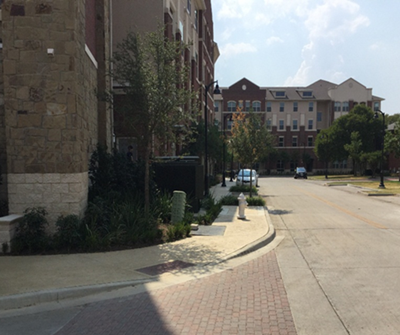 The increased pedestrian amenities will allow for better bicycle and pedestrian connections to the nearby Farmers Branch City Hall, Gussie Field Watterworth Park, a local brewhouse and eatery, churches, and a local grocery store. The project is also located 0.1 miles from the Jeff Fuller Rose Garden.

The project cost of $665,200 was funded through public-private partnerships.

Mixed-Use Information

410 Residential units
15,000 sq. ft. of commercial space
Next to 25-acre Gussie Field Watterworth Park




Click on the image for an expanded view of the project map.