Dallas - Mockingbird Plaza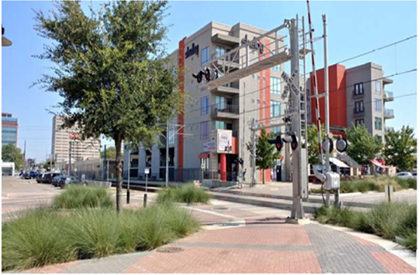 2005-2006 Call for Projects
Status: Complete

Mockingbird Plaza is a compact mix of residential, office, retail, and entertainment uses served by DART's Mockingbird Station, which has been one of the busiest stations in the DART system outside of downtown Dallas. Since it opened in 1997, Mockingbird Station has seen more than 3,000 passenger boardings a day, serving both the Red and Blue light rail lines.

The Mockingbird Station development took a 1940s brick warehouse and a 1970s office building and added three buildings to create a national model for vibrant transit-oriented development. Numerous restaurants and shops, the multi-screen art house Angelika Movie Theatre, approximately 485 apartments, and 17,000 sq. ft. of retail/restaurant space are all within a short walking distance of the station.

Mockingbird Station received $1.6 million from NCTCOG under the 2005-2006 Sustainable Development Call for Projects, with additional funding from the City of Dallas. The project connected the transit-oriented development and SMU Boulevard to the Katy Trail at the Mockingbird light rail station via a bicycle and pedestrian trail. This project also includes streetscape improvements on SMU Boulevard along the north side of the development.

The project cost of $2,000,00 was funded through public-private partnerships.
Mixed-Use Information

17,000 sq. ft. retail
485 residential units

Click on the image for an expanded view of the project map.