Local Motion - May 2019
5/1/2019
In this issue: A monthly update on activities of the Regional Transportation Council and the North Central Texas Council of Governments Transportation Department
Mayors recognized by RTC for bike trail funding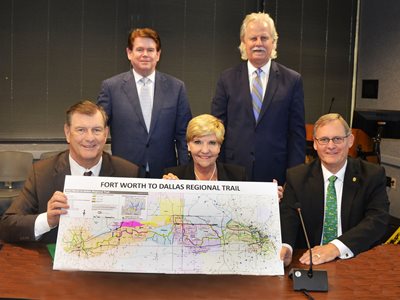 The mayors of five regional cities were recognized by the Regional Transportation Council in April for their commitment to fund a regional bike trail.
The Fort Worth to Dallas Regional Veloweb Trail will connect downtown Fort Worth to downtown Dallas, winding through Arlington, Grand Prairie and Irving along the way.
Mayors Betsy Price (Fort Worth), Jeff Williams (Arlington), Ron Jensen (Grand Prairie), Rick Stopfer (Irving) and Mike Rawlings (Dallas) spoke in support of connections that allow people across the region to experience Dallas-Fort Worth's natural environment, and the regional cooperation this partnership exemplifies. They also attended a luncheon during which they exchanged ideas about how to market and enhance the trail as a regional destination when it is complete.
The RTC approved $9 million in funding in October to complete a 3.1-mile section in Fort Worth and Grand Prairie, which will result in a 53-mile continuous trail. All sections of the regional trail are anticipated to be complete by 2023.
A map and more information about the Fort Worth to Dallas Regional Veloweb Trail is provided at
www.nctcog.org/FWtoDALTrail
.
Now that funding has been secured, attention turns to branding and marketing the trail, which could attract eco-tourism opportunities as well as recreational sporting events such as marathons and triathlons.

North Texans encouraged to observe Bike to Work Day on May 17
Get ready to spend a little more time on two wheels. May is Bike Month, and there are many opportunities across the region for students and professionals to pedal to their destinations. And the weather is warming up, which could provide more chances to ride.
National Bike to Work Week is May 13-17. Bike to School Day is May 8. Bike to Work Day is May 17. NCTCOG is partnering with Dallas Area Rapid Transit and Bike DFW to reach out to bicyclists on Bike to Work Day to provide information on safe riding techniques and encourage them to enter their alter-native commutes at
www.tryparkingit.com
, the region's alternative-commute website.
NCTCOG encourages residents to commute by bike or other alternative transportation modes, in support of the national event initiated by the League of American Bicyclists. People who live far away from work may consider combining modes. Maybe they could bicycle to a transit stop and take a bus or train to the office. Buses and trains run by Dallas Area Rapid Transit, the Denton County Transportation Authority and Trinity Metro are equipped to carry bicycles.
For more information, visit
www.nctcog.org/biketowork
.
Jayden Crook wins 2019 NCTCOG transportation art contest
Congratulations to Jayden Crook, who won this year's NCTCOG transportation art contest, held annually to showcase the talents of students around the region. Jayden is the 6-year-old son of Chedel Townsend, who works in the Transportation Department's Aviation Program.
This year, we asked children of our staff to illustrate how neighborhoods are the building blocks of transportation. The entries were judged by a panel of Transportation Department staff and RTC officers.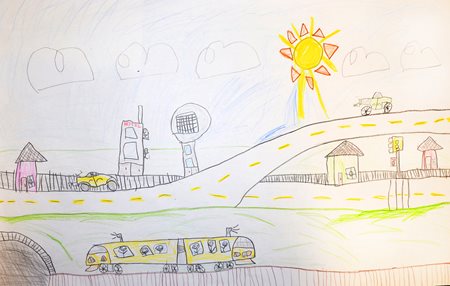 Jayden's artwork will be featured in Progress North Texas 2019, which will be published this spring. The report highlights progress in the transportation system over the past year, using data and performance measures to demonstrate how the region is meeting the challenges posed by growth.
Other top finishers were: Andrew Wilson, 8, second place; Alexis Mize, 16, third place; and Keira Mize, 11, honorable mention.
All four students' artwork will appear in Progress North Texas 2019. The report will be available online at
www.nctcog.org/ourregion
.
Workshop to discuss grants set for May 16
The first of several workshops to discuss the Volkswagen Environmental Mitigation Trust funds is scheduled for May 16 at NCTCOG's Arlington Offices.
Dallas-Fort Worth is expected to receive more than $33 million as part of the Volkswagen settlement.
Grants can replace or repower on-road local freight trucks, refuse haulers, school buses, transit/shuttle buses or port drayage trucks.
The grants will fund up to 80% of repair or repower of government-owned assets. Non-government vehicles can be repowered or replaced with electric at up to 50%, repowered with any fuel at up to 40%, and replaced with any fuel at up to 25%. (Drayage trucks are covered at up to 50%.)
Grants for port cargo-handling equipment or airport ground support equipment can fund replacement or repowering with electric at up to 80% for government-owned projects or at 50% for non-government projects. This includes the cost of charging infrastructure. Click
here
for the latest updates and workshop information.
Collaboration to help students with transit
The RTC approved two new pilot projects related to students with Tarrant County College, the Arlington Independent School District and the University of Texas at Arlington.
One project, which provides Trinity Metro transit passes for Tarrant County College students, has been funded by Trinity Metro, but with the RTC's assistance, the current funding can be used to help provide additional scholarships. The RTC will provide $300,000 over two years for the transit passes.
The RTC is providing $500,000 for the second project, which involves providing transit in Arlington among Arlington ISD campuses, TCC, UTA and park-and-ride lots.
NCTCOG staff met with the Secretary of Housing and Urban Development Dr. Ben Carson and Tarrant County College Chancellor Dr. Eugene Giovannini last year to discuss the importance of transportation in the success of students from disadvantaged populations.
The collaboration resulted in a commitment to a more holistic approach to assist those in poverty on numerous fronts. This includes housing, health and wellness, transportation, and education.
Both projects are consistent with the programs and policies in Mobility 2045, as well as Access North Texas.
Union Station renamed to honor Johnson
Union Station in Dallas has a new name. The DART board voted last month to rename the building Eddie Bernice Johnson Union Station.
Johnson, who is a member of the US House Transportation & Infrastructure Committee, has been a major proponent for DART and public transportation during her time in Washington, DC. Eddie Bernice Johnson Union Station is served by DART, the Trinity Railway Express and Amtrak.
Additionally, two TRE stations in downtown Fort Worth have new names. The Intermodal Transportation Center, or ITC, is now known as Fort Worth Central Station. The Texas & Pacific Station, or T&P, will now be called Fort Worth T&P Station.
Public to hear transportation updates May 13
NCTCOG will host a public meeting in May to provide updates on several transportation planning efforts across the region.
The meeting will take place at NCTCOG's Arlington offices, 616 Six Flags Drive, at 6 pm Monday, May 13.
The Unified Planning Work Program for regional transportation planning provides a summary of the transportation and related air quality planning efforts to be conducted by NCTCOG as the metropolitan planning organization. Draft recommendations for the Fiscal Year 2020 and Fiscal Year 2021 UPWP will be presented for public review and comment.
Additionally, staff will present a recommended summary of projects to receive funding as part of a 2019 Transportation Alternatives Set-Aside Program Call for Projects.
The National Highway System is a network of nationally significant roadways that support the movement of people and goods between population centers, international border crossings, major military installations and intermodal facilities.
In 2018, the Federal Highway Administration initiated a universal review of the NHS for the first time since its inception. Draft recommendations for the Dallas-Fort Worth area from this review will be presented.
Proposed modifications to the FY2018 and FY2019 UPWP will be available online for review and comment. Educational material and information on how to report a smoking vehicle is available upon request. The Regional Smoking Vehicle Program allows North Texans to help improve air quality by anonymously reporting vehicles emitting visible smoke and pollution. To watch the meeting online, click the "live" tab at
www.nctcog.org/video
. A recording of the presentations will also be posted at
www.nctcog.org/input
.