Bicycle Safety at the Intersection
FHWA: Improving Bicycle Safety at the Intersection Workshop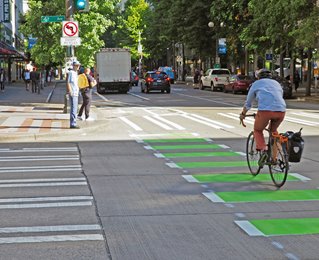 (Image courtesy of FHWA)
One-day Workshop hosted by
Federal Highway Administration
and North Central Texas Council of Governments
Federal Highway Administration led virtual workshops for approximately 100 regional planners, engineers and others at two one-day workshops on November 16 and 18 reviewing best practices to improve bicycle safety and level of comfort at intersections. The same material was presented both days.

Why focus on intersection safety?
According to the National Highway Traffic Safety Administration's Traffic Safety Facts, 29 percent of all nationwide bicyclist-involved crash fatalities in 2018 occurred within roadway intersections. Between 2014 and 2018 throughout the Dallas – Fort Worth Metropolitan Planning Area, 63 percent of all bicycle crashes happened within an intersection, and 12 percent of those crashes resulted in either a fatality or serious injury.
Workshop Dates
November 16 OR November 18, 2021
Time
9:00 am - 4:00 pm
Location
Virtual
Topics Covered
(Identical material will be covered at each workshop.)
Intersection Designs
Bike Crossing Treatments
Signal Timing and Signal Methods
Case Studies and Guidance Documents