Local Motion - December 2021
12/2/2021
A monthly update on the Regional Transportation Council and the North Central Texas Council of Governments Transportation Department.
Safety campaign aims to limit risky driver behavior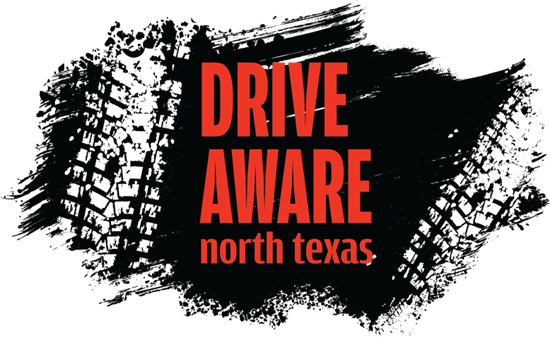 The North Central Texas Council of Governments has launched an educational campaign aimed at improving negative driver behaviors that are the leading contributing factors for serious-injury and fatality crashes in North Texas.

Drive Aware North Texas encourages motorists to avoid risky behaviors while behind the wheel. The educational campaign focuses on four main causes of serious and fatal traffic incidents: speeding, impaired driving, distracted driving and wrong-way driving. It examines data over the past five years in categories including, crashes by time of day and gender.

Speeding was the top contributor to serious-injury and fatality crashes on North Texas roadways in 2020, figuring into one-third of incidents across the region. The next three categories – impaired driving, wrong-way driving and distracted driving – accounted for a combined 31% of serious and fatality crashes.

Driver impairment – by alcohol, illegal drugs, legal medication or drowsiness – has remained a leading contributing factor in serious roadway crashes in both Texas and the region, although, the number of crashes involving impaired driving has decreased from 2016-2020.

Wrong-way driving incidents – though less frequent – are more likely to result in serious injuries or fatalities. NCTCOG continues to work with its transportation partners to implement the NCTCOG Wrong-Way Driving Mitigation Program to implement countermeasures at known hotspots.

NCTCOG and its transportation partners work daily to ensure the transportation system provides residents with the capacity needed as the region grows. But safety is also a significant part of the equation. By avoiding risky behaviors while driving and paying attention to the road in front of them, North Texans can make the transportation system safer for themselves and their neighbors.

To learn more about the Drive Aware North Texas campaign, visit www.driveawarentx.org
Cedar Hill named Air North Texas Partner of the Year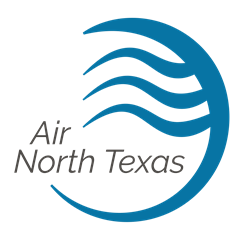 The City of Cedar Hill has been recognized as this year's Air North Texas Partner of the Year for its comprehensive work to improve the region's air quality. Cedar Hill was among four Dallas-Fort Worth area cities to earn awards from Air North Texas for their commitment to improving air quality throughout the growing region. The awards
recognize partners' efforts throughout the 2021 ozone season.

The City of Plano received the award for outstanding outreach, focusing its efforts on the use of digital strategies that helped engage residents and businesses.

The City of Grand Prairie received the award for outstanding advertising, as well as the Arlo Ambassador Award, named after campaign mascot Arlo the Armadillo.

A series of renewable energy and community outreach events helped the City of Dallas earn the award for the outstanding initiative.
Dallas-Fort Worth area works toward ozone compliance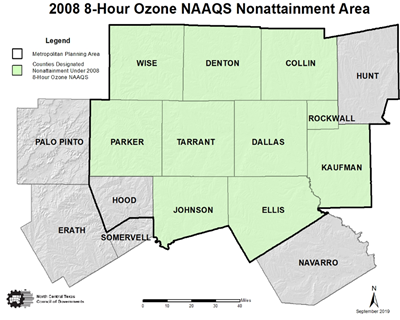 Another North Texas ozone season concluded November 30, and the region continues to pursue attainment of federal air quality standards. For the second year in a row, the Dallas-Fort Worth area's design value is 76 parts per billion, a notch above the federal government's 2008 standard of 75 ppb. The region is also still trying to reach the stricter 2015 standard of 70 ppb.

While Dallas-Fort Worth remains outside of these standards, air quality has improved substantially over the past two decades. In 2001, the design value was over 100 ppb. Since then, significant transportation system improvements, funding initiatives and educational efforts have helped the region move closer to attainment.

After tentatively missing the deadlines to meet the standards, the region faces potential reclassification. For the 2008 standard, the region would go from serious to severe, and for the 2015 standard, it would move from marginal to moderate. NCTCOG will continue to work with public- and private-sector partners on efforts that will help the region meet the existing standards and position itself for future success. Residents can be part of the solution, as well.

Here are a few steps they can take to improve regional air quality:

· Work from home
· Reduce Idling
· Bicycle or walk
· Take public transportation
· Reduce travel during rush hour
· Conserve electricity

To learn more about how the public can help reach the ozone standards, visit www.airnorthtexas.org.
Infrastructure bill boosts transportation funding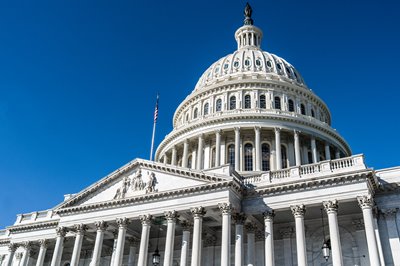 President Joe Biden in November signed the $1 trillion Infrastructure Investment and Jobs Act, which will provide funding for the nation's roadways and transit system over the next five years. Texas is expected to get approximately $27 billion for highways and $3.3 billion for public transit through fiscal year 2026.

The new law also reauthorizes the federal highway program for another five years. The legislation is expected to address other top priorities of the Biden administration, including expanded access to clean drinking water and high-speed Internet.

A few highlights:
· $91 billion to modernize transit systems, along with reauthorization of existing transit programs for five years
· $66 billion in additional rail funding to eliminate the Amtrak maintenance backlog, modernize the Northeast Corridor, and bring world-class rail service to other parts of the country
· $7.5 billion to build out a network of electric vehicle chargers across the nation
· $25 billion to address repair and maintenance issues, reduce congestion and drive electrification and other low-carbon alternatives at the nation's airports

For more, visit www.nctcog.org/legislative.
NCTCOG awarded $8.2M for inland port project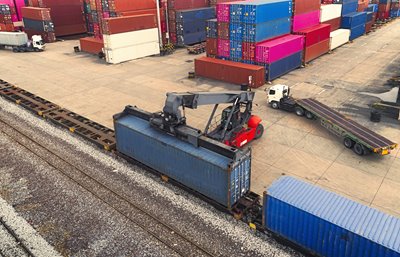 The federal government awarded NCTCOG $8.2 million in grant funding to enhance mobility in the Southern Dallas Inland Port area.

The Rebuilding American Infrastructure with Sustainability and Equity (RAISE) grant funding will help implement new transit service, improve pedestrian infrastructure and update traffic signals in the inland port area.

The $12.8 million project includes the purchasing of eight electric shuttles to deliver on-demand transit, construction of sidewalks and crosswalks near the VA Medical Center and Dallas Area Rapid Transit light-rail station and more than 40 new traffic signals to optimize transit, pedestrian and vehicular movements. The inland port was one of four Texas projects awarded a total of $22 million in RAISE grant funding by the Biden administration.
RTC approves funding for sustainable projects
The Regional Transportation Council recently approved approximately $200,000 for implementation of three projects as part of the Blue-Green-Grey sustainable infrastructure program.

The City of Allen Inlet Floatables Filter project will receive $75,000 and will create a less-expensive, more-effective way to collect floatable litter in stormwater.

The RTC also approved $74,910 for the City of Dallas Bottom District Neighborhood Beautification project, which aims to establish a green infrastructure network in a historically underserved neighborhood located in a floodplain.

The third project receiving assistance from the RTC is the University of Texas at Arlington Laboratory Testing of Engineered Media for Biofiltration Swales Project, which will receive approximately $50,000. The purpose is to test an engineered filtration system as a possible inexpensive and easier-to-maintain solution than standard bioswales for addressing stormwater pollution.

The Blue-Green-Grey program seeks to support innovative pilot projects that incorporate water, environmental, and transportation components and provide resources for cities and organizations to replicate these ideas throughout the Dallas-Fort Worth area. These projects were approved as part of the program's third round of funding. For more information on NCTCOG's green infrastructure efforts, visit www.nctcog.org/greeninfrastructure.
NCTCOG seeks input on transportation funding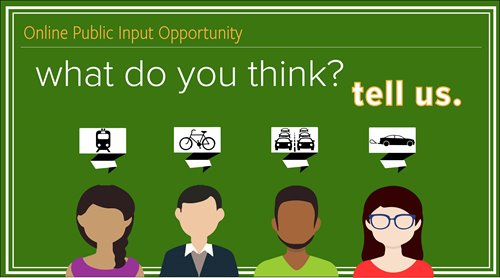 Dallas-Fort Worth residents are invited to review and comment on several transportation planning initiatives beginning December 13, as part of an online input opportunity presented by the NCTCOG Transportation Department.

NCTCOG will provide details on the Regional Air Quality and Management and Operations Program, which provides federal and regional funds to programs and projects that address the region's air quality and aid in the management and operations of the regional transportation system.

Final project recommendations for the Incident Management Freeway Blocking Equipment 2021 Call for Projects will also be presented for review and comment. This CFP made $1 million available for the purchase of equipment to provide protection to first responders.

Finally, the North Texas 2021 ozone season concludes November 30. Staff will give an update on current air quality standings, compare conditions with previous ozone seasons and highlight potential implications facing the region for not meeting federal attainment requirements.

Proposed modifications to the list of funded projects through 2024 maintained in the Transportation Improvement Program (TIP) and Unified Planning Work Program (UPWP), will be posted for review and comment.

The Department's interactive public input tool, Map Your Experience, Regional Smoking Vehicle Program, and vehicle incentive opportunities will also be highlighted.

A recording of the presentations will be posted at the following: www.nctcog.org/input, Comments are welcome through January 11.

To request printed copies of the information discussed, contact Carli Baylor at 817-608-2365, or CBaylor@nctcog.org

**Imagery provided by NCTCOG and Getty Images**