Local Motion - January 2020
1/5/2020
A monthly update on the activities of the Regional Transportation Council and the North Central Texas Council of Governments
Grand Prairie earns top air quality honor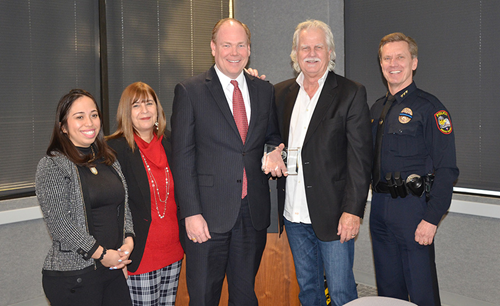 The Air North Texas Partner Awards were announced at the December Regional Transportation Council meeting in recognition of partners' efforts during the 2019 ozone season.
For the fourth year in a row, Grand Prairie is the Air North Texas Partner of the Year. Grand Prairie used a comprehensive approach involving social media, city newsletters, the website, community fairs and a corporate challenge to spread the word about Air North Texas and Clean Air Action Day, the campaign's signature event.
These efforts culminated with Grand Prairie's Clean Air Action Day activities, including the annual corporate Clean Air Challenge, in which 10 companies competed, resulting in about 600 clean air pledges.
Plano received the award for outstanding outreach for using both traditional and digital strategies to engage residents and businesses. The City used its Live Green in Plano website to discuss air quality initiatives and connect users to Air North Texas. An Air North Texas partner for nine years, Plano encouraged residents to take its Swap and Save Pledge to bring attention to energy efficiency.
The City of Dallas took home the award for outstanding initiative. Dallas created a website to distribute information and collect input about the Comprehensive Environmental and Climate Action Plan. Additionally, Dallas partnered with Paul Quinn College and the We Over Me Farm to host a Clean Air Action Day event in southern Dallas. This enabled organizers to share the clean air message with residents of an underserved community.
Hood County Clean Air Coalition continues to set the standard for clean air advertising in North Texas. For the fifth year in a row, HCCAC won the award for outstanding advertising for its multiplatform approach. Finally, the City of Denton received the Arlo Ambassador Award for advancing the Air North Texas message through Arlo, the campaign's mascot.
DFW fleets recognized for actions to improve air quality
The Dallas-Fort Worth Clean Cities Coalition last month announced the winners of its Fleet Recognition Awards. For the first time in the awards' five-year history, there were entities that brought home the Gold. The cities of Euless and Southlake and Dallas Area Rapid Transit earned the top award for their efforts to reduce emissions and improve the fuel efficiency of their fleets.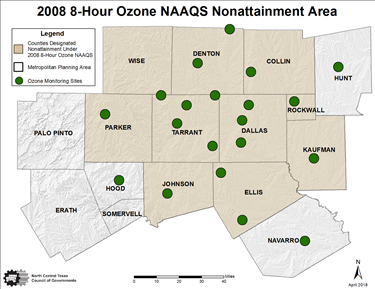 Twenty-one public-sector fleets were selected for their actions to lessen their total transportation energy use. Three levels of awards – Gold, Silver and Bronze – were possible, based on entities' scores on the DFW Clean Cities' annual fleet survey. In addition to the three Gold winners, there were 11 Silver and seven Bronze recipients.
The Silver winners were Carrollton, Coppell, Dallas, Dallas Fort Worth International Airport, Denton, Denton County, Flower Mound, Irving, Lewisville, Mesquite, and North Richland Hills. The following were recognized with Bronze status: Addison, Denton Independent School District, Plano, Richardson, Tarrant County, Trinity Metro and Watauga.
Six entities – Coppell, Euless, Flower Mound, Richardson, Southlake and DART – were inaugural winners in 2014. Watauga and Mesquite were honored for fleet efficiency for the first time.
The public-sector fleets recognized were required to provide details on their move toward cleaner operations through the DFW Clean Cities annual report. Strategies can include using alternative fuel vehicles, reducing idling or using technology to improve efficiency of operations.
This year's winners contributed to reducing:
23,243,022 gallons of petroleum
753,602 pounds of ozone forming nitrogen oxides
41,493 tons of greenhouse gas emissions
Each entity could earn up to 45 points for emissions reduction, 25 points for fuel consumption, 20 points for partnerships and 10 points for outreach and awareness efforts. Gold Level status required 85-100 points; Silver Level status required 55-84; and Bronze Level required 40-54.
For more information regarding the qualification process, the Clean Fleet Policy and other details, visit
www.dfwcleancities.org
.
Video series features DCTA's A-train trail
NCTCOG is continuing its trail of the month focus in January, highlighting the A-train Trail, a 19-mile, concrete path that parallels the Denton County Transportation Authority's commuter rail line.
The bicycle-pedestrian trail is a result of DCTA's collaboration with community partners including Denton, Corinth, Lake Dallas, Lewisville and NCTCOG.
It connects users to five rail stations: Hebron, Old Town, Highland Village/Lewisville Lake, Medpark and the Downtown Denton. Bicycle parking is available at or near the train platforms at each station, and bikes can also be transported on the A-train.
NCTCOG is highlighting 12 bicycle-pedestrian trails as part of a monthly series that began over the summer.
The videos are being released on the first Friday of each month and are intended to help residents learn more about the many great trail systems in the Dallas-Fort Worth area.
Watch the A-train Trail and other featured videos at
www.nctcog.org/bikeweb
.

VW settlement funding remains for projects
Approximately $6 million from the Volkswagen settlement is still available to help local governments make their fleets of refuse haulers more fuel efficient.
The Texas Volkswagen Environmental Mitigation Program recently opened the next round of funding for projects, making $8.3 million available to replace or repower garbage trucks, recycling trucks, roll-off trucks, dump trucks, grapple trucks and chipper trucks. Local governments are eligible to receive up to 80% funding for replacements and repowers.
An eligible refuse vehicle must:
Have a gross vehicle weight rating greater than 26,001 pounds
Be powered by a diesel engine of model year 1992-2009
Be configured to collect and transport municipal solid waste.
Applications will be accepted until 5 pm Oct. 8, 2020, or until all funds have been awarded. For more information, visit
www.texasvwfund.org
. Not sure what you want to purchase? Watch the DFWCC webinar at
www.dfwcleancities.org/webinars
for an overview of the latest technologies available.
Grants available for alternative fuel facilities
The Texas Commission on Environmental Quality has up to $12 million in grants available for the construction of new alternative fueling facilities or the expansion of existing facilities to provide new services or fueling capacity.
Eligible fuel types include compressed natural gas, liquefied natural gas, propane, biodiesel, methanol, hydrogen and electricity. Applications are due March 18, 2020.
Here are the funding details:
Up to $400,000 for a CNG or LNG project
Up to $600,000 for a combined CNG and LNG project
Up to 50% or $600,000 for all other fuels
To see full project eligibility requirements and application details visit:
https://www.tceq.texas.gov/airquality/terp/ctt.html
.
NCTCOG to open online input opportunity Jan. 13
NCTCOG will conduct an online public input opportunity beginning January 13, 2020, to allow residents to comment on transportation initiatives in the Dallas-Fort Worth area.
Patrons are encouraged to provide input at www.nctcog.org/input through February 11, 2020.
Modifications to the Fiscal Year 2020 and FY 2021 Unified Planning Work Program will be posted for review. The UPWP for regional transportation planning provides a summary of the transportation and related air quality tasks to be conducted by NCTCOG.
Additionally, due to the passing of House Bill 2840, members of the public can now provide their input during Regional Transportation Council meetings. Staff will provide an overview of this process and post the draft rules for review and comment from January 13, 2020, through February 26, 2020.
Finally, information on electric vehicle incentives, TERP funding, Clean Fleets North Texas 2019 Calls for Projects and Mobility Plan administrative revisions will be available.
High-speed technology study moving forward
Work to select a high-speed technology to transport passengers across the region continues. In December, NCTCOG received six proposals from consultant teams interested in studying the Dallas-Fort Worth-Arlington corridor. Hyperloop, high-speed rail and magnetic levitation are among the possible technologies the region could add to its multimodal transportation system.
A final decision on the consultant team that will partner with NCTCOG to study high-speed technologies and potential routes for the region will be made in the spring.
The consultant team chosen will also analyze the environmental impacts of potential modes through a federal process aimed at ensuring projects can be completed without disproportionately affecting specific groups.
Imagery Provided by NCTCOG Staff
Resources Provided by NCTCOG Staff