Local Motion - November 2020
11/4/2020
A monthly update on the activities of the Regional Transportation Council and the North Central Texas Council of Governments Transportation Department
Research center aims to move transportation forward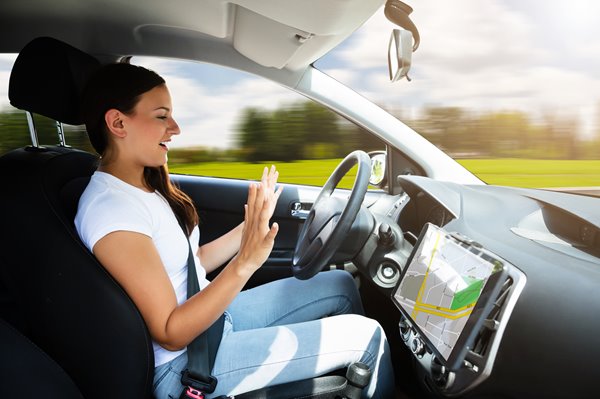 The North Texas Center for Mobility Technologies will create a partnership with area universities to study transportation solutions.

North Texas has become a popular destination for testing of transportation innovation. To make sure this continues, the North Central Texas Council of Governments is partnering with the Texas Research Alliance and four area universities to create the North Texas Center for Mobility Technologies.

Expected to open next year, the newly created center includes The University of North Texas, The University of Texas at Arlington, The University of Texas at Dallas and Southern Methodist University. The center will have competitive calls for projects and will partner with the community through research and innovation projects that will help them meet their mobility challenges and serve their customers.

The Regional Transportation Council approved $2.5 million in start-up funds earlier this year to help establish the center. It will provide a research and development network consisting of mobility companies, cities and public agencies and use the network to attract industry and academic talent to the Dallas-Fort Worth area.

The RTC is developing sponsored research project selection criteria it will use to evaluate and approve funding for university research projects advanced for funding consideration by the North Texas Center for Mobility Technologies. The universities and NCTCOG will provide matching funding to the projects, splitting the costs of the projects with sponsors. Projects eligible for seed funding must accomplish one or more of the following:

• Address mobility challenges
• Contribute to economic development and jobs
• Provide mobility models that will help address regional environmental concerns
• Provide mobility solutions for underserved communities
• Demonstrate technology leadership
---
DCTA introduces equipment to count users of rail trail
A network of devices that count the number of bicycles and pedestrians at strategic locations along the region's growing trail network is helping NCTCOG and its partners understand where potential enhancements might be needed. Region is welcoming more bicycle-pedestrian counters.

The Denton County Transportation Authority recently announced the installation of four new counters along its 19-mile A-train Rail Trail, enabling the agency to better track use of the facility that parallels its commuter rail line, the A-train. The agency now has six bicycle-pedestrian counters.

The new automated counters will allow DCTA to report important statistics related to the popularity of the trail, including the number of peo-ple using the trail, areas of high usage and where people access the trail. Each counter can collect separate tallies of cyclists and pedestrians using the trail.

DCTA will use the data received to provide better reporting of rail trail utilization. In addition, the data will help the agency best determine future rail trail amenities and safety enhancements such as signage, mile markers, lighting and benches. For more information about DCTA's A-train Rail Trail, visit www.ridedcta.net.


The A-Train Rail Trail is a 19 mile-long trail located in Denton County
---
RTC approves targets for federal performance measures
The RTC has approved recommended targets for federal performance measures it is required to track, reaffirming most, while making slight adjustments to others. Targets for interstate reliability and non-SOV travel remain the same for the 2022 reporting period. The RTC adjusted the goal for truck time reliability to 1.90. This means a trip that should normally take 10 minutes would take 19 minutes. Adjustments were also approved to air quality measures, reflecting improvements being made in the pollutants responsible for ozone formation. The measures reflecting the daily savings of nitrogen oxides and volatile organic compounds both were increased for 2022.
Monitoring and reporting of transportation performance measurement is part of a strategic approach that uses quantitative, repeated observations of the transportation system's performance to make investment and policy decisions to achieve regional and national performance goals. The performance measure goals include safety, infrastructure condition, congestion reduction, system reliability, freight movement and economic vitality, environmental sustainability, and reduced project delivery delays. Federal transportation legislation requires these performance measures to be included in the long-range metropolitan transportation planning process. For more on these performance measures, visit www.nctcog.org/pm/fed.
---
Funds available to help reduce diesel emissions
NCTCOG has opened three separate calls for projects offering a combined $4 million in grant funding for diesel emissions reduction projects.

The North Texas Freight Terminal Electrification 2020 Call for Projects is open to private freight terminals or distribution centers primarily receiving heavy-duty truck Transport Refrigeration Units and trailer TRUs and located in the 10-county ozone nonattainment area.

Eligible projects include construction and installation of Electrified Parking Spaces for heavy-duty truck TRUs and trailer TRUs, electric power monitoring equipment and electric power connection kits. The funding can be applied for up to 30% of eligible costs.

The North Texas Emissions Reduction Project 2020 Call for Projects is open to private-sector fleets for high-use diesel vehicles and equipment operating in the ozone nonattainment area as well as Hood and Navarro counties.

The call for projects covers replacement of older diesel on-road vehicles and non-road equipment with newer models of on-road vehicles or non-road equipment. This also includes installation of Environmental Protection Agency SmartWay verified locomotive idle reduction technology for rail and switch yards.

Grant funding will cover 25%-45% of eligible costs, depending on the type of project.

Local governments or private companies that contract with local governments are eligible to apply replace older diesel vehicles and equipment operating in the ozone nonattainment area through the Clean Fleets North Texas 2020 Call for Projects.

Grant funding will cover 25%-45% of eligible costs, depending on the type of project.

More information is available at www.nctcog.org/aqfunding. The first application deadline is January 8, 2021. Email aqgrants@nctcog.org with any questions.
---
NCTCOG beginning study of Bachman Lake area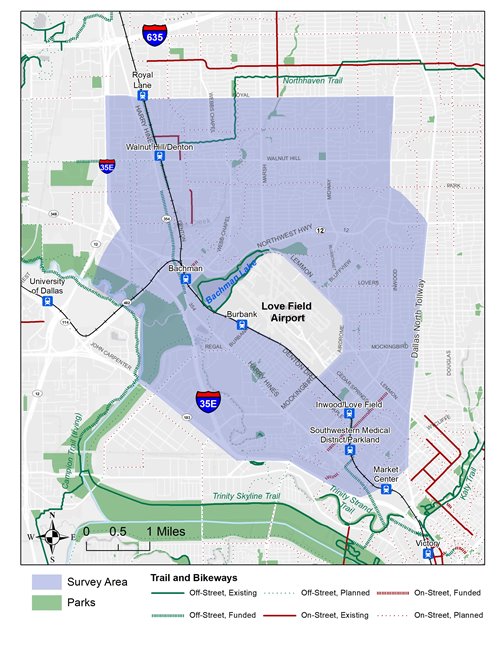 A survey of the Bachman Lake area of Dallas is expected to help identify safe pedestrian access along major roadways in the area.
NCTCOG is meeting with community members in the Bachman Lake area of Dallas in preparation for a study to identify safe pedestrian access and facilities along major roads in the area, and connections to nearby bicycle-pedestrian trails. The study will also examine access to transit stations and Dallas Love Field. NCTCOG will coordinate this with multiple transportation plans underway in the area, including a second entrance to Love Field Airport and studies of the Northwest Highway and Harry Hines corridors.

NCTCOG is also coordinating public engagement with the City of Dallas and the National Park Service as they create a concept plan for the Love Field Loop Trail, which will identify a route around airport property, local neighborhoods and public parks to connect residents to destinations and recreational options.

The RTC has allocated $1 million to develop a plan for possible improvements. A community planning orientation meeting was held in early October to introduce the grassroots focus of working with the community for this planning effort. A transportation needs survey and a feedback form to provide comments on public engagement needs can be accessed at www.nctcog.org/BachmanArea. They are available in English, Spanish and Korean.

---

Residents can comment on transportation online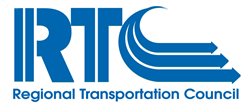 North Texas residents are encouraged to comment on a series of transportation programs and measures presented by NCTCOG staff beginning November 9. Presentations will be available online at www.nctcog.org/input, and comments will be accepted through December 8.

Staff will present details on the third round of projects related to the Collin County Partnership and COVID-19 Infrastructure Program. The infrastructure program awards federal and regional funding to projects that need expedited action and meet one or several of the RTC policies outlined in Mobility 2045. This includes better school integration, improved freight connections, and new regional bicycle and pedestrian facilities. The overall goal is to stimulate the economy while providing funding to key transportation projects

The Fixing America's Surface Transportation (FAST) Act requires NCTCOG staff to plan projects and programs that assist in achieving statewide performance targets for National Highway System (NHS) pavement and bridge conditions. Target adjustments are currently being considered. Staff will describe and present NCTCOG's role in the target setting process, present recent regional and statewide performance changes and explain how NCTCOG will continue to aid in improving NHS infrastructure conditions.

Finally, staff will provide updates on this year's National Drive Electric Week virtual event, held in September. NDEW is a nationwide celebration to raise awareness of the benefits of all-electric and plug-in hybrid cars, trucks, motorcycles and more. It serves an opportunity to educate and highlight the benefits of electric vehicles and the role they play in improving the region's air quality. Staff will provide an update on local electric vehicle trends and highlight successful electric vehicle projects in North Texas.

The Regional Smoking Vehicle Program, vehicle incentive opportunities and administrative revisions for Mobility 2045, the region's long-term transportation plan, will also be highlighted. An audio recording of the presentations will be posted at www.nctcog.org/input.

---
Imagery Provided by NCTCOG and Getty Images