Local Motion - September 2019
9/4/2019
A monthly update on activities of the Regional Transportation Council and the North Central Texas Council of Governments Transportation Department
Students get up-close look at hyperloop pod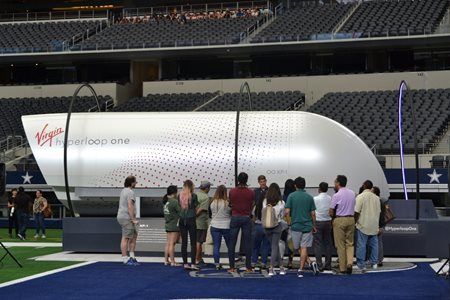 North Texas got a glimpse of what the future of transportation may look like last month, as Virgin Hyperloop One brought its high-speed pod to AT&T Stadium. The company met with local officials before demonstrating its technology to students. Students attending the gathering at AT&T Stadium saw the historic hyperloop test vehicle XP-1, along with the real-world demonstrations of the science, technology, engineering and mathematics (STEM) principles they have studied that power the technology.
Virgin Hyperloop One offered the students demonstrations in magnetic levitation, vacuum chambers and friction, with the XP-1 pod serving as a backdrop.

Hyperloop is a new mode of transportation that could move freight and people quickly, safely, on-demand and direct from origin to destination. Hyperloop vehicles, called pods, accelerate gradually via electric propulsion through a low-pressure tube.

The pods float above the track using magnetic levitation, gliding at airline speeds for long distances due to ultra-low aerodynamic drag.
35W 3C reaches financial close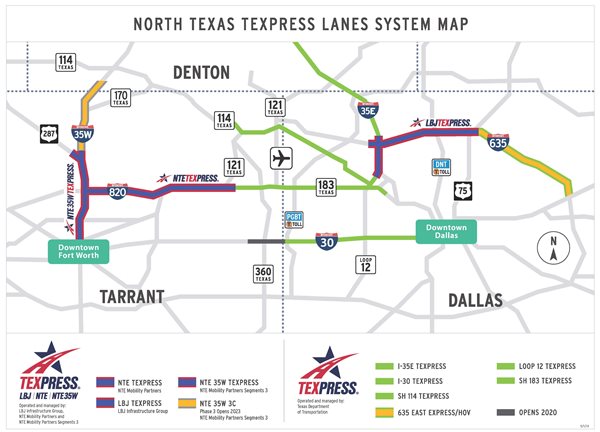 NTE graphic
The reconstruction of IH 35W will be finished after the completion of a 6.7-mile segment in
Fort Worth. In addition to free general-purpose lanes, motorists will have a choice to pay for a
more reliable commute using TEXpress Lanes.

Construction on the final segment of Interstate Highway 35W expansion in Fort Worth will soon begin, after it reached financial close in August. Pre-construction activities are underway, with full construction planned to commence next year, according to NTE Mobility Partners Segments 3 LLC, which will finance, design, build, operate and maintain the segment.

The $910 million project will rebuild 6.7 miles of IH 35W from just north of US 81/287 (Heritage Trace Parkway) to Eagle Parkway in Denton County. When the project is complete, in 2023, motorists will benefit from reconstructed main lanes, expanded frontage roads and two TEXpress Managed Lanes in each direction. The construction will be performed by Ferrovial Agroman US and Webber.

The section of IH 35W being rebuilt connects with two other portions of the roadway operated by NTE. Segment 3C will complement the existing network of TEXpress Managed Lanes and add to the congestion relief being experienced now by drivers throughout North Texas. —By NTE
Kodiak Robotics announces start of self-driving truck test in North Texas
Self-driving trucks have come to Texas. Kodiak Robotics announced in August it had begun a pilot test of its trucks between Dallas and Houston — with a safety driver along for the ride. Kodiak also announced it would open a facility in the Dallas-Fort Worth area. The company's decision represents another example of the region's embrace of automated vehicles and other technologies that could revolutionize the way people and goods are moved.

Kodiak operates as a true freight carrier, with self-driving trucks operating on "middle mile" highway routes. Since the company's founding in April 2018, Kodiak has grown from an idea to a reality, with a growing fleet of trucks and the launch of freight operations for customers in Texas.

For more information, visit www.kodiak.ai.
NDEW to celebrate popularity of EVs
Experience what it means to drive electric at the region's National Drive Electric Week 2019 event.
This is an opportunity to get an up-close view of electric vehicles and talk to owners who have made the switch from gasoline-powered cars.

NDEW 2019 will be held from 10 am to 2 pm Saturday, September 21 at Dallas Area Rapid Transit's North Irving Transit Center. This new location will allow people to access the event using public transportation from the nearby Irving Convention Center Station. And if they want to arrive via zero emissions, attendees can ride their bikes for the first and last miles of their trips.

This event represents the largest showcase of EVs in Texas each year and the second largest in the country. And this year should be no different. Organizers expect up to 200 electric vehicles.

Bring the whole family out to learn about electric vehicles from real North Texas EV owners and enthusiasts and be part of the revolution!
Did we mention prizes? We'll have those too!

For details, follow @nctcogtrans on Facebook and Twitter, and visit https://www.dfwcleancities.org/ndew
TEXRail trains now run every half-hour during peak times
Trinity Metro has increased the frequency of its TEXRail commuter rail service between Fort Worth and Dallas Fort Worth International airport.

Passengers can now board a train at 30-minute intervals during peak times, making it easier to travel to the airport or any other destination along the 27-mile route.

This increases the number of daily trips from 48 to 73. The change had been scheduled after six months of operation. The line debuted in January to provide commuters, air travelers, airport employees and others more options, said Bob Baulsir, president and chief executive officer of Trinity Metro.

Additional schedule changes include adjustments to accommodate the increased volume of service. For example, a train that left at 25 minutes past the hour will now leave at 43 minutes past the hour.

Visitors to downtown Fort Worth and Fort Worth Stockyards will enjoy later service eastbound to DFW Airport, with the last train leaving Fort Worth Central Station at 12:47 am (previously 11:30 pm) and leaving North Side Station at 12:55 am (previously 11:38 pm). The first TEXRail train now departs from DFW Airport to Fort Worth at 4:40 am (previously 4:55 am). Consult the schedule at www.ridetrinitymetro.org prior to departure.—By Trinity Metro
Reminder: RTC meets in Irving on Sept. 12
With NCTCOG's offices under construction, the September 12 Regional Transportation Council meeting will be held at 1 pm at the Irving Convention Center, as part of the Irving Transportation Investment Summit. In October, the RTC will return to the Transportation Council Room. Additionally, the September meeting of the Surface Transportation Technical Committee has been rescheduled for October 4.
NCTCOG online opportunity begins Sept. 9
NCTCOG will offer an online public input opportunity beginning September 9. Residents can comment on proposed modifications to both the list of funded projects and the FY2018 and FY2019 Unified Planning Work Program. Comments will be accepted through October 8.

A comprehensive list of funded transportation projects through 2022 is maintained and regularly updated in the Transportation Improvement Program. Projects with committed funds from federal, State and local sources are included in the TIP. This document is updated on a regular basis and will be posted at www.nctcog.org/input for review and comment.

Additionally, members of the public can provide feedback on the FY2018 and FY2019 Unified Planning Work Program (UPWP) modifications.

The UPWP provides a summary of the transportation and related air quality planning tasks to be conducted by the metropolitan planning organization.

Information on National Drive Electric Week, Car Care Clinics and the Regional Smoking Vehicle Program will be highlighted.
Automated Vehicle 2.0 fact sheet available
NCTCOG recently published a fact sheet explaining its Automated Vehicle 2.0 program, approved last year to guide the region through the next generation of AV development.

With cities such as Arlington, Dallas and Frisco hosting deployments of automated vehicle technologies, North Texas has been a laboratory for the transportation of tomorrow.

The program will assist cities with planning and implementation costs associated with automated vehicle deployments. It will also support communities that have a desire to welcome the technology but have yet to attract AV developer interest.
For more, visit https://www.nctcog.org/trans/about/publications/factsheets.