TDC Frequently Asked Questions
What are Transportation Development Credits?
Transportation Development Credits, or TDCs, are Federal Highway Administration (FHWA) toll credits. They can serve as a substitute for the required cash match to federal funds that are programmed on a project. They are earned by states and metropolitan planning organizations (MPOs) when toll revenues are used to fund capital projects on public highways within their boundaries.
What types of projects can utilize TDCs?
Any project that is eligible for federal funding under the Title 23 United States Code (USC) on highway legislation or Chapter 53 of the Title 49 USC on transit legislation can use TDCs as the match.
How is the number of TDCs to be utilized on a project calculated?
On a typical project that has federal funds and a local cash match, the match is 20% of the total project cost. The calculation is different when TDCs are utilized: 20% of the federal funding amount that must be used. Therefore, it must be made clear at the beginning of the project programming process that an agency wishes to use TDCs, so the amount of federal funds being awarded can be adjusted accordingly.

An example of this would be: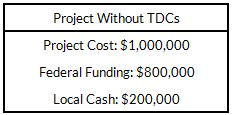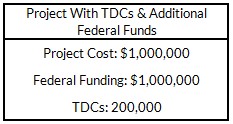 Otherwise, if an agency wishes to utilize TDCs, the project's scope would need to be scaled down in order to be fully funded with on the federal funds (80%):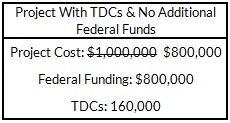 If TDCs are to be used on a project in place of a local cash match, where will the remaining 20% of the funds come from to fully fund the project?
When working with NCTCOG staff to add the project to the TIP, please inform them of the desire to use TDCs. The amount of federal funds available may be increased to cover 100% of the cost of the project or program if funds are available. If the funds are not available and an agency still wants to utilize TDCs, the project scope would need to be scaled down so that the project could be completed with the federal amount (80%).
Can TDCs be used on any phase of a project?
TDCs can be used on any eligible phase of a project with federal funds programmed to that phase. They need to be assigned when a project is first added to the TIP.
Are entities that utilize TDCs required to use the cash that would have otherwise been spent on a project on another transportation project?
If local funds were going to be used to fund the project initially, those funds would need to be redirected to another transportation project. However, this is not a requirement if there was not local funding available to fund a project in the beginning.
What is the Metropolitan Transportation Plan (MTP) Policy Bundle?
The Policy Bundle is part of the current MTP, Mobility 2045: 2022 Update, which includes a series of policies that can be implemented by local entities to achieve objectives that aim to improve our regional transportation system.
How does an agency get access to the MTP Policy Bundle TDCs?
In order to gain access to Policy Bundle TDCs, agencies must get certified. To do this, they must apply and meet at least 50% of the policies for their respective agency type. Agencies may have an opportunity to qualify annually, and additional information on how to become certified can be found here.
If an agency is certified to receive TDCs through the Policy Bundle, how long does it have to use the TDCs it is awarded?
Agencies will have one year from the time they are deemed eligible to program the TDCs to projects.
After that time, any TDCs that are not programmed in the TIP or allocated to projects through a Call for Projects or funding initiative will be returned to the regional pool for reuse next year. Agencies will generally have four opportunities through the quarterly TIP Modification cycles to program their TDCs. In years that a new TIP is being developed, there may only be three modification cycles in which to request projects.
How long does an agency have to sign a project agreement when TDCs are involved?
Per state law, the agreement must be signed within two years of TDCs being awarded/assigned to a project. This agreement is with NCTCOG and is separate from the funding agreement that is executed with TxDOT.
How does an agency initiate the agreement process?
Contact a member of the Transportation Project Programming team (also known as the TIP Team) to initiate this process.
How does an agency apply Policy Bundle TDCs to a project when adding it to the TIP?
When having discussions with the TIP Team about project funding requests, inform them that you would like to utilize Policy Bundle TDCs in lieu of the local match. When submitting your TIP modification, select TDC (MPO) as one of the funding rows and enter the amount to be used (20% of the federal amount, not the total cost) under the Regional Share column. The TIP Modification team will note that Policy Bundle TDCs were awarded to the project.
What types of projects can utilize Policy Bundle TDCs?
Any new project (i.e., not already in the TIP) that will have federal funds on it can have TDCs applied to it, with some exceptions.
Exceptions:
Projects selected through a Call for Projects that specifically requires a local cash match
A new year of funding for the continuation for a program or project (it is an existing project)
Operating assistance for transit service
Do agencies that were previously certified have to re-certify?
Yes.
Agencies must recertify annually in order to have continued access to TDCs through the Policy Bundle.
Frequently Asked Questions about the MTP Policy Bundle Survey can be found here.