Local Motion - December 2020
12/2/2020
A monthly update on the activities of the Regional Transportation Council and the North Central Texas Council of Governments Transportation Department
LBJ East groundbreaking celebrated virtually
The commencement of the reconstruction and modernization of an 11-mile stretch of Interstate Highway 635 in Dallas, Garland and Mesquite was officially celebrated this fall. And it looked a little different than usual. Officials from the Texas Department of Transportation convened virtually this fall with federal, State and local leaders to celebrate the groundbreaking of LBJ East.

The project on IH 635 from US 75 to IH 30 will result in continuous frontage roads, fully reconstructed and expanded main lanes (from eight lanes to 10), and rebuilt cross streets, as well as the IH 30/IH 635 interchange. Major roadway enhancements include updating roadway designs to meet current standards and implementing wider cross streets to increase traffic capacity.

The $1.7 billion 635 East Project is the one of several Texas Clear Lanes projects in Dallas County to start construction since the program began in 2015. Designed to address Texas' most congested highways, Texas Clear Lanes includes more than 40 projects statewide designed to improve mobility. Construction for the 635 East Project began in spring 2020 and included the closure of the IH 635 HOV/Express (TEXpress) lanes, main lane restriping, utility relocations and installation of new bridge foundations in its first few months.

The Regional Transportation Council and the Texas Transportation Commission worked cooperatively to move LBJ East toward construction.

Stay informed on construction progress, lane closures and traffic changes by signing up for text alerts. Text the message "635 East" to 31996. Email updates are available at the following site: https://635east.com/receive/e-blasts/.
Learn Requirements to Fly Drone at Dec. 5 workshop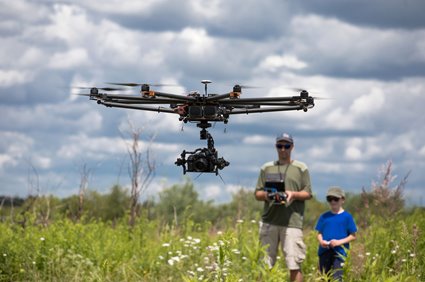 Drones are becoming more popular throughout Dallas-Fort Worth, whether flying for business purposes, to improve public safety, or just for fun. With the holiday season approaching, many North Texans may soon have the opportunity to fly a drone for the first time. To fly a drone for purposes other than recreation, an operator must obtain a Remote Pilot Certificate, also known as a Part 107 license. There are also other rules and regulations to follow.

The North Central Texas Council of Governments is holding a FREE virtual workshop from 10 a.m. to noon Saturday, Dec. 5 to discuss the rules and regulations, best practices, and helpful hints that could benefit pilots. This includes the best places in the Dallas-Fort Worth area to fly drones, also known as unmanned aircraft systems (UAS).

During the upcoming workshop, attendees from those who have never flown a drone before to professionals operators will hear from licensed UAS professionals and other industry stakeholders about licensing and other topics important for the safe operation of drones.

This virtual workshop is part of an effort by NCTCOG to work with regional partners to ensure this growing technology can be effectively integrated by users and solutions to problems can be developed. The series began with an in-person workshop earlier this year. With the onset of the COVID-19 pandemic, the sessions have temporarily become virtual. For information and to register for the virtual workshop, visit www.northtexasuas.com. Additional workshops covering the same topics will be schedules for early in 2021.
NCTCOG tracking COVID-19 impact with eye toward recovery
The COVID-19 pandemic has changed priorities around the world since it began earlier this year. It has touched nearly every corner of the globe, profoundly affecting people, their health and their way of life. The North Central Texas Council of Governments has undertaken Changing Mobility, a project that identifies the impacts on transportation and air quality of the coronavirus pandemic and begins to chart a course toward recovery. The project examines the following four metrics:

· Travel Behavior Response to COVID-19
· Financial implications to traditional revenue sources
· Benefits to travel behavior
· Prioritization of infrastructure improvements that offset unemployment increases

NCTCOG has launched an interactive dashboard to provide information on the above metrics since the pandemic began in March. The information is updated monthly and is available at www.nctcog.org/pm/covid-19.


Energy reporting deadline extended to Feb. 1
The deadline for entities in the Dallas-Fort Worth nonattainment area to report their energy-consumption progress has been extended to February 1. The reporting process is being modified to cover energy consumption on a calendar year basis rather than fiscal year.

All political subdivisions, State agencies and colleges and universities in an ozone nonattainment area or an affected county are required to establish a goal to reduce electricity consumption by at least 5% each year, according to the Texas Health and Safety Code.

Each political subdivision must submit a report annually to SECO regarding its progress and efforts to meet the 5% annual reduction goal. To assist local governments in achieving the 5% reduction goal and required reporting, NCTCOG developed a white paper to help resolve frequent challenges and highlight best practices. The "Texas' Mandated Local Government Energy Reduction Goal: Challenges and Best Practices" white paper can be accessed from the Local Government Energy Reporting Toolkit on Conserve North Texas.

A webinar presenting this white paper and other key reporting tips will be provided on January 12, at 2 p.m. For updates on the Local Government Energy Report and program, visit the SECO Local Government Energy Reporting webpage.
IH 45 zero-emission vehicle plan moving forward
Progress continues in the effort to make one of Texas' busiest corridors easier for owners and operators of zero-emission vehicles to travel. The goal of this project is to create an infrastructure plan that facilitates battery-electric vehicles and hydrogen fuel-cell electric vehicle pilot projects along Interstate Highway 45 between Dallas and Houston, with focus on medium- and heavy-duty applications. Another focus is supporting future strategic initiatives such as automated vehicle (AV) technology and truck platooning.

NCTCOG is meeting with stakeholders representing fuel providers, fleets, infrastructure developers, fuel associations, government agencies utilities and interest groups regularly to guide development of the plan. Anyone interested in learning more or joining this effort is invited to visit the IH 45 ZEV Corridor webpage.
RTC approves priorities for 87th Texas Legislature
The Regional Transportation Council in November approved its 2021 Legislative Program, the list of goals and priorities of the transportation policymaking body and member communities for the 87th Session of the Texas Legislature.

The Legislative Program underscores the region's need for additional resources to fund transportation. It details support for current funding mechanisms, such as Proposition 1 and Proposition 7 and identification of additional revenue sources to supplement traditional funding tools.

The expansion of transportation options for mega-metropolitan regions was also highlighted in the Legislative Program. These options may include the ability to utilize tolling and managed lanes, and identifying funding sources for transit initiatives.

The Legislative Program also calls for supporting the development of innovative technologies and safety improvements. Lawmakers' efforts to improve air quality by protecting existing funding and modernizing options will also be monitored during the 140-day session.

Together, these goals will guide the RTC's dialogue with lawmakers during the 2021 Texas Legislative Session, which begins in January.
NCTCOG online input opportunity begins Dec. 14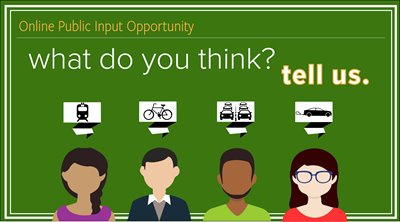 Members of the public are invited to review information online related to transportation funding and current regional air quality trends beginning December 14. Residents can comment on these and other topics through January 12 by visiting www.nctcog.org/input. NCTCOG staff assists the Regional Transportation Council in funding transportation projects and programs throughout the Dallas-Fort Worth area. The MPO Milestone Policy identifies projects funded by the RTC at least 10 years ago that have not advanced to construction. Staff will present the list of these projects along with recommendations to ensure that they are implemented promptly. Ozone season in North Texas concluded on November 30. Staff will present an update to this year's ozone progress and compliance with federal requirements.

Staff will also compare current data with previous ozone seasons and highlight current studies of COVID-19 on air quality.
Additionally, staff will provide an update and overview of the changes in the regional trail and shared bicycle use network, including time of day, day of week and mode share.

NCTCOG staff is also currently working with regional rail partners to develop and implement a Regional Rail Information System (RRIS). The system will maximize efficiency on shared-use freight and passenger rail networks by exchanging accurate, timely, actionable information on train movement in the region.

NCTCOG will be publishing a request for proposals to solicit interest from potential consultants and will provide an overview of project activities to date. Information on the Regional Smoking Vehicle Program and vehicle incentive opportunities will also be highlighted as part of the public input opportunity.

For more information and to listen to an audio recording of the presentations, visit www.nctcog.org/input.
Imagery Provided by NCTCOG and Getty Images